Film noir's rain-slicked streets, shadowy alleys, and sex bombs in silk peignoirs deserve a permanent place on the BIG screen. But hey, "it's a bitter little world," and we can't do it alone.
We need your donations to help us locate, restore and exhibit these films before they're lost forever. Do it for the love of noir–but enjoy the thank-you gifts too!
»Contribute online via PayPal specifying the dollar amount on the PayPal screen that follows.
Alternately, mail your tax-deductible contribution to:
The Film Noir Foundation
One Sunset Drive
Kensington, CA 94707
*Be sure to provide your mailing address to receive merchandise. PLEASE ALLOW 3 WEEKS FOR DELIVERY.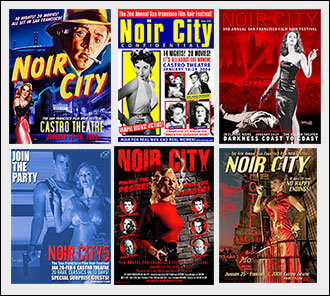 GUNSEL
up to $50
Receive the NOIR CITY SENTINEL electronic newsletter (e-mail address required)
MUSCLE
$50 - $100
Receive the NOIR CITY SENTINEL. NOIR CITY 1-6 Poster Package, program.
HENCHMAN
$100 - $250
Receive all of the above plus a Film Noir Foundation T-Shirt.
TORPEDO
$250 - 500
Receive all of the above plus a signed first edition of Eddie Muller's novel, The Distance.
Kingpin
$500+
The whole shebang plus a series pass to NOIR CITY 7 in San Francisco and recognition in the souvenir program.