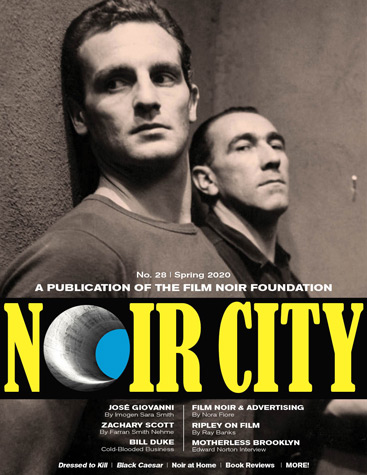 NOIR CITY E-Mag No. 28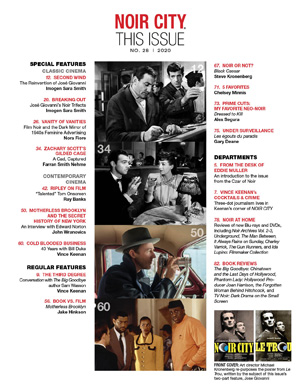 This issue's cover story by Imogen Sara Smith gives an incisive look at the life and films of writer-director José Giovanni and will be an eye-opener for many readers, even if they are familiar with some of the films based on his scripts, such as Le Trou (1960, Jacques Backer), Classe tous risques (1960, Claude Sautet), and Le deuxième souffle (1966, Jean-Pierre Melville). If noir exists in a turbulent terrain of moral ambiguity, Giovanni's story might be the ultimate real-life example: a death-row inmate, convicted of murder, reprieved by Fate, redeemed by Art—or was he?
Also, in this issue, John Wranovics interviews actor-writer-director Edward Norton about his new film Motherless Brooklyn, and Jake Hinkson gives an insightful comparison of that film's source novel to Norton's finished film. We also have essays by two new contributors, Farran Smith Nehme and Nora Fiore, exceptional cinephiles known in the Twitter-sphere as, respectively, "The Self-Styled Siren" and "The Nitrate Diva."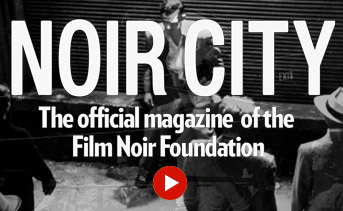 Get NOIR CITY E-Mag!
For access to the best writing on noir available today, and to enjoy one of the most cutting-edge interactive multimedia cinema publications in the world, subscribe to NOIR CITY. Get NOIR CITY by:
» Adding your name to our mailing list and then
» Making a donation to the Film Noir Foundation of $20 or more.
*If your PayPal email address differs from the email address provided for our mailing list, be sure to let us know. Note that you must be on the mailing list in order to receive the e-mag.
Have an idea for a NOIR CITY E-Mag article?
Please send a query letter stating your idea for an article along with a résumé of your writing experience/expertise to: editor@FilmNoirFoundation.org.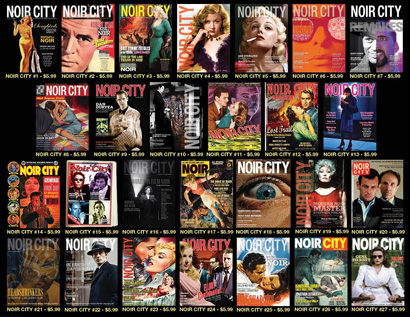 NOIR CITY E-Mag Back Issues
The Film Noir Foundation has its NOIR CITY e-Magazine back issues for sale — all issues, $5.99 each, plus tax. Please note: These are not printed magazines. The NOIR CITY e-Magazines are electronic issues delivered to your inbox as PDFs. Collect your favorites or own all 27 interactive back issues of the best cinema publication available today. You'll be helping the Film Noir Foundation in its restoration efforts with your purchases at NoirCityMag.com.