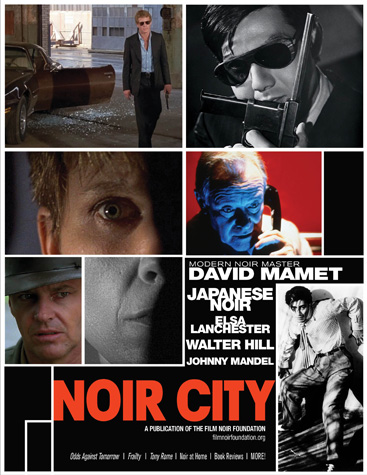 NOIR CITY E-Mag No. 29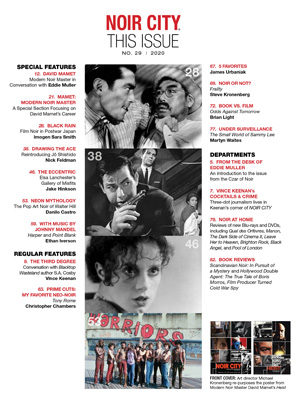 In one of the last Film Noir Foundation public events before the Coronavirus curtain dropped in March, Eddie Muller hosted an evening with multifaceted writer-director David Mamet at the Aero Theatre in Santa Monica, CA, as part of NOIR CITY: HOLLYWOOD 2020. The latest issue of the NOIR CITY e-mag (#29) shares the highlights from this spirited conversation between Muller and the filmmaker he introduced as "America's greatest living storyteller." Adding depth to the issue's Mamet storyline are writings from Ray Banks, Jake Hinkson and Vince Keenan.
Stellar contributions, among many, this quarter from the e-mag's all-star bullpen include: Imogen Sara Smith on film noir in post-WWII Japan, Jake Hinkson reveals actress Elsa Lanchester's contributions to film noir, and Brian Light provides the Book vs. Film comparison of Odds Against Tomorrow.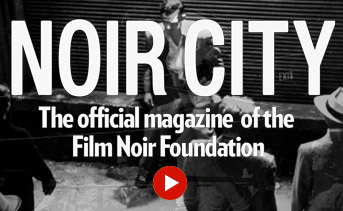 Get NOIR CITY E-Mag!
For access to the best writing on noir available today, and to enjoy one of the most cutting-edge interactive multimedia cinema publications in the world, subscribe to NOIR CITY. Get NOIR CITY by:
» Adding your name to our mailing list and then
» Making a donation to the Film Noir Foundation of $20 or more.
*If your PayPal email address differs from the email address provided for our mailing list, be sure to let us know. Note that you must be on the mailing list in order to receive the e-mag.
Have an idea for a NOIR CITY E-Mag article?
Please send a query letter stating your idea for an article along with a résumé of your writing experience/expertise to: editor@FilmNoirFoundation.org.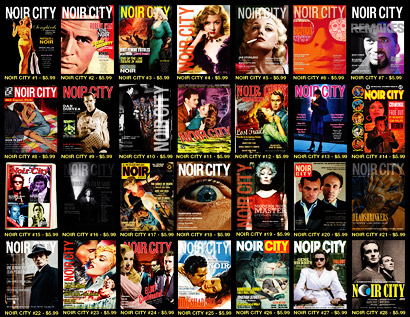 NOIR CITY E-Mag Back Issues
The Film Noir Foundation has its NOIR CITY e-Magazine back issues for sale — all issues, $5.99 each, plus tax. Please note: These are not printed magazines. The NOIR CITY e-Magazines are electronic issues delivered to your inbox as PDFs. Collect your favorites or own all 28 interactive back issues of the best cinema publication available today. You'll be helping the Film Noir Foundation in its restoration efforts with your purchases at NoirCityMag.com.