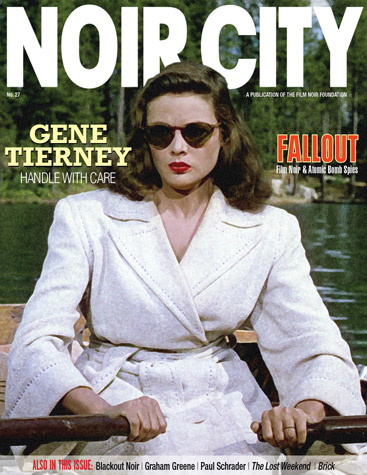 NOIR CITY E-Mag No. 27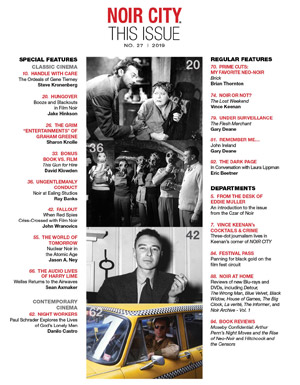 Just in time for Noirvember, it's Issue 27 of the NOIR CITY e-mag. Filled to bursting with all manner of dark delights to keep you company as shadows start to lengthen.
Cover girl Gene Tierney is beloved for her turns in films like Laura and Leave Her to Heaven. Steve Kronenberg's sensitive profile of the actress goes beyond the facade to tell the true story of her life, a harrowing tale of heartbreak, mental illness, and ultimately redemption.
Nuclear noir is more than just whatever's in the box in Kiss Me Deadly. John Wranovics, in his latest scrupulously-researched story, unearths a tangle of connections between several filmmakers of the 1940s and '50s and actual atomic age secrets.
Literary legend Graham Greene: noir powerhouse? Sharon Knolle mounts a persuasive case for Greene to be considered alongside Hammett, Chandler, and Cain with a survey of films based on Greene's novels or scripted by the man himself. Featuring a bonus Book vs. Film by David Klowden on the transformation of Greene's A Gun for Sale into 1942's This Gun for Hire.
Amnesia, quipped scribe Lee Server, is film noir's version of the common cold. And nothing delivers a blind spot in the memory like an evening of over-indulgence. So, belly up to the bar for Jake Hinkson's look at the role booze and blackouts play in noir. As a chaser, Vince Keenan stares down The Lost Weekend and asks the timeless question: Noir or Not?
And there's plenty more on the menu in the 90-plus pages of Issue 27 of the NOIR CITY e-magazine. → VIEW THE ISSUE 27's TABLE OF CONTENTS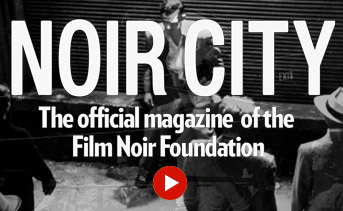 Get NOIR CITY E-Mag!
For access to the best writing on noir available today, and to enjoy one of the most cutting-edge interactive multimedia cinema publications in the world, subscribe to NOIR CITY. Get NOIR CITY by:
» Adding your name to our mailing list and then
» Making a donation to the Film Noir Foundation of $20 or more.
*If your PayPal email address differs from the email address provided for our mailing list, be sure to let us know. Note that you must be on the mailing list in order to receive the e-mag.
Have an idea for a NOIR CITY E-Mag article?
Please send a query letter stating your idea for an article along with a résumé of your writing experience/expertise to: editor@FilmNoirFoundation.org.
NOIR CITY E-Mag Back Issues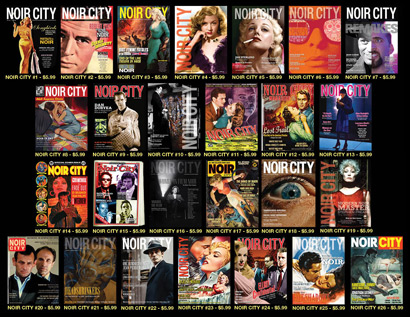 The Film Noir Foundation has its NOIR CITY e-Magazine back issues for sale — all issues, $5.99 each, plus tax. Please note: These are not printed magazines. The NOIR CITY e-Magazines are electronic issues delivered to your inbox as PDFs. Collect your favorites or own all 26 interactive back issues of the best cinema publication available today. You'll be helping the Film Noir Foundation in its restoration efforts with your purchases at NoirCityMag.com.