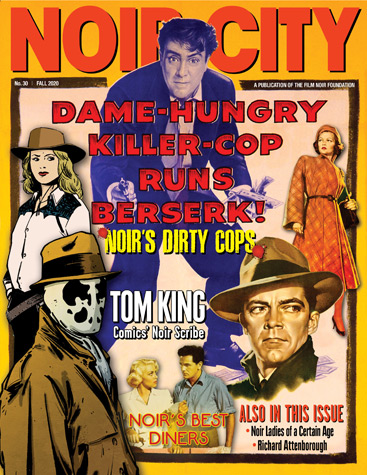 NOIR CITY E-Mag No. 30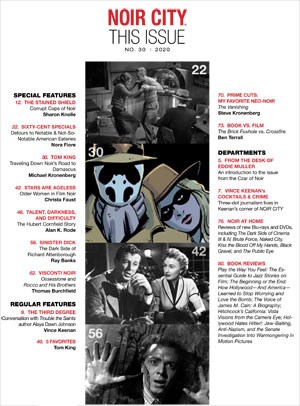 → VIEW THE ISSUE'S TABLE OF CONTENTS
The NOIR CITY emag Issue 30 is a deep dive into our favorite genre/style/movement and there's something here for every taste and mood: Sharon Knolle's topical cover story explores the history of "bad cop" noir; Nora Fiore takes us on a fabulous and funny tour of diners, cafés, and eateries from classic noir; Christa Faust spotlights some of the genre's more "experienced" dames, Michael Kronenberg talks noir with Tom King, one of the hottest writers working in "comic books" ... and there is so much more! And of course, there's Eddie Muller's Letter front the Editor which can't be missed!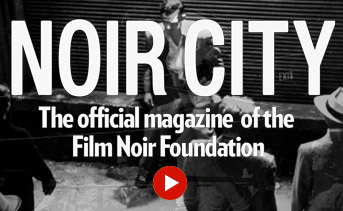 Get NOIR CITY E-Mag!
For access to the best writing on noir available today, and to enjoy one of the most cutting-edge interactive multimedia cinema publications in the world, subscribe to NOIR CITY. Get NOIR CITY by:
» Adding your name to our mailing list and then
» Making a donation to the Film Noir Foundation of $20 or more.
*If your PayPal email address differs from the email address provided for our mailing list, be sure to let us know. Note that you must be on the mailing list in order to receive the e-mag.
Have an idea for a NOIR CITY E-Mag article?
Please send a query letter stating your idea for an article along with a résumé of your writing experience/expertise to: editor@FilmNoirFoundation.org.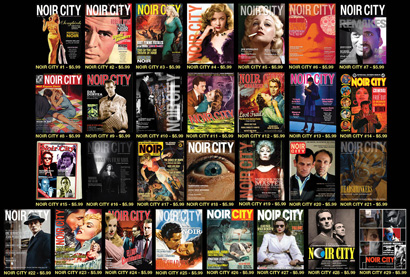 NOIR CITY E-Mag Back Issues
The Film Noir Foundation has its NOIR CITY e‑Magazine back issues for sale — all issues, $5.99 each, plus tax. Please note: These are not printed magazines. The NOIR CITY e-Magazines are electronic issues delivered to your inbox as PDFs. Collect your favorites or own all 29 interactive back issues of the best cinema publication available today. You'll be helping the Film Noir Foundation in its restoration efforts with your purchases at NoirCityMag.com.