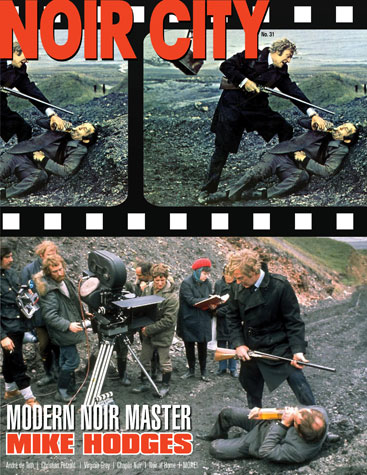 NOIR CITY Magazine No. 31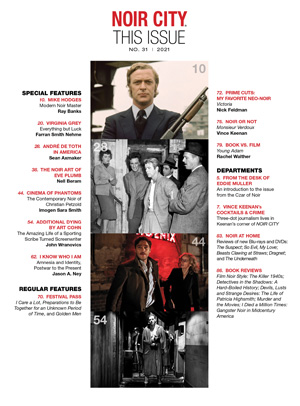 → VIEW THE ISSUE'S TABLE OF CONTENTS
In Issue #31 of the NOIR CITY Magazine, the FNF announces this year's Modern Noir Master, an award annually bestowed by the foundation upon a contemporary artist whose work has extended the traditions of classic film noir. This year writer-director Mike Hodges, who created such landmark neo-noirs as Get Carter (1971), Pulp (1972), and Croupier (1998), joins the ranks of previous recipients Stephen Frears, James Ellroy, and David Mamet. NOIR CITY's Ray Banks speaks at length with Hodges and their fascinating conversation is augmented by exclusive comments from two of our honoree's most renowned collaborators: Michael Caine and Clive Owen. Also highlighted in this issue: Imogen Sara Smith explores the contemporary noir of filmmaker Christian Petzold, Sean Axmaker profiles iconoclastic director André de Toth, Farran Smith Nehme details the life of stalwart supporting actress Virginia Grey, John Wranovics reveals the fascinating story of writer Art Cohn, and much, much more.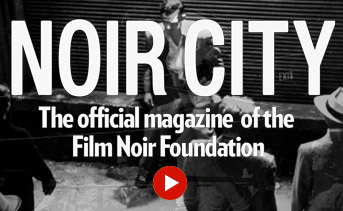 *If your PayPal email address differs from the email address provided for our mailing list, be sure to let us know. Note that you must be on the mailing list in order to receive NOIR CITY Magazine digital version.
Get NOIR CITY Magazine - Digital Version!
For access to the best writing on noir available today, and to enjoy one of the most cutting-edge interactive multimedia cinema publications in the world, subscribe to NOIR CITY. Get NOIR CITY Magazine digital version by:
» ADDING YOUR NAME TO OUR MAILING LIST and then
» MAKING A DONATION TO THE FILM NOIR FOUNDATION OF $20 OR MORE
NOIR CITY Magazine digital version is in PDF format and sent to donors via our mailing list every four months.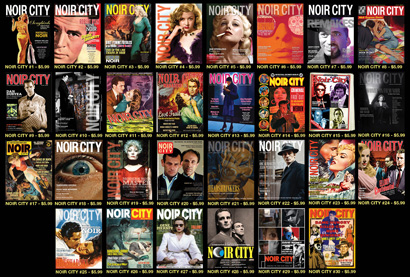 NOIR CITY Magazine Digital Version Back Issues
The Film Noir Foundation has its NOIR CITY Magazine digital version back issues for sale — all issues, $5.99 each, plus tax. Please note: these NOIR CITY Magazines are electronic issues, not printed magazines, delivered to your inbox via WeTransfer with a link to download the issue as a PDF. Collect your favorites or own all 30 interactive back issues of the best cinema publication available today. You'll be helping the Film Noir Foundation in its restoration efforts with your purchases at NoirCityMag.com.
IMPORTANT: Please allow 24-48 hours for delivery after purchase. Yes, we're old fashioned — orders are not automated! Delivery is handled personally by two FNF staffers.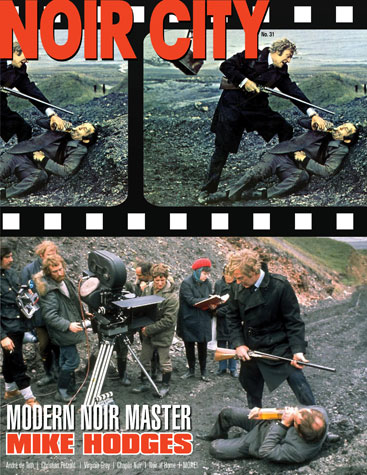 NEW
NOIR CITY Magazine Adds Hard Copy
The Film Noir Foundation's acclaimed publication, previously available exclusively to patrons in digital form, is now available as a separate, stand-alone printed magazine. Every issue filled with articles by the finest film writers in the world, exploring the world of noir in both classic and contemporary cinema—and its influence on other media. Get every new issue delivered to your actual mailbox—on-demand!
Donors to the Film Noir Foundation will continue to receive the magazine in downloadable PDF form. Physical editions available only as separate purchases via Amazon.com for $14.99. All FNF proceeds from the sale of the magazine aid the FNF's mission of rescuing and restoring films!
Have an idea for a NOIR CITY Magazine article?
Please send a query letter stating your idea for an article along with a résumé of your writing experience/expertise to: editor@FilmNoirFoundation.org.