Sign Up for the Film Noir Foundation Mailing List!
Start receiving news about upcoming NOIR CITY Film Festivals and the work of the Film Noir Foundation, by filling out the information below and clicking the SIGN ME UP button.
✓ You'll then receive an email within 10 minutes from our mail service asking you to confirm your subscription by clicking on the verification link.
This extra step is an important spam safeguard and ensures our mailing list email can reach you. Rest assured we do respect your privacy and will not share any info you provide with any other mailing list or data miner.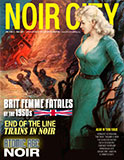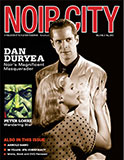 Get NOIR CITY Magazine
The NOIR CITY Magazine digital version is available to mailing list subscribers who also make a donation of $20 or more to the Film Noir Foundation.
Find out more about the NOIR CITY Magazine here.
✻ If you don't receive a confirmation email after signing up, check to make sure your email program hasn't stuck us in the junk folder!
⚠ Some ISPs' mail policies block legitimate email. If you don't receive the confirmation email after signing up and don't spot it in your spam folder, you may want to contact your ISP's tech support — or alternatively use a supplemental free account like Gmail, ProtonMail, or Yahoo.
✻ First and last name fields, e-mail address, and city are required. Other fields are optional, but helpful. Note that we do not share our mailing list info with other organizations. We value your privacy.