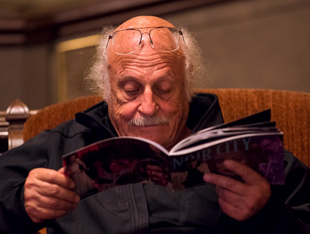 Yoram Kahana
Remembering Our Champion
Yoram Kahana was one of the Film Noir Foundation's greatest allies. His association with us even pre-dates the FNF's creation. Our first meeting was at one of the earliest noir festivals at the Egyptian Theatre in Hollywood, presented in conjunction with the American Cinematheque. At the end of the evening Yoram approached me, the first time I'd ever seen what would become a familiar visage: the wild tangle of white hair, the light-colored, lightweight, lived-in outfit (complete with photojournalist vest) suggesting a war correspondent in some humid, hostile outpost (nah, just Hollywood). The bemused, crooked smile—and, of course, the gruff, almost indecipherable accent that prevented me from really knowing his name until I looked it up online.
"You've really got something here," he said, surveying the exuberant crowd. "You can do something with this." It was one of the inspirational sparks that led me to create a foundation to rescue and restore noir films. In due time, Yoram became the Foundation's champion within the Hollywood Foreign Press Association, of which he'd been a member since 1963. He orchestrated our initial grant submissions and was bull-headed on our behalf arguing that we deserved to have projects fully funded, as the HFPA typically did for the higher profile Film Foundation. It quickly became evident that Yoram had as many detractors among his colleagues as he had allies, no doubt due to his brusque, no-nonsense manner. In addition to a keen photographer's eye, he possessed a hyper-sensitive BS detector, which would go off wildly around poseurs and hypocrites. But the taciturn manner was only well-worn armor guarding a warm and affectionate man. If he accepted you, the twinkle in his eye always shone.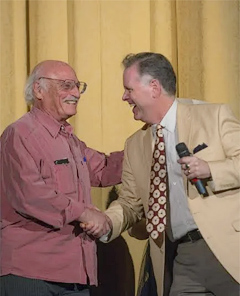 Yoram was indefatigable in his support of the FNF's work because he realized we truly were a non-profit dedicated to our expressed goal of rescuing and restoring films. He demanded HFPA officials scrutinize our bookkeeping to see that all the money went to the films, not to overhead, bloated salaries, or questionable expenses.
After we received a $25,000 grant from the HFPA's Charitable Trust to help with the cost of restoring Woman on the Run, Yoram did not let it rest. Knowing there was still discretionary money in the Trust's coffers, he personally talked then-HFPA president Theo Kingma into providing another $40,000 to the FNF—meeting the full cost of the restoration. It was the first chapter in a successful partnership between the Film Noir Foundation and the HFPA, one that has withstood several changes at the top of the HFPA as well as some polarizing political infighting. The one constant was Yoram's unwavering commitment to our mission.
Although I knew Yoram as a professional colleague for more than 20 years, he revealed little about his extraordinary life. Most of it I learned from his family, after his recent passing.
Yoram was born in Tel Aviv on January 1, 1939, which, at that time, was still Palestine. He was taught to read at four years of age by his grandfather Abraham Kahana, a renowned biblical scholar. He was bright enough to skip two grades in school, and in 1953 he became a regular guest on Shmuel Rosen's popular radio quiz show, gaining national recognition for his intellectual prowess. In high school, his girlfriend's father owned a cinema, and Yoram perfected his English by working the subtitling machine.
He joined the Israeli Army at 16, but the military didn't mesh with his independent spirit. He earned a stint in the brig, which in true Yoram spirit, he turned into a vacation, reading James Joyce and penning letters for illiterate prisoners.
After his release, he studied archaeology for a semester at the University of Jerusalem before writing to Columbia University to says he'd be attending in September 1958. Cadging credentials from various children's newspapers in Israel, he bluffed his way into the Belgium World's Fair press corps where he made numerous lifelong friends. Arriving in New York via Canada, Yoram managed one year at Columbia before the winter weather spurred a transfer to UCLA. In California, Yoram taught himself Spanish; he spent the next fifty years conversing seamlessly in Hebrew, English, and Spanish.
Most importantly, he met the love of his life at UCLA, his partner and wife, Peggy. They married in 1962, when Yoram was 23, and made award-winning educational films under the banner Kahana Film Productions. They both earned Masters in Film at UCLA and Yoram also received a Master's Degree in Journalism.
Yoram chronicled much of the tumult of the 1960s as a photographer for the Los Angeles Free Press, documenting historical and cultural movements and leaders, music festivals, the Black Panther and anti-war movements, musicians, authors, artists, celebrities, and politicians. His photos appeared on countless magazine and album covers. He became a leading lensman for Shooting Star, the globally recognized photo agency for celebrity at-home and studio photography.
"Mentorship was crucial to his being."
He joined the Hollywood Foreign Press Association in 1963 and held numerous positions on the Board and in the Association.  He was a regular on the red carpet for the Golden Globes, and until his final days he was committed to steering the HFPA towards reform.  He was also a longstanding member of the Society of American Travel Writers and his award-winning travel photography was published worldwide.
"Mentorship was crucial to his being," said his children, Tal and Paz. "He led by example, and was an advocate and lent support to photographers, journalists and bright eager minds. He championed the underdog, spoke for the silenced, and was a moral compass.  
"Travel was ingrained in his daily life and purpose. With his camera slung over his shoulder and a pen in his pocket, he traveled to over one hundred countries and every continent, documenting what he saw with open eyes and an open heart. His passions were many and eclectic and ranged from noir movies, first editions of Alice in Wonderland, to e.e. cummings and James Joyce (celebrating Bloomsday every year) to art, architecture, vintage cars, politics, and above all his grandchildren. Yoram was a voracious reader. He lived by the rule that if they took the time to write it, he was going to take the time to read it. And he did. In five different languages. He advocated for numerous charities including the Los Angeles Conservancy, Pablove, Doctors without Borders, the ACLU, and Arab-Israeli Peace.  In lieu of flowers, any donations to those organizations would be an honor to his memory."
Yoram died peacefully on June 15, 2021, in Los Angeles with Peggy at his side.  He is survived by Tal and Paz, and grandchildren Jacob, Goldie, Ben, Nathan, and Noa.
—Eddie Muller, June 17, 2021