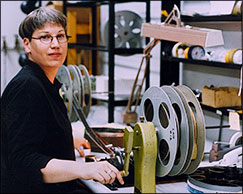 The Nancy Mysel Legacy Grant
$5,000 Grant for Film Preservation Students
The Film Noir Foundation invites film preservation students to apply now for the 2017 Nancy Mysel Legacy Grant.
This $5,000 grant will be awarded by the FNF in January 2017 to a deserving undergraduate or graduate student in film restoration/preservation or moving image archive studies.
2016 GRANT WINNER ANNOUNCED
The Film Noir Foundation is proud to announce the winner of this year's $5,000 FNF/Nancy Mysel Legacy Grant —Jana D. Gowan of UCLA. Jana, a Master of Library and Information Science/Media Archives Specialization student, attended NOIR CITY on Saturday night, January 30, for the grant announcement where she spoke on the Castro Theatre stage with FNF founder and president Eddie Muller. The Mysel family, the grant's benefactors, were in attendance as well.
All applications received this year were impressive! The FNF encourages all those who weren't selected this year to reapply in December for 2017's $5,000 FNF/Nancy Mysel Legacy Grant, to be awarded January 2017.
How To Apply
Provide your contact information: name, address, phone number, email address and, if applicable, current resume and related film preservation work experience
Submit a personal essay answering the following questions:
1. What do you hope to accomplish with a career in film restoration/preservation?
2. Why do you feel you have an aptitude for film restoration/ preservation work?
3. What related film preservation experience have you had and what impact has it had on you?
APPLICATION DEADLINE: DEC 14, 2016
Mail or email your application by December 14, 2016.
Grant Award Committee
Film Noir Foundation
1411 Paru Street
Alameda, CA 94501
Applications may also be sent as PDFs to minknoir@yahoo.com with the subject line: 2017 Grant Submission - Name of Applicant
Award Notification
The 2017 Nancy Mysel Legacy Grant winner will be announced at NOIR CITY 15, date TBD.
Applicants will be notified by email of the grant decision in early February 2017.
ELIGIBILITY
Must be a student currently enrolled in a college or university film preservation or moving image archive program.
Must be a first-time Film Noir Foundation grant applicant.
TERMS
Successful applicants must sign an agreement affirming the responsibilities of the grant (i.e. that they are an undergraduate or graduate student currently enrolled in a film restoration/preservation or moving image archive studies program, and that the grant funds will go toward their film preservation studies).
Nancy Mysel
Legacy of a Cinema Savior
BY EDDIE MULLER
The fortunes of the Film Noir Foundation suffered a devastating setback in 2012. Nancy Mysel, film preservationist for UCLA Film & Television Archive, who supervised our restorations of The Prowler and Cry Danger, lost a long-running battle with cancer.
What makes this tragedy all the more intolerable is that Nancy, only 45, had just begun her cherished career as a cinema savior. In a few short years, she had made an astounding impact managing superb restorations of many films. In addition to rescuing more than a few films noir, Nancy resurrected a vital facet of film history with preservations of Dorothy Arzner's pre-Code films made at Paramount in the early 1930s.
A native of Paterson, New Jersey, Nancy began work as a preservationist at Boston University. She'd worked at UCLA Film & Television Archive since 1999, benefiting from the tutelage of legendary UCLA preservationist Robert Gitt. Together, they restored more than two-and-a-half hours of outtakes to create the documentary Charles Laughton Directs 'The Night of the Hunter,' included in the 2011 Criterion DVD of the 1955 feature.
I can't overstate how essential Nancy was to our success. Her commitment to the highest level of restoration set an immense standard, which she challenged everyone to meet—including us. Although personally shy and self-effacing, she was a passionate preservationist and an exacting taskmaster. The best way we can honor her legacy is by ensuring that everything we do in the future measures up to her incredible standard of excellence.
Before her death, Nancy sent me the following note: "There's no denying working with you on our beloved genre provided the greatest opportunities and enjoyment of my career. That you were so much fun to work with is only the icing on the cake. The screening of Cry Danger at the Castro was a special highlight I was able to share with my family. Thank you again, and keep fighting the good fight!"
The FNF is proud to carry on Nancy's work with a huge assist from her family. Funded by the Mysel family and created in Nancy's honor, The Nancy Mysel Legacy Grant – the FNF's charitable adjunct –- will grant funding to deserving students involved in cinema restoration. It's in the spirit of preservation and progress that we announce The Nancy Mysel Legacy Grant for 2016.