NOIR CITY Returns to the Emerald City
NOIR CITY returns to Seattle July 22 through 28 to a new home at the historic SIFF Cinema Egyptian with an 18-film lineup, programmed and hosted by FNF president Eddie Muller, a.k.a. the "Czar of Noir." The latest edition of NOIR CITY: Seattle is subtitled "Film Noir: A to B" and comprises nine double bills that present a chronological excursion through the classic noir era, with themed pairs of "A" and "B" titles playing together.
The paring includes some seemingly unlikely match-ups, for example, the homo-erotic color noir, Desert Fury and the classic thriller Sorry, Wrong Number on July 26. What the connection? Legendary costume designer, and winner of eight Oscars, Edith Head, created the wardrobes for both films. In addition to the double bill, Seattle author Renee Patrick will be signing copies of her new novel Design for Dying, in which Head helps solve a murder in 1930s Hollywood. Here's a little insider knowledge, Renee Patrick is a pseudonym for the husband and wife writing team of Rosemarie and Vince Keenan, long time NOIR CITY e-magazine contributors.
On July 27, the FNF-funded 35mm restoration of Woman on the Run (1950), a once-lost title recently celebrated at screenings in San Francisco, Manhattan, Paris, and Bologna, plays with Max Ophüls' transcendent noir melodrama The Reckless Moment, an excellent adaption of Elisabeth Sanxay Holding's novel The Blank Wall. The festival will close with another 1950 classic, Joseph H. Lewis' extraordinary examination of l'amour fou, Gun Crazy. Muller will be on site to sign copies of his latest book, Gun Crazy: The Origin of American Outlaw Cinema, an in-depth examination of the film's creation and influence. A FNF-funded preservation, Southside 1-1000 follows Gun Crazy.
Presented by the Seattle International Film Festival in partnership with the Film Noir Foundation. Visit SIFF's website to see the full schedule and to purchase individual tickets and passes.
2016 NOIR CITY DATES
NOIR CITY Chicago: August 19-25
NOIR CITY Detroit: September 23-25
NOIR CITY D.C.: October 15-27
From the Collection of
Eddie Muller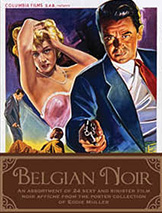 The WORLD OF FILM NOIR was created in black and white, but its intrigue and passion was sold worldwide by movie posters -- in vivid color -- that enticed audiences into this sinister and sensual demimonde. Nowhere on earth was the come-on more colorful than in Belgium, where the nation's standardly sized posters (a mere 14" x 22") virtually exploded with the danger and desire at the heart of cinema's most alluring and durable genre. Small posters from a small country--but packed with more lust and larceny than Hollywood would dare.
NOW, EXCLUSIVELY FROM BLACK POOL PRODUCTIONS—Eddie Muller, "The Czar of Noir," presents 24 glorious Belgian cinema posters from his personal collection, reproduced as 5-1/4" x 7" cards, each complete with his terse and tangy commentary highlighting what made these films—and this artwork--so magical and memorable. $20 + tax/shipping at BlackPoolProductions.com.
Don't Print the Legend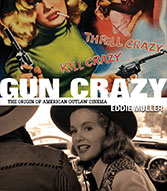 Gun Crazy caused barely a ripple in public consciousness when it hit movie screens in 1950. Yet over time it would prove to be the most innovative and provocative motion picture of its era—a simple genre film, but packed with so much cinematic bravura and timeless symbolism, its power has spanned decades, crossed oceans, and influenced countless filmmakers. + READ MORE.
Martha Gruft R.I.P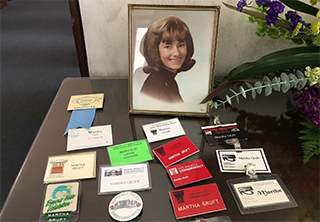 The Film Noir Foundation family was deeply saddened by the death July 2 of long-time volunteer Martha Gruft. Martha was a constant, reassuring presence behind the FNF merchandise table during our annual NOIR CITY festival at the Egyptian Theatre in Hollywood. Her knowledge of film, and particularly Los Angeles, was extraordinary. She immersed herself in the cultural heritage of her adopted hometown as a volunteer at the American Cinematheque, the Los Angeles Conservancy, the Santa Monica Conservancy, and the Marina del Rey Chamber of Commerce, among other organizations.
A habitué of the downtown library, there wasn't a significant historical site in Los Angeles of which Martha wasn't familiar. She could also deliver an impromptu critiques of countless local restaurants listed in Zagat's Guide; she had, seemingly, dined everywhere. Martha was a cherished mother and doting grandmother with a devoted circle of friends as wide as her welcoming smile. Everyone who had the pleasure to know Martha Gruft will sorely miss her.
FNF/Nancy Mysel Legacy Grant Winner Announced
The Film Noir Foundation is proud to announce the winner of this year's $5,000 FNF/Nancy Mysel Legacy Grant, Jana D. Gowan of UCLA, a Master of Library and Information Science/Media Archives Specialization student. Specifically, Gowan wants to pursue a career as a moving image archivist in film restoration and preservation at a regional film archive. Preserving the diverse history of rural communities by restoring locally relevant films is her passion. + READ MORE.
2015 Restoration Project
FNF Restores "Lost" Argentine Classic
Los tallos amargos (1956), a vitally significant "lost" film in the history of international noir cinema, has been restored this year by the Film Noir Foundation with the cooperation of UCLA Film & Television Archive and the Hollywood Foreign Press Association's Charitable Trust (The HFPA Trust). Based on the novel by journalist Adolfo Jasca, Los tallos amargos (The Bitter Stems) tells the tale of a down-on-his-luck journalist whose creation of a lucrative, if unethical, correspondence course leads to his committing the perfect murder. + READ MORE.

Come follow us on Tumblr to indulge your passion for noir! We'll be posting daily, celebrating all things noir with exclusive stills and images you won't see anywhere else, as well as trailers, film clips, and more.

Share our posts with your friends; your love of the art form is the Foundation's biggest asset in its mission to preserve and restore classics of the genre. We are also fully committed to present our rescued films in the way they were meant to be seen: in 35mm at our NOIR CITY festivals around the country.
Offbeat Thrillers Come to the SFJFF
The Film Noir Foundation is proud to be a community partner for two films playing at the San Francisco Jewish Film Festival 36, taking place across the Bay Area July 21- August 17, 2016.
First up is Borys Lankosz's A Grain of Truth (2015). In this riveting Polish thriller, a woman in a small village is murdered with a knife used for Jewish ritual slaughter. Prosecutor Teodor Szacki (Robert Więckiewicz) is called in on the case and soon uncovers a town full of deeply rooted anti-Semitism. Based on a best-selling crime novel, this gripping film, which feels like a Polish version of Seven, will keep you glued to your seat until the last frame. The film plays twice during the festival, at San Francisco's historic Castro Theatre on Monday, July 25, 1:40PM and at Oakland's Piedmont Theatre on Friday, August 5, 8:50PM.
Second is How to Win Enemies (2015) from Argentina. Take a classic Woody Allen–style antihero, add Alfred Hitchcock–level intrigue and a strong dose of Argentine sex appeal, and you have this comic, poignant and smart feature. Director Gabriel Lichtmann shows the complicated family relations of Lucas, a young Buenos Aires Jewish lawyer and a mystery buff (he even has a dog named Sherlock) as he solves the mystery of who conned him out of a down payment on a house. For ticket information, please contact the box office at 415.621.0523, or visit the San Francisco Jewish Film Festival on-line. The film plays three times during the festival: Cinearts at Palo Alto Square on Wednesday, July 27, 6:00PM; at the Castro on Thursday, July 28, 6:30PM; and at the Piedmont on Sunday, August 7, 8:45PM.
I Wake Up Dreaming for the Last Time
This August at the Castro Theatre, I Wake Up Dreaming returns with 11 boundary pushing films noir. Programmer Elliot Lavine has announced that after 25 years of outstanding programing, this will be the festival's last cycle. Thankfully, he's going out with a bang. Lavine will present two of the genre's most emotionally and morally edgiest noirs, Phil Karlson's 99 River Street and Edmund Goulding's Nightmare Alley. Both feature protagonist with deep-rooted psychological problems being pushed to their limits. John Payne and Tyrone Power, the respective leads of these two noir masterpieces, broke out of their glamorous leading man personas to deliver harrowing performances.
Lavine has also programmed noirs that pushed narrative limits, like Roy William Neill's Black Angel, based on the novel by Cornell Woolrich, or those of genre, the film noir/monster movie mash-up, The Monster and the Girl and the docu-noir/epidemic disaster film The Killer That Stalked New York. Two noirs that dealt vividly with the apocalyptic fears of the atomic age are also included, Robert Aldrrich's Kiss Me Deadly and Five, written and directed by radio's legendary Arch Oboler, creator of Lights Out. With the exception of The Monster and the Girl, all the films screening will be 35mm studio archival prints. For the full line-up of films, playing every Wednesday in August, visit the official website.
Czar of Noir Meets Czech Noir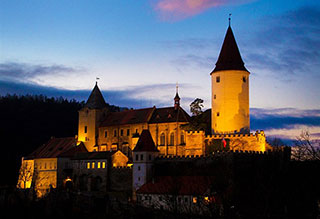 The third edition of Czechoslovakia's Noir Film Festival will take place August 18–21, 2016 and includes tributes to Otto Preminger, Alfred Hitchcock, San Francisco-based noir, noir-stained westerns, and films featuring Kirk Douglas and Olivia de Havilland. The festival is held in the majestic 13th century Krivoklát Castle, about 30 miles outside Prague. More than 40 screenings will be held in the castle's upper courtyard as well as four historical halls.
As in previous years, various Czech actors, directors, and producers will be introducing many of the screenings, including director Jiří Strach and actress Marika Šoposká. We are excited to announce that this year FNF president Eddie Muller will also be attending and presenting a number of films on the program. "I hope many of the FNF's European patrons will be able to attend," said Muller. "This is a rare opportunity in a fabulously unique environment. It's an exciting program, and I'm thrilled to be a part of it." More information about this festival, as well as the full schedule, can be found on the official website.

Tweets