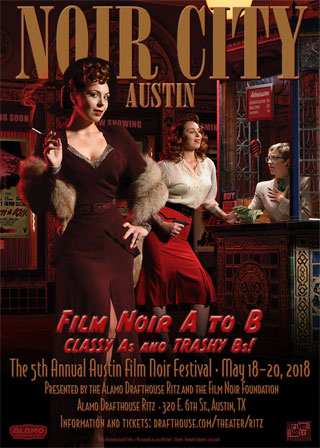 NOIR CITY Returns to the Lone Star State
NOIR CITY returns May 18-20 to the Alamo Drafthouse Ritz with 10 classic noirs. "Film Noir from A to B" will take audiences back in time with a program of five genuine "A" and "B" double bills. The line-up includes the FNF's most recent 35mm restoration, Felix E. Feist's The Man Who Cheated Himself (1950). The festival will also present Paramount's new digital restoration of Byron Haskin's I Walk Alone (1947), the Library of Congress' 35mm restoration of William Dieterle's The Accused (1949), and our 35mm preservation of Cy Endfield's The Underworld Story (1950). Czar of Noir Eddie Muller will host Friday's and Saturday's films. FNF board member Alan K. Rode will introduce the Sunday features, as well as sign copies of his latest biography, Michael Curtiz: A Life in Film. Visit the Alamo Drafthouse Austin/Ritz website for schedule, program notes, and tickets.
UPCOMING NOIR CITY DATES
NOIR CITY Austin: May 18-20, 2018
NOIR CITY Boston: June 8-10, 2018
NOIR CITY Chicago: August 17-23, 2018
NOIR CITY Detroit: September 22-23, 2018
NOIR CITY D.C: October 12-25, 2018
Desert Noir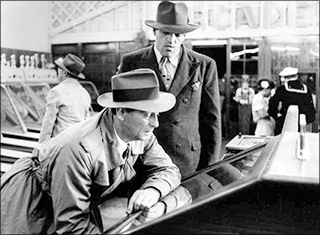 The Arthur Lyons Film Noir Festival 2018 returns to the Camelot Theatres in Palm Springs, California for its 19th edition with an exciting line-up of classic noirs and special guests. The festival kicks off with Dick Richard's Farewell, My Lovely (1975) starring Robert Mitchum as Phillip Marlowe. Jack O'Halloran, who played Moose Malloy, will be in attendance. Victoria Price will be the guest for a screening of Michael Gordon's The Web (1947) starring her father Vincent Price as the film's villain. Actress Ruta Lee will attend Billy Wilder's Witness for the Prosecution (1957). Victor Mature's daughter Victoria Mature will be the guest for the screening of one of her father's most iconic films, Henry Hathaway's Kiss of Death (1947).
The festival, hosted and produced by FNF board member Alan K. Rode, plays May 10-13. Rode recently authored Michael Curtiz: A Life in Film and will be screening two of the director's films, 1947's The Unsuspected and Flamingo Road from 1949. The FNF's most recent 35mm restoration, Felix E. Feist's The Man Who Cheated Himself (1950) will also screen. The full line-up, all access passes and tickets to individual screenings are available on the festival's website.
Latest FNF Rescue: The Man Who Cheated Himself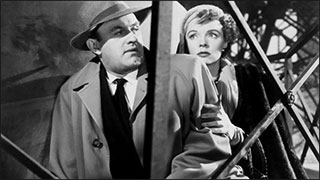 The Man Who Cheated Himself, an independently made noir thriller from 1950, is the latest preservation project of the Film Noir Foundation. The restored film had its world premiere in San Francisco at NOIR CITY 16 in January, fittingly as the film was shot in location in the City by the Bay. The Felix Feist-directed feature, which concerns a cop entangled with a cunning socialite who murders her husband, will play the NOIR CITY festival circuit throughout 2018.
20th Century–Fox, the film's original distributor, provided an original fine-grain from its vault as the essential restoration element, and UCLA's Head of Restoration, Scott Mac-Queen, oversaw the project—which for the first time includes restoration of the film's original trailer, as well. The Felix Feist-directed feature, which concerns a cop entangled with a cunning socialite who murders her husband, will play the NOIR CITY circuit in 2018.
A June 23 screening of the film on TCM's Noir Alley hosted by Muller, will be followed by Flicker Alley's release of the film on Blu-ray, with special features produced by the FNF. In addition to The Man Who Cheated Himself, NOIR CITY patrons and FNF donors have made it possible over the years for the FNF to restore Los tallos amargos (1956), Cry Danger (1951), The Prowler (1951), Try and Get Me! (1951), Repeat Performance (1947), High Tide (1947), Too Late for Tears (1949), The Guilty (1947) and Woman on the Run (1950), as well as funding our many 35mm preservations. DONATE HERE and be a film noir savior.
The 2018 Nancy Mysel Legacy Grant Winner Announced
The Film Noir Foundation is proud to announce the recipient of this year's $5,000 FNF/Nancy Mysel Legacy Grant —Shahed Dowlatshahi of New York University - Masters of Arts in Moving Image Archiving and Preservation program. + READ MORE
From the Collection of
Eddie Muller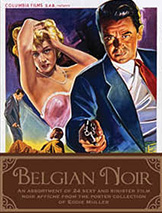 The WORLD OF FILM NOIR was created in black and white, but its intrigue and passion was sold worldwide by movie posters -- in vivid color -- that enticed audiences into this sinister and sensual demimonde. Nowhere on earth was the come-on more colorful than in Belgium, where the nation's standardly sized posters (a mere 14" x 22") virtually exploded with the danger and desire at the heart of cinema's most alluring and durable genre. Small posters from a small country--but packed with more lust and larceny than Hollywood would dare.
NOW, EXCLUSIVELY FROM BLACK POOL PRODUCTIONS—Eddie Muller, "The Czar of Noir," presents 24 glorious Belgian cinema posters from his personal collection, reproduced as 5-1/4" x 7" cards, each complete with his terse and tangy commentary highlighting what made these films—and this artwork--so magical and memorable. $20 + tax/shipping at BlackPoolProductions.com.
Don't Print the Legend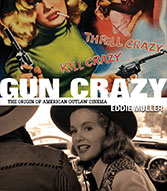 Gun Crazy caused barely a ripple in public consciousness when it hit movie screens in 1950. Yet over time it would prove to be the most innovative and provocative motion picture of its era—a simple genre film, but packed with so much cinematic bravura and timeless symbolism, its power has spanned decades, crossed oceans, and influenced countless filmmakers.
+ READ MORE

Come follow us on Tumblr to indulge your passion for noir! We'll be posting daily, celebrating all things noir with exclusive stills and images you won't see anywhere else, as well as trailers, film clips, and more.

Share our posts with your friends; your love of the art form is the Foundation's biggest asset in its mission to preserve and restore classics of the genre. We are also fully committed to present our rescued films in the way they were meant to be seen: in 35mm at our NOIR CITY festivals around the country.
Alan K. Rode at the AFI Silver and on TCM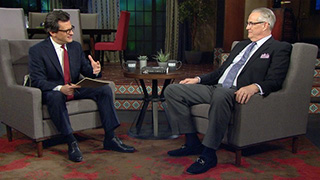 This April, Turner Classic Movies will be saluting the talented and prolific Hollywood director Michael Curtiz. The commercial free classic movie network will be screening 53 Curtiz-helmed films during the month of April. FNF board member and Michael Curtiz: A Life in Film author Alan K. Rode will be co-hosting four Wednesday night prime time Curtiz showcases on TCM with Ben Mankiewicz, including screenings of the exceptional noirs Mildred Pierce (1945) and The Breaking Point.
FNF Launches
Now Playing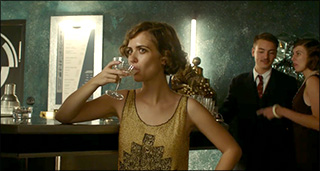 Love our film reviews in the NOIR CITY e-magazine? Get you noir-tinged movie and streaming news faster from our newly added NOW PLAYING area.
Contributors include syndicated newspaper columnist Sean Axmaker; the East Bay Express' chief film reviewer Kelly Vance and Nathalie Atkinson, a columnist for The Globe and Mail and the creator and host of the popular film series Designing the Movies.
Kim Novak In-Person at the Castro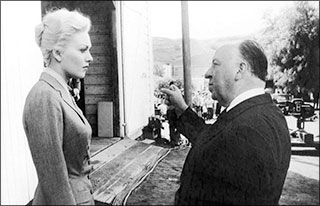 FNF president Eddie Muller will be interviewing Kim Novak about her life and career on the stage of San Francisco's majestic Castro Theatre on Sunday, May 20. The interview is part of Marc Huestis' gala tribute to Kim Novak which will also feature an impressive array of clips from Novak's career, celebrated Bay Area jazz singer Paula West performing a musical medley of Pal Joey songs, and a dance performance by Rory Davis inspired by the film Picnic. The gala ends with a screening of Alfred Hitchcock's Vertigo (1958). In this critically lauded thriller, an old friend hires ex-cop Scotty (Jimmy Stewart) to follow his beautiful but emotionally disturbed wife (Novak) through the gorgeously shot streets of San Francisco. Advance tickets are available from Ticket Fly—only balcony seats are left. Partial proceeds benefit SF Suicide Prevention. There will also be a free screening of Joshua Logan's Picnic (1955) at noon the same day, no tickets necessary.
Plenty for Noir Fans at TCM Classic Film Festival 2018
Eddie Muller and Alan K. Rode in Attendance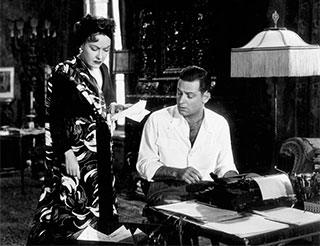 The TCM Classic Film Festival returns to the heart of Hollywood, April 26-29 with a focus on "The Page Onscreen". The theme covers both exceptional screenplays and films about writers. Not surprisingly, one of the film noirs playing this year will be Billy Wilder's Sunset Boulevard (1950). Another classic noir with a writer protagonist will screen as part of the festival's quartet of 35mm nitrate presentations, John M. Stahl's Leave Her to Heaven (1945).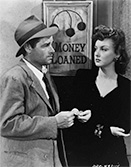 World renowned author Dame Agatha Christie contributed the story for another terrific Wilder helmed noir playing this year, Witness for the Prosecution (1957). Jack London provide the source novel for Michael Curtiz' paranoid adventure noir The Sea-Wolf (1941), TCM will be presenting the 2K restoration featuring 14 minutes of missing footage from the original theatrical release. FNF board member and Michael Curtiz: A Life in Film author Alan K. Rode will introduce the screening on opening night. Edgar G. Ulmer's Detour (1945), at long last restored, will also play on opening night.
Noir lovers will also enjoy Robert Wise's The Set-Up (1949), possibly the greatest boxing film ever made, featuring an unusually grim script told in real time. FNF Eddie Muller will introduce the screening. Muller will also be interviewing actress and FNF Advisory Board member Marsha Hunt at a screening of André De Toth's None Shall Escape (1944). Visit the TCMFF website for full festival information and to buy passes.
Castle Noir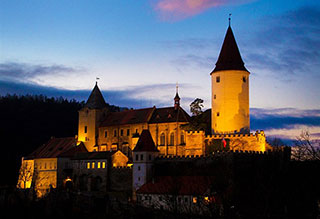 Noir Film Festival will return for its sixth edition August 23-26 to its breathtaking home, the majestic 12th century Křivoklát Castle, about 100km outside Prague in the Czech Republic. The festival includes multiple series with in the festival, including tributes to noir icons Ida Lupino and Robert Ryan, as well as celebrating the career of film director and festival patron Hynek Bočan who turned 80 this year. Programmers Jana Bébarová and Milan Hain have selected rarely screened 1940s and 50s films from Denmark, Norway, Sweden and Finland for the Nordic Noir series. The Prison Noir series will include films about both men and women behind bars: Don Siegel's Riot Cell Block 11 (1954), Jules Dassin's Brute Force (1947), John Cromwell's Caged (1950), and Robert Wise's I Want to Live! (1958). The complete NFF 2018 program will be announced on the festival's English language webpage in June.
NEW EPISODE OF NOIR TALK
NOIR CITY Hollywood, Book vs. Film Adaptations, and A Touch of Mancini, with Guest Brian Light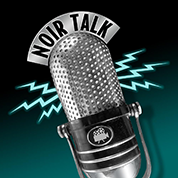 NOIR CITY Hollywood show runner Brian Light joins NOIR TALK producer/host Haggai Elitzur to discuss the festival's 20th edition. Brian takes the audience behind the scenes and details some of this year's highlights. The full line up, program notes and tickets for the festival are available on the Egyptian Theatre's website.
Brian also discusses some of his articles for NOIR CITY e-magazine. Brian's numerous "Book vs Film" articles include "La Chienne vs. Scarlet Street," a comparison of the 1920s French novel with two film versions, Jean Renoir's French adaptation and Fritz Lang's noir classic Scarlet Street. You can buy the back issue on the NOIR CITY e-mag website or read it for free on the e-mag's home page. "Scoring Evil: The Henry Mancini Touch" dives into one of best soundtracks from the classic film noir era, Orson Welles' Touch of Evil. You can buy the back issue with Brian's article on Mancini here.You can listen either on SoundCloud or on iTunes.

Tweets