Noir City Xmas Returns
Join us on Wednesday, December 14 at San Francisco's historic Castro Theatre, as the Film Noir Foundation celebrates the holidays by tossing aside the Christmas treacle for a headlong dive into a double bill of danger and darkness: Quentin Lawrence's Cash on Demand (1961) at 7:30, and Harold Ramis' Ice Harvest (2005) at 9:30.
Lawrence's late era noir reimagines A Christmas Carol as a tense bank heist thriller with Peter Cushing in the lead as a Scrooge like bank manager in need of a Dickensian makeover. Can the machinations of a master thief (Andre Morell) wind up bringing him the Christmas spirit?
In Ramis' neo-noir, mob lawyer Charlie Arglist (John Cusack) and his shifty accomplice Vic (Billy Bob Thornton) conspire to steal $2 million from Wichita's sleaziest gangster (Randy Quaid) on Christmas Eve. But as an ice storm descends on the region, Charlie's associates prove more treacherous than the forces of nature.
In addition to the yuletide noir double feature, host Eddie Muller will be revealing the complete schedule (and gorgeous new poster!) for the eagerly anticipated NOIR CITY 15 festival coming to the Castro Theatre January 20-29, 2017. Passports (full series passes) and tickets to all the festival's double features will go on sale on NoirCity.com the same evening. We will also be selling Passports at the theatre along with some brand new official Film Noir Foundation merchandise, so you can catch up on holiday gift shopping for the film noir lover in your life, too.
Tickets for NOIR CITY Xmas are only $12 for the double bill—less than the cost of a single holiday eggnog at any bar in town! Tickets are now on sale at Brown Paper Tickets. Tickets will also be available at the Castro box office the day of show. 
Holiday Giving at
NOIR CITY Xmas
You've got a chance to prove that it's not such a bitter little world after all at this year's NOIR CITY Xmas. We will have collection bins for both the San Francisco Firefighters Toy Program and the SF-Marin Food Bank at the event, and we encourage everyone to give what they can. The San Francisco Firefighters are looking for toys for kids--infants through 12 years old. Toys must be un-gift-wrapped. The SF-Marin Food Bank needs the following: peanut butter, low-sugar cereal, whole-grain rice, pasta, oats, low-sodium soups and stews, tuna and other canned meats, and canned fruits and vegetables. Please no glass, opened items, perishables, or items past their "use before" date.
FNF Offers $5,000 Grant to Film Preservation Students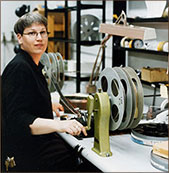 In 2015, through generous donations from the Mysel family, the FNF established The Nancy Mysel Legacy Grant, a $5,000 grant to be awarded annually to university students in film restoration/preservation studies. The grant is named in honor of the late Nancy Mysel, a superb film preservationist for UCLA Film & Television Archive who supervised the FNF restorations of The Prowler (1951) and Cry Danger (1951), but who lost a long-running battle with cancer in 2012 at the age of 45.
Eddie Muller, FNF founder and president, says, "I can't overstate how essential Nancy was to our success. Her commitment to the highest level of restoration set an immense standard, which she challenged everyone to meet—including us. … The best way we can honor her legacy is by ensuring that everything we do in the future measures up to her incredible standard of excellence."
Through the non-profit's charitable adjunct, the FNF is proud to carry on Nancy's work by assisting a future film preservationist with their studies. All details pertaining to the grant, including how to apply, can be found here.
FNF Receives $25K Grant
from The Hollywood Foreign Press Association
On Thursday night, August 4, 2016, the Hollywood Foreign Press Association hosted their annual grant awards banquet at Los Angeles' Beverly Wilshire Hotel. For the fourth consecutive year, the Film Noir Foundation was a recipient of a grant from The HFPA Trust with promotional director Daryl Sparks in attendance. This year's $25,000 grant will be put toward costs for the FNF's latest film restoration project premiering at a NOIR CITY festival in 2017.
From the Collection of
Eddie Muller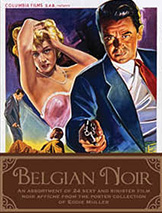 The WORLD OF FILM NOIR was created in black and white, but its intrigue and passion was sold worldwide by movie posters -- in vivid color -- that enticed audiences into this sinister and sensual demimonde. Nowhere on earth was the come-on more colorful than in Belgium, where the nation's standardly sized posters (a mere 14" x 22") virtually exploded with the danger and desire at the heart of cinema's most alluring and durable genre. Small posters from a small country--but packed with more lust and larceny than Hollywood would dare.
NOW, EXCLUSIVELY FROM BLACK POOL PRODUCTIONS—Eddie Muller, "The Czar of Noir," presents 24 glorious Belgian cinema posters from his personal collection, reproduced as 5-1/4" x 7" cards, each complete with his terse and tangy commentary highlighting what made these films—and this artwork--so magical and memorable. $20 + tax/shipping at BlackPoolProductions.com.
Don't Print the Legend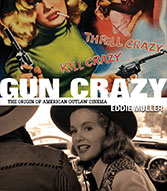 Gun Crazy caused barely a ripple in public consciousness when it hit movie screens in 1950. Yet over time it would prove to be the most innovative and provocative motion picture of its era—a simple genre film, but packed with so much cinematic bravura and timeless symbolism, its power has spanned decades, crossed oceans, and influenced countless filmmakers.
+ READ MORE
FNF/Nancy Mysel Legacy Grant Winner Announced
The Film Noir Foundation is proud to announce the winner of this year's $5,000 FNF/Nancy Mysel Legacy Grant, Jana D. Gowan of UCLA, a Master of Library and Information Science/Media Archives Specialization student. Specifically, Gowan wants to pursue a career as a moving image archivist in film restoration and preservation at a regional film archive. Preserving the diverse history of rural communities by restoring locally relevant films is her passion. + READ MORE
2015 Restoration Project
FNF Restores "Lost" Argentine Classic
Los tallos amargos (1956), a vitally significant "lost" film in the history of international noir cinema, has been restored this year by the Film Noir Foundation with the cooperation of UCLA Film & Television Archive and the Hollywood Foreign Press Association's Charitable Trust (The HFPA Trust). Based on the novel by journalist Adolfo Jasca, Los tallos amargos (The Bitter Stems) tells the tale of a down-on-his-luck journalist whose creation of a lucrative, if unethical, correspondence course leads to his committing the perfect murder. + READ MORE

Come follow us on Tumblr to indulge your passion for noir! We'll be posting daily, celebrating all things noir with exclusive stills and images you won't see anywhere else, as well as trailers, film clips, and more.

Share our posts with your friends; your love of the art form is the Foundation's biggest asset in its mission to preserve and restore classics of the genre. We are also fully committed to present our rescued films in the way they were meant to be seen: in 35mm at our NOIR CITY festivals around the country.
Blood from a Stone
The path to hell is paved with good intentions in writer/director Johnny Ma's debut feature, Old Stone (2016). When a drunken passenger causes taxi driver Lao Shi (Chen Gang) to swerve and hit a motorcyclist, he stops to help the injured man. When no police or ambulance arrive he drives the victim to the hospital, checks him in and finds himself liable for the man's medical bills. The repercussions of Shi's selfless act expose a society rife with bone-chilling callousness and bureaucratic indifference. On the verge of losing his cab, his job and his family, Lao Shi has to resort to desperate measures to survive. The film, which won Best Canadian First Feature Film at the Toronto International Film Festival, opens December 9 at San Francisco's Opera Plaza and Berkeley's Shattuck Cinema. To see where and when it's playing in your neck of the woods, visit the official film page.
Film Noir Returns to SAM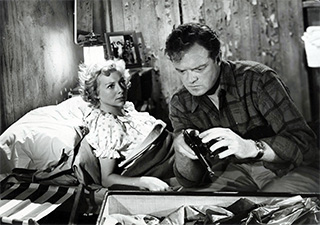 The world's longest-running film noir series returns this fall to the Seattle Art Museum. This year's edition, Shadowland, plays every Thursday night, September 29 – December 8 (no screening on Thanksgiving). Screenings include classics of the genre, like Edmund Goulding's Nightmare Alley (1947) featuring Tyrone Power as a ruthless carny-turned-mentalist and Alexander Mackendrick's Sweet Smell of Success (1957) starring Burt Lancaster as a Broadway columnist disturbingly obsessed about breaking up his sister's romance with the help of a cynical press agent, Tony Curtis, in one of his best performances. Lesser known gems are also featured, including Michael Curtiz' The Unsuspected (1947) featuring Claude Rains as a silver-tongued radio personality who is not what he seems, and Joseph Losey's tale of a steamy love triangle turned murderous, The Prowler (1951), penned by Dalton Trumbo and restored by the FNF in conjunction with the Stanford Theatre Foundation. The series is capped off by Dan Gilroy's critically acclaimed neo-noir Nightcrawler (2014), a searing indictment of "if it bleeds, it leads" television journalism starring a truly creepy Jake Gyllenhaal. Visit SAM's website for the full line-up and to purchase tickets for the entire series. A limited number of single-film tickets may be available at the auditorium entrance prior to screenings.

Tweets