NOIR CITY: Hollywood Set for April
Missed the San Francisco edition of NOIR CITY or just want more? Never fear, once again we will be taking NOIR CITY on a cross country tour. Surprises are in store for patrons of NOIR CITY: Hollywood—the 17th Annual Film Noir Festival running April 3–19, 2015, at the American Cinematheque's Egyptian Theatre, presented by the American Cinematheque in collaboration with the Film Noir Foundation. According to FNF president Eddie Muller, who co-programs the festival with Alan K. Rode, "We're always able to debut a few new rarities at the Egyptian shows. And this year will be no exception." Two of the rarities screening this year are the FNF-funded restoration of Woman on the Run (1950) and a new 35mm print of The Underworld Story (1950). This year's noir festival will also include tributes to Humphrey Bogart, Barbara Stanwyck, and pulp fiction master Cornell Woolrich. Visit the Egyptian website for a partial list of titles playing which will be updated once the schedule is finalized.
After Hollywood, we will return to the Lone Star State for NOIR CITY: Austin, at the Alamo Drafthouse Ritz, May 8-10. We will also be returning to Chicago, Portland (OR), Washington D.C., and Kansas City later in the year.
NOIR CITY 13 Audiences Enjoyed Marriage, Murder, and Mayhem
Movie lovers from around the globe had a grand time at the 13th annual edition of NOIR CITY: The San Francisco Film Noir Festival, held at the Castro Theatre, January 16–25, 2015. The program of 25 titles depicted the darker side of marriage, although the audience had a fun and festive time. Official NOIR CITY photographer David M. Allen captured all the excitement and sartorial splendor of the festival's ten-day run. View and buy prints from his photo coverage of NOIR CITY 13 here. Then, mark your calendars for next year's 14th annual festival in San Francisco, January 22–31, 2016. For more coverage of NOIR CITY 13, visit NoirCity.com.
THROUGH MAR 8
A Killing in the Big Apple
Gumshoe Ben Farrell (House of Cards' Nathan Darrow) gets a nasty shock when he reads a graphically depicted account of his own death in a pulp serial in Stolen Chair's "film noir for the stage" Kill Me Like You Mean It. Can he find his killer in the real world before fiction becomes fact? Can he even figure out what is fiction and what is fact? Audience members will be equally challenged as the venue's onstage seating and the production's employment of film noir's steep angles and dark shadows guarantee each person will literally have a unique viewpoint of the action. Kill Me performs Wednesdays through Mondays until March 8 at Manhattan's Fourth Street Theater, 83 E 4th Street. To find out more about the show or buy tickets, go here.
Don't Print the Legend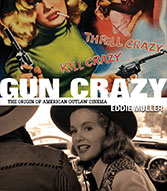 Gun Crazy caused barely a ripple in public consciousness when it hit movie screens in 1950. Yet over time it would prove to be the most innovative and provocative motion picture of its era—a simple genre film, but packed with so much cinematic bravura and timeless symbolism, its power has spanned decades, crossed oceans, and influenced countless filmmakers. It's no stretch to declare Gun Crazy one of the essential American films—as well as a cornerstone of the auteur theory that's dominated cinema discourse since the 1960s. Its larger-than-life reputation among cinephiles has mainly been based on the recollections—also larger-than-life—of its director, Joseph H. Lewis, whose intriguing yet surprisingly short career never again reached the level of this bona-fide classic.
In this thoroughly researched and vividly told tale, FNF President and NOIR CITY co-programmer Eddie Muller explodes many of the entrenched myths about Gun Crazy—and the auteur theory itself. He subverts the film's legend with the fascinating story of its actual creation, a six-year struggle that involved an array of exceptional collaborators. Packed with never-before-seen ephemera—original script pages (some never filmed), production notes, on-set photos—Gun Crazy: The Origin of American Outlaw Cinema is now available for sale online exclusively from Black Pool Productions.
Shining a Light on a Pulp
Fiction Enigma
In the U.S., pulp fiction writer David Goodis is best known for—or perhaps only known for—his novel Dark Passage, thanks to the popular film adaptation starring Humphrey Bogart and Lauren Bacall. Although the film brought its author great opportunities, his Hollywood screenwriting career would shortly fizzle out. He returned to his family home in Philadelphia, disappearing from the public eye—but launching a prodigious output of original pulp paperbacks which would earn him a huge reputation, especially in France, where his novels inspired many film adaptions, including François Truffaut's Shoot the Piano Player. In America, however, Goodis never again regained the mainstream success he had with Dark Passage. In 1982, French journalist Philippe Garnier decided to plumb the mysterious depths that had seemingly swallowed the reclusive writer. The resulting book, Goodis: A Life in Black and White is now available for the first time in English. You can buy it directly from Black Pool Productions or at one of our NOIR CITY festivals.
FNF Receives $65K Grant from the Hollywood Foreign Press Association
On Thursday night, August 14, the Hollywood Foreign Press Association hosted their annual grant awards banquet at Los Angeles' Beverly Hilton Hotel. For the second consecutive year, one of the grant recipients was the Film Noir Foundation —with actress and new FNF advisory council member Rose McGowan accepting on behalf of the Foundation and FNF promotional director Daryl Sparks in attendance. The $25,000 grant was immediately put to use, helping to complete restoration work on the FNF's latest film restoration project.
At the end of September, HFPA board member Yoram Kahana contacted the FNF to advise us that after additional consideration, HFPA had decided to increase the 2014 grant to the FNF by an additional $40,000! It seems that the grant proposal for Woman on the Run created by FNF Promotional Director Daryl Sparks was so impressive that HFPA president Theo Kingma— once he'd beheld for himself the detailed 47-page document — took the unprecedented step of funding the grant in full! And, on-stage opening night of NOIRCITY 13, HFPA's Yoram Kahana presented FNF president Eddie Muller with a plaque celebrating the restoration of Woman on the Run prior to the film's re-premiere. Quite the memorable restoration!

Come follow us on Tumblr to indulge your passion for noir! We'll be posting daily, celebrating all things noir with exclusive stills and images you won't see anywhere else, as well as trailers, film clips, and more.

Share our posts with your friends; your love of the art form is the Foundation's biggest asset in its mission to preserve and restore classics of the genre. We are also fully committed to present our rescued films in the way they were meant to be seen: in 35mm at our NOIR CITY festivals around the country.
Woman on the Run, The Guilty Latest Lost Treasures Restored by FNF
A pair of seemingly lost films, Woman on the Run (1950) and The Guilty (1947), are the Film Noir Foundation's "rescues" for 2014. Both have been restored in brand new 35mm negatives; pristine prints of each will be presented to audiences on the NOIR CITY festival circuit in 2015. Woman on the Run is a unique noir love story, shot largely on location in San Francisco, with star Ann Sheridan serving as the film's unbilled executive producer. The film vanished from circulation after the termination of the independent production's distribution deal with Universal in the mid-1950s. + READ MORE.
MAR 26 - 29
Turner Classic Movie's Big
Screen Outing
The TCM Classic Film Festival returns to Hollywood March 26-29, 2015, providing a chance for fans to watch cinematic classics the way they were meant to be seen, up on the big screen with an audience. This year's theme History According to Hollywood explores how the dream factory's portrayal of history shapes our view of it. Besides a diverse array of films depicting historical events and characters like Patton and 1776, several restorations will make their world premieres at the festival, including Jules Dassin's beautifully wrought and highly influential heist film Rififi. FNF president Eddie Muller will be in attendance again this year; no announcement yet of what he will be introducing at the festival. For more on the festival and to purchase passes, visit the official website.
MAR 19 - 23
International Noir Returns
to the Roxie
Midcentury Productions (Don Malcolm) and I Wake Up Dreaming (Elliot Lavine) have combined forces to expose audiences to the international noir movement that flourished after WWII and continued well past Hollywood's noir era. A RARE NOIR IS GOOD TO FIND will present 15 noirs March 19-23 at San Francisco's Roxie Theatre. France, Hong Kong, Finland, Japan, Denmark, Mexico, Greece, Brazil, Poland, and Korea are all represented in the festival. As well as spanning continents, the films in the festival span decades with release dates ranging between 1949 and1974. Jules Dassin's 1974 Greek produced noir The Rehearsal (I dokimi) reflects the increasing political bent of the films of the era with its examination/recreation of a massacre of Athenian college students by the Greek junta performed on a darkly lit New York soundstage. Film scholar and FNF Board of Directors member Foster Hirsch will interview one of the film's ensemble cast members, Stathis Giallelis, following the screening on March 22. For a complete line up of films visit the official website.
NOW PLAYING
Paul Thomas Anderson
Tackles Pynchon
Writer/director Paul Thomas Anderson braves the difficulties of adapting Thomas Pynchon to the screen with his neo-noir Inherent Vice. Anderson's Chandler-like sense of Los Angeles'geography and his ability to masterfully assemble and direct impressive casts makes him the perfect director for the challenge. Joaquin Phoenix leads the ensemble as private eye Doc, who investigates the disappearance of a womanizing real-estate developer (Eric Roberts) on the behest of a beautiful woman (Katherine Waterston). Absurdities and possible conspiracies abound as Doc delves into the mystery, only to find a second missing man (Owen Wilson) and himself on the wrong side of the L.A.P.D. in the guise of Detective Bigfoot Bjornsen (Josh Brolin). Reese Witherspoon, Benicio Del Torro, Jena Malone, and Maya Rudolph also contribute to the confusion. Visit the official website for more on this labyrinth.
Creepy Crawly
Jake Gyllenhaal has earned serious Oscar buzz with his performance as Louis Bloom in writer-director Dan Gilroy's Nightcrawler. The unemployed Louis gleefully joins the ranks of freelance videographers who roam the streets of Los Angeles capturing footage of accidents, the grislier the better, to sell to the local television stations. Louis finds a ready buyer in veteran news producer Nina (Rene Russo) who comes to regret her involvement with Louis. The ambitious, and sociopathic, Louis soon takes on the Hearst-like philosophy of creating the news and not just recording it.
THROUGH MAR 1
Noir Exhibitions at the Skirball Cultural Center
The Skirball Cultural Center pays homage to the actors, directors, writers, and composers who fled Nazi persecution in Europe with Light & Noir: Exiles and Émigrés in Hollywood, 1933–1950, running October 23 through March 1. The exhibition explores the impact on American cinema and culture of film directors such as Fritz Lang, Otto Preminger, and Billy Wilder, who made their way to California and shaped the look of Hollywood's "Golden Age." Different genres in which the exiles and émigrés were especially productive—the exile film, the anti-Nazi film, film noir, and comedy— are addressed through a never-before assembled selection of film footage, drawings, costumes, posters, photographs, and memorabilia, including numerous objects from the Academy of Motion Picture Arts and Sciences' Margaret Herrick Library.

Tweets