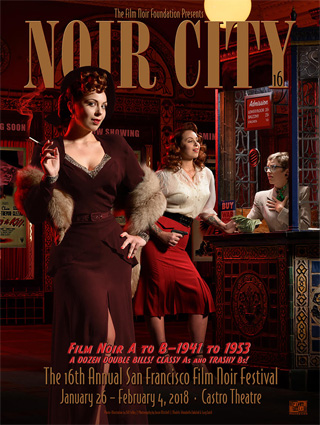 NOIR CITY 16: "Film Noir from A to B"
NOIR CITY returns to its home at the historic Castro Theatre January 26–February 4 for its 16th edition. "Film Noir from A to B" takes audiences back in time with a program of 12 genuine "A" and "B" double bills, spanning the breadth of the original film noir era, 1941 to 1953. The festival presents 24 classic noirs as they were experienced on their original release, pairing a top-tier studio "A" with a shorter, low- budget second feature, or "B" film. All but one of the films will be presented in glorious 35mm.
The "A" films include Alan Ladd's and Veronica Lake's first and penultimate films together: This Gun for Hire (1942) and The Blue Dahlia (1946), as well as Glenn Ford and Gloria Grahame's first outing together, Fritz Lang's The Big Heat (1953). The "B" offerings include two films featuring the most brazen blondes in film noir, Janis Carter in Night Editor (1946) and Beverly Michaels in Wicked Woman (1953).
The FNF's latest restoration will also receive its world "re-premiere" on Saturday night, February 3—The Man Who Cheated Himself, an independently made noir thriller from 1950 shot on location in San Francisco. Thanks to the generosity of NOIR CITY patrons and FNF donors, the Foundation was able to fully fund the restoration of this film. A pair of FNF-funded 35mm preservations will screen together that afternoon as well, Southside 1-1000 and The Underworld Story.
As always, NOIR CITY producer and FNF founder and president Eddie Muller will be your guide down the blind alleys of NOIR CITY.
Visit NOIRCITY for the full line-up of films and to buy tickets and passports (all-access passes)
NOIR CITY Book Signings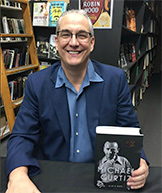 A panel of NOIR CITY e‑magazine contributors will be signing copies of the new 2018 NOIR CITY Annual 10 on Saturday, January 27. Alan K. Rode will be signing copies of his new biography, Michael Curtiz: A Life in Film, following his presentation of Curtiz' The Unsuspected on Wednesday, January 31. On Saturday night, February 3, veteran local photographer Fred Lyon will be signing his book, San Francisco Noir, a collection that captures the noir spirit of the City by the Bay.
Latest FNF Rescue: The Man Who Cheated Himself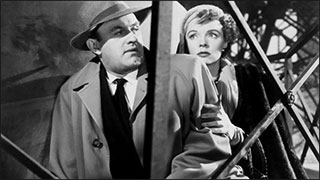 The Man Who Cheated Himself, an independently made noir thriller from 1950, is the latest preservation project of the Film Noir Foundation. The restored film will have its world premiere in San Francisco—the film's setting—at the 16th Annual NOIR CITY festival, running January 26–February 4, 2018. The only existing 35mm print of the film was screened last April as part of the annual NOIR CITY: Hollywood festival at the Egyptian Theatre. It was apparent that "vinegar syndrome" had afflicted the print since its previous screening at a NOIR CITY festival in 2006. "We realized we needed to do something immediately," said FNF president Eddie Muller. "I mean, this is Lee J. Cobb's only starring role, and the one time Jane Wyatt played a femme fatale. Can't lose that."
20th Century–Fox, the film's original distributor, provided an original fine-grain from its vault as the essential restoration element, and UCLA's Head of Restoration, Scott Mac-Queen, oversaw the project—which for the first time includes restoration of the film's original trailer, as well. The Felix Feist-directed feature, which concerns a cop entangled with a cunning socialite who murders her husband, will play the NOIR CITY circuit in 2018.
A June 23 screening of the film on TCM's Noir Alley hosted by Muller, will be followed by Flicker Alley's release of the film on Blu-ray, with special features produced by the FNF. In addition to The Man Who Cheated Himself, NOIR CITY patrons and FNF donors have made it possible over the years for the FNF to restore Los tallos amargos (1956), Cry Danger (1951), The Prowler (1951), Try and Get Me! (1951), Repeat Performance (1947), High Tide (1947), Too Late for Tears (1949), The Guilty (1947) and Woman on the Run (1950), as well as funding our many 35mm preservations. DONATE HERE and be a film noir savior.
UPCOMING NOIR CITY DATES
NOIR CITY SF: January 26-February. 4, 2018
NOIR CITY Seattle: February 16-22, 2018
NOIR CITY Denver: March 23-25, 2018
NOIR CITY Hollywood: April 13-22, 2018
NOIR CITY Austin: May 18-20, 2018
NOIR CITY Boston: June 8-10, 2018
*2018 dates for NOIR CITY Chicago, Detroit, and Washington, D.C. TBD
From the Collection of
Eddie Muller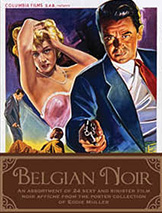 The WORLD OF FILM NOIR was created in black and white, but its intrigue and passion was sold worldwide by movie posters -- in vivid color -- that enticed audiences into this sinister and sensual demimonde. Nowhere on earth was the come-on more colorful than in Belgium, where the nation's standardly sized posters (a mere 14" x 22") virtually exploded with the danger and desire at the heart of cinema's most alluring and durable genre. Small posters from a small country--but packed with more lust and larceny than Hollywood would dare.
NOW, EXCLUSIVELY FROM BLACK POOL PRODUCTIONS—Eddie Muller, "The Czar of Noir," presents 24 glorious Belgian cinema posters from his personal collection, reproduced as 5-1/4" x 7" cards, each complete with his terse and tangy commentary highlighting what made these films—and this artwork--so magical and memorable. $20 + tax/shipping at BlackPoolProductions.com.
Don't Print the Legend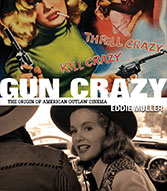 Gun Crazy caused barely a ripple in public consciousness when it hit movie screens in 1950. Yet over time it would prove to be the most innovative and provocative motion picture of its era—a simple genre film, but packed with so much cinematic bravura and timeless symbolism, its power has spanned decades, crossed oceans, and influenced countless filmmakers.
+ READ MORE

Come follow us on Tumblr to indulge your passion for noir! We'll be posting daily, celebrating all things noir with exclusive stills and images you won't see anywhere else, as well as trailers, film clips, and more.

Share our posts with your friends; your love of the art form is the Foundation's biggest asset in its mission to preserve and restore classics of the genre. We are also fully committed to present our rescued films in the way they were meant to be seen: in 35mm at our NOIR CITY festivals around the country.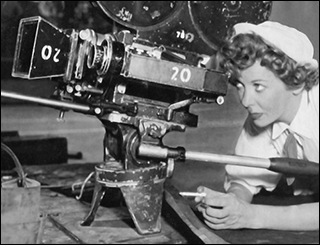 BAMPFA Salutes Ida Lupino
Actress Ida Lupino moved from in front of the camera to behind it in 1949 when she partnered with her then husband Collier Young, to form The Filmakers, an independent film production company. Lupino became a director by necessity rather than desire when director Elmer Clifton suffered a mild heart attack and could not finish Not Wanted for Filmakers. She didn't take a screen credit for it, but she did go onto direct Never Fear for Filmakers. Lupino continued on as an actress, writer and producer as well as directing nine more films and a considerable number of TV shows during the next three decades. BAMPFA, the UC Berkeley Art Museum and Pacific Film Archive, is saluting Lupino's career as actress and auteur during the 40s and 50s with their series Ida Lupino: Hard, Fast, and Beautiful, running January 13–February 24. The series will include several noirs, including the Lupino helmed The Hitch-hiker (1953), the only film noir directed by a woman during the classic era. Visit the BAMPFA's website for full program information.
Michael Curtiz Retrospective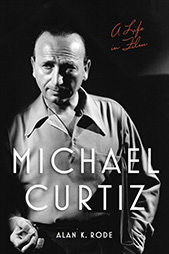 In conjunction with his recently published biography, Michael Curtiz - A Life in Film, author and FNF board member Alan K. Rode will be hosting a ten-night retrospective of Curtiz' films co-programmed with UCLA Film & Television Archive. Casablanca (1942) and Kid Galahad (1937) opened the 21-film retrospective on January 4 at the Billy Wilder Theater in Westwood. The series, which runs until March 24, will include some of the prolific director's most renowned and seldom-shown titles including a pair of rare silent films and several pictures from his 1947-49 production company based at Warner Bros. Tickets and schedule are now available on the Archive's website.
She's a Femme Fatale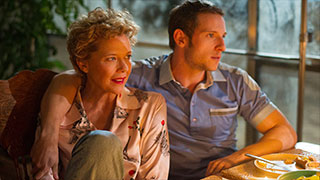 Oscar winner Anette Benning is brining Gloria Grahame's last fling to the silver screen. Paul McGuigan's Film Stars Don't Die in Liverpool, based on Peter Turner's memoir, unfolds the tale of the much younger Turner's brief relationship with Grahame (Bening) and his time with her in the final days of her life when she was dying of cancer and turned to him and his family for help. Jamie Bell plays Turner an aspiring actor who met Grahame when they lived in the same boardinghouse. The film garnished positive reviews from its Telluride film festival screening and in the UK, where it has already screened. The Guardian praised the film, "The movie makes the right decision to focus on the humanity and compassion. It's a beguiling story and Bell and Bening are tremendous as the star-crossed lovers." The film opens in New York and Los Angeles on December 29, positioning Bening for an Oscar nomination and the buzz is that she'll earn one.
New Episode of NOIR TALK
Michael Curtiz - A Life in Film, with Alan K. Rode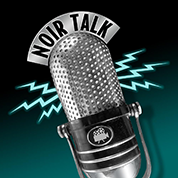 Film Noir Foundation charter director and treasurer Alan K. Rode joins NOIR TALK producer and host Haggai Elitzur to discuss his new biography of Michael Curtiz, one of classic Hollywood's greatest directors. They start with Curtiz's early life and career in Europe, his first years in Hollywood and his wife and close collaborator Bess Meredyth. The pair move onto Curtiz' Hollywood years—his breakthrough success with Captain Blood and other hits with Errol Flynn, as well as the peak of Curtiz's career, directing Yankee Doodle Dandy and Casablanca. Curtiz' major films noirs are also covered: Mildred Pierce, The Unsuspected, The Sea Wolf which has been recently restored, and his post-war masterpiece, The Breaking Point. The discussion wraps up with a few titles from late in Curtiz's career and a discussion of why he's not as well-known today as some of his contemporaries. You can listen either on SoundCloud or on iTunes.

Tweets