Film Noir & Neo Noir
in the Theaters
NOIR CITY Goes Hollywood
The American Cinematheque and the Film Noir Foundation combine forces once again to present NOIR CITY: Hollywood, 16th Annual Festival of Film Noir at Hollywood's historic Egyptian Theatre March 21-April 6, 2014. The FNF's Eddie Muller and Alan K. Rode (who co-programmed the festival with Gwen Deglise) will be your guides through the shadowy labyrinth of the three week festival. This year's journey into darkness kicks off on Friday, March 21 with a salute to dapper Dan Duryea with a double feature of the FNF's new 35mm restoration of Too Late for Tears co-starring Lizabeth Scott and the rarely screened Larceny featuring fellow noir stalwarts John Payne and Shelly Winters.
The series will also pay tribute to writer David Goodis and to director Hugo Fregonese, as well as honoring a trio of talented actresses who died in 2013 with double features of their work: Joan Fontaine (Born to Be Bad, Ivy), Eleanor Parker (Caged, Detective Story) and Audrey Totter (Tension, Alias Nick Beal). The festival's catholic lineup of films also reflects this year's NOIR CITY theme of "It's a Bitter Little World" with evenings devoted to French (Two Men In Manhattan, Rififi, Jenny Lamour), British (It Always Rains on Sunday, Brighton Rock) and Italian (Ossessione) noir.
→ Visit the Egyptian's website for NOIR CITY Hollywood program notes and ticket information.
Film Noir Fête
NOIR CITY Hollywood's closing-weekend party returns on Saturday, April 6 to the Egyptian Theatre. This year's festivities will include a screening of a classic film noir, live music from Dean Mora's Swingtet, martinis, gambling, and other noirish activities. To get into the swing of things , come dressed as a femme fatale, gumshoe or gangster. The box office will stay open till 9pm to accommodate late comers. However, if you want to treat yourself to a catered dinner from The Kitchen for Exploring Foods in addition to all the other festivities, you should buy your ticket ahead of time online.
Too Late for Tears on Tour
When a pair of screen personas like Lizabeth Scott and Dan Duryea collides, the sparks will fly. Jane Palmer (Scott) and her husband Alan (Arthur Kennedy) mysteriously have $60,000 literally dropped in their laps. The circumstances look pretty suspicious and dangerous to Alan, who wants to turn the money over to the police. But in a materialistic rapture, Jane won't let it go. She doesn't care where it came from, not if it can bring her the luxuries she craves. Enter shady Danny Fuller (Duryea, as cocky and menacing as you've ever seen him) who claims the money belongs to him. Let the games begin—which means sex, deception and murder. Roy Huggins' snappy script is a complex, breezy and black-hearted homage to Cain and Chandler, and his Jane Palmer is one of the juiciest female villains in Hollywood history, and Scott's best role ever. Too Late for Tears has been underappreciated for decades mainly because it was almost impossible to see. Now it returns to the big screen in a completely restored 35mm print, the result of a five-year campaign by the Film Noir Foundation to rescue this nearly extinct gem. The restored print premiered during the opening weekend of NOIR CITY 12. More screenings of the restored noir will follow at the 2014 NOIR CITY satellite festivals in Seattle, Austin, Los Angeles, Chicago, Portland (OR), and Washington D.C.
PFA Spotlights Anthony Mann's Criminal Side
The UC Berkeley Art Museum & Pacific Film Archive's Against the Law: The Crime Films of Anthony Mann examines the director's early career in the dark world of B-films prior to his critically lauded Westerns of the 1950s. Time has brought critical reappraisal to his early work and his films, many shot by the iconic noir cinematographer John Alton, are considered some of the most important films in the noir cannon. On the occasion of the publication of his new book, The Crime Films of Anthony Mann, Max Alvarez introduces two films at the PFA's series, T-men and Raw Deal, both shot by Alton. Two more Mann-Alton collaborations play during the series, He Walked by Night and Border Incident. Mann's nearly hallucinogenic Strange Impersonation (photographed by Robert W. Pittack); Desperate (photographed by George E. Diskant); and Side Street (photographed by Joseph Ruttenberg) round out the programming. For more information on the series, running February 7—February 28, visit the BAM/PFA's official website.
NOIR CITY E-MAG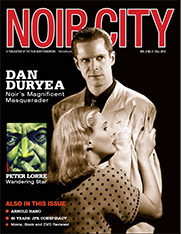 At left, the cover of NOIR CITY® — the Film Noir Foundation's latest quarterly e-magazine issue. For access to the best writing on noir available today, and to enjoy one of the most cutting-edge interactive multimedia cinema publications in the world, subscribe to NOIR CITY. Start by adding your name to our mailing list and then making a donation to the FNF of $20 or more. For an overview of the current issue and to view article excerpts, go here.
TV NOIR/NEO-NOIR
Check our monthly listings for noir and neo-noir films coming up on TCM.
Blu-Ray & DVD Releases
In partnership with The Film Foundation, Turner Classic Movies and Sony Pictures Home Entertainment have released a DVD/Blu-ray combo pack of Orson Welles' The Lady from Shanghai (1947)—the first-ever Blu-ray release of the film, featuring a brand-new 4k digital restoration from the original negative. In this wonderfully convoluted noir, an Irish sailor (Orson Welles) gets caught between a corrupt tycoon (Everett Sloane) and his voluptuous wife (Rita Hayworth) and their plans to eliminate one another. Special features include an introduction by Robert Osborne and a commentary by Peter Bogdanovich. Available exclusively here from the TCM Shop. + MORE TCM RELEASES
Twilight Time has released a limited edition 3-D Blu-ray of Man in the Dark 3-D (1953). Pinched by the cops after pulling off a big heist, crook Steve Rawley (Edmond O'Brien) undergoes an experimental operation to eliminate his criminal urges. It also makes him forget where he hid the loot—much to the consternation of his old gang and his itchy-fingered girlfriend (Audrey Totter). INCLUDES 2-D VERSION NOTE: When viewed on a compatible 3-D monitor and 3-D blu-ray player set-up, the menu offers an option for both 3-D and 2-D playback, but when this disc is viewed on a regular 2-D monitor and 2-D Blu-ray player, the 3-D version is. Special features comprise an isolated score track and an original theatrical trailer. Available directly from Twilight Time here.
Don Siegel's Private Hell 36 (1954) is also now available on Blu-ray directly from Twilight Time. Noir goddess Ida Lupino chalks up another sympathetic tough girl performance as nightclub singer Lilli in this tight little noir, a film produced by her ex-husband Collier Young who co-wrote the screenplay with her. The film also co-stars Lupino's husband at the time Howard Duff as Jack, a cop whose partner Calhoun (Steven Cochran) draws him into a web of deceit and corruption when Calhoun steals part of a robbery haul that the pair recovers during a criminal investigation. Interestingly, Lupino plays Cochran's love interest and not Duff's.
+ MORE TWILIGHT TIME RELEASES.
Twentieth Century Fox Home Entertainment has included four film noirs is their latest slate of MOD titles distributed under their Fox Cinema Archives brand. The best known of the four is Robert Siodmak's Cry of the City (1948) featuring Victor Mature as a police officer and Richard Conte as a cop-killer and his former best friend. The pair is on an inevitable collision course, morally, legally and emotionally. The period noir Moss Rose (1947), stars Gun Crazy's Peggy Cummins as plucky chorus girl determined to solve the murder of her friend in turn-of-the-century London. Victor Mature, Vincent Price, and Ethel Barrymore co-star. Jean
Forde's Backlash (1947) concerns the discovery of a burnt out car containing a corpse with a bullet through the heart. The ensuing investigation sets off a series of flashbacks and red herrings. The final noir entry is Circumstantial Evidence (1945) in which a postman (Lloyd Nolan) tries to win a new trial for the father (Michael O'Shea) of a kid that he's befriended since Dad was sent to the big house on a murder rap. Retailers for the Fox Cinema Archive include Movies Unlimited, Amazon and Oldies.com.
We're delighted that Olive Films has released the FNF funded restoration of Robert Parrish's Cry Danger (1951) on Blu-ray and DVD. In this unjustly little known noir, Rocky (Dick Powell), recently sprung from the big house, wants to find the rat who framed him for the robbery that landed him there. Priceless dialog and an outstanding supporting performance by Richard Erdman as Powell's alcoholic sidekick elevate this noir well above the ordinary. Sadly, no extras on either format.
+ MORE OLIVE FILM RELEASES.
The Columbia Pictures Film Noir Classics IV DVD set is now available exclusively from the TCM Shop. The set includes Joseph H. Lewis' So Dark the Night (1946) in which a Parisian detective (Steven Geray) on vacation finds love and murder in a small coastal town. Dick Powell plays a casino co-owner who finds himself in both criminal and romantic trouble in Robert Rossen's Johnny O'Clock (1947). An FBI agent (Dennis O'Keefe) and a Scotland Yard detective (Louis Hayward) team up to bring down a spy ring led by frequent noir heavy Raymond Burr in Gordon Douglas' Walk a Crooked Mile (1948). Two cops (Edmund O'Brien and Mark Stevens) find their friendship tested by their pursuit of a racketeer and their mutual love of the same woman (Gale Storm) in Gordon Douglas' Between Midnight and Dawn (1950). Alfred L. Werker's Walk East on Beacon! (1952), adapted from an article written by then Director of the F.B.I. Edgar J. Hoover, follows a dedicated G-man (George Murphy) as hunts down a Communist sleeper-cell in Boston. Extras include an introduction by Martin Scorsese and a digital image gallery.
Jean Negulesco's The Mask of Dimitrios starring the eternal noir duo of Sydney Greenstreet and Peter Lorre, and featuring Zachary Scott in his film debut, is now available, newly remastered, from the Warner Archive. In this film based on the Eric Ambler novel, novelist Cornelius Leyden (Lorre) investigates the mysterious death of international criminal Dimitrios Makopoulus (Scott) after Dimitrios' body is discovered in Istanbul. The mysterious Peters (Greenstreet) encourages Leyden and promises him a financial reward. But what is Peters' motivation for the investigation? The always wonderful character actress Fay Emerson plays a supporting role as a lover formerly fleeced by Dimitrios. + MORE WARNER ARCHIVES RELEASES.
Criterion is now offering a new 2K digital restoration of Fritz Lang's Ministry of Fear (1944) on both DVD and Blu-ray. In this effectively paranoiac and suspenseful noir, a recently released mental patient (Ray Milland) finds himself embroiled in a fantastic espionage plot after getting his fortune told at a fete. Watch for a wonderfully chilling performance by Dan Duryea as a conspiratorial tailor. Extras include an interview with Fritz Lang scholar Joe McElhaney, trailer and an essay by critic Glenn Kenny. + MORE CRITERION RELEASES.
MGM's has added several noir titles under their Limited Edition Collection brand. The films are available on demand from various retailers, including Amazon and the Warner Archive. In Budd Boetticher's The Killer is Loose (1956), a seemingly mild mannered embezzler (Wendell Corey), recently released from prison, tries to avenge his wife's accidental shooting by Detective Sam Wagner (Joseph Cotton) by killing Sam's wife (Rhonda Fleming). Can Sam stop him? + MORE MGM RELEASES
Keep Us Posted!
Keep us posted on noir news and events in your area! Email Anne Hockens, Film Noir Foundation news and events editor.
<!fin keepposted-->