NOIR CITY returns to Austin's Alamo Drafthouse Ritz May 19-21 to present 10 exceptional films that explore the desperate lengths to which people will go to beat the system and hit the big time. "The Big Knockover" includes iconic Hollywood noirs such as Criss Cross (1949) and The Asphalt Jungle (1950), as well as classics from across the Atlantic like the late-era Brit noir Cash on Demand (1961), starring Hammer legend Peter Cushing, and Jules Dassin's foray into French crime films Rififi (1955).
The program will also include some lesser known cinematic treasures awaiting rediscovery. A newly restored DCP of Violent Saturday (1955), a widescreen Technicolor spectacle that mixes a bank robbery with Douglas Sirk-style small town melodrama will screen. Also in the line-up, the first pairing of director Phil Karlson and actor John Payne, Kansas City Confidential (1952) which also boasts the greatest and strangest triumvirate of noir villains in one film: Jack Elam, Neville Brand, and Lee Van Cleef. FNF president and NOIR CITY impresario Eddie Muller will introduce the films. The full schedule and tickets will be available on the Alamo Drafthouse's website later this week.
2017 NOIR CITY Satellite
Fests Slated
The heist theme from San Francisco's NOIR CITY 15: The Big Knockover will be carried through in most of the NOIR CITY festivals scheduled around the U.S. in the coming months.This year's satellite festivals include Austin, May 19–21 (co-presented with the Alamo Drafthouse Ritz); Chicago, August 25 (co-presented with Chicago's Music Box Theatre); Detroit, September 22–24 (co-presented with the historic Redford Theatre); and Washington D.C., October 14–26 (co-presented with the AFI Silver Theatre and Cultural Center) in Silver Spring, MD. FNF president Eddie Muller notes that the various festivals will not necessarily play the same lineup of titles.
As if that weren't enough…NOIR CITY Hollywood will return to the Egyptian for a second outing this year, scheduled June 22-25, this time presenting a variation on "The Big Knockover" program that played in San Francisco.
Silent Noir
We are proud to announce the Film Noir Foundation will be co-presenting two films on June 3 during the San Francisco Silent Film Festival at the historic Castro Theatre. FNF president Eddie Muller will introduce Henryk Szaro's A Strong Man (Mocny Człowiek). In this 1929 Polish silent, unsuccessful writer Henryk Bielecki coaxes his friend Jerzy to commit suicide so he can steal the manuscript of Jerzy's book and publish it as his own. The book becomes a bestseller, leading to fame and fortune for Henryk, but eventually Henryk's secrets start to unravel.
The FNF's second co-presentation will be Tod Browning's Outside the Law (1920), beautifully restored by Universal Pictures, starring Lon Chaney in a remarkable double role. San Francisco crime boss Silent Madden and his daughter (Priscilla Dean) are friends with respected Confucian master Chang Lo, whose influence is shifting the Maddens' thinking toward the straight and narrow. Nefarious bad guy Black Mike Sylva, however, has other ideas! Chaney plays both the evil Sylva and Ah Wing, Chang Lo's dedicated servant. The screening will be introduced by esteemed film critic Leonard Maltin. The SF Silent Film Festivals runs June 1 – 4, 2017. Visit the official SFSFF website for the full line-up and to buy tickets and/or festival passes.
Behind the Scenes of Casablanca
Photo credit: Benjamin Heller
New Yorkers have a chance to experience the "Imagined" making of a cinematic classic in the new play CasablancaBox by writer Sara Farrington and director Reid Farrington. The multi-media performance, which employees both high-tech and traditional theatrical elements, is an exploration of the complicated stories behind the production. The play employees an intricately woven multi-narrative script and video score, produced by the director, to bring to life the "glamour, war, censorship, sexism, racism, addiction and the refugee crisis of 1940s Hollywood". For tickets and more information on the show, running now through April 29th at HERE, visit here.
Czech Film Noir Fest Returns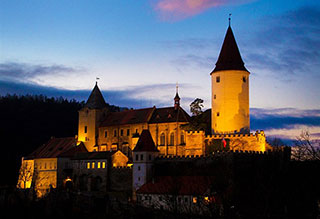 The fifth edition of Noir Film Festival in the Czech Republic will take place August 17–20, and includes a Humphrey Bogart retrospective, a series on trains in film noir, Mexican noir, and tributes to the film noir icons Lizabeth Scott and Robert Mitchum. The festival is held in a breathtaking venue, the majestic 12th century Křivoklát Castle Castle, about 100km outside Prague.
More than 40 screenings will be held in the castle's upper courtyard as well as four historical halls. Announced films include Raoul Walsh's High Sierra (1941), Charles David's Lady on a Train (1945), Anthony Mann's The Tall Target (1951), Richard Fleishcher's The Narrow Margin (1952) and Fritz Lang's Human Desire (1954). The complete program will be announced June 24 on the festival's official website.
From the Collection of
Eddie Muller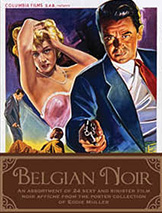 The WORLD OF FILM NOIR was created in black and white, but its intrigue and passion was sold worldwide by movie posters -- in vivid color -- that enticed audiences into this sinister and sensual demimonde. Nowhere on earth was the come-on more colorful than in Belgium, where the nation's standardly sized posters (a mere 14" x 22") virtually exploded with the danger and desire at the heart of cinema's most alluring and durable genre. Small posters from a small country--but packed with more lust and larceny than Hollywood would dare.
NOW, EXCLUSIVELY FROM BLACK POOL PRODUCTIONS—Eddie Muller, "The Czar of Noir," presents 24 glorious Belgian cinema posters from his personal collection, reproduced as 5-1/4" x 7" cards, each complete with his terse and tangy commentary highlighting what made these films—and this artwork--so magical and memorable. $20 + tax/shipping at BlackPoolProductions.com.
Don't Print the Legend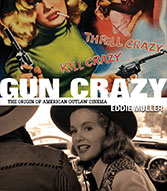 Gun Crazy caused barely a ripple in public consciousness when it hit movie screens in 1950. Yet over time it would prove to be the most innovative and provocative motion picture of its era—a simple genre film, but packed with so much cinematic bravura and timeless symbolism, its power has spanned decades, crossed oceans, and influenced countless filmmakers.
+ READ MORE

Come follow us on Tumblr to indulge your passion for noir! We'll be posting daily, celebrating all things noir with exclusive stills and images you won't see anywhere else, as well as trailers, film clips, and more.

Share our posts with your friends; your love of the art form is the Foundation's biggest asset in its mission to preserve and restore classics of the genre. We are also fully committed to present our rescued films in the way they were meant to be seen: in 35mm at our NOIR CITY festivals around the country.
The Czar of Noir Hosts New TCM Series
We're ecstatic that FNF president and NOIR CITY producer Eddie Muller is now hosting a new franchise for Turner Classic Movies, Noir Alley. Every Sunday at 10 a.m. EST/7 a.m. PST, Muller presents a classic film noir. The series kicked off on March 5 with arguably the first and greatest noir, The Maltese Falcon (1941) based on the novel by pulp fiction great Dashiell Hammett and starring an outstanding ensemble of actors: Humphrey Bogart, Mary Astor, Sydney Greenstreet and Peter Lorre.
Noir Alley is designed to be an immersive, multiplatform experience for both seasoned noir fans and newcomers to the genre. Fans are invited to engage with the Noir Alley community through social media by joining the conversation on the @NoirAlley Twitter page and Noir Alley Facebook page and tagging #NoirAlley. Noir Alley's Twitter and Facebook pages feature a constantly refreshed collection of special content, including exclusive videos from Eddie Muller. View TCM's Noir Alley schedule.
Palm Springs Noir
The Arthur Lyons Film Noir Festival returns for its 18th iteration to its sunny home in Palm Springs, May 11-14 at the Camelot Theatres. The festival kicks off with a restored print of Hollow Triumph (1948) with special guest, actress-filmmaker Monika Henried, daughter of star Paul Henried. Richard Duryea will also be in attendance for Roy William Neill's Black Angel (1946) which features a rare sympathetic role for his father Dan Duryea. Other guests include Sarah Karloff, daughter of Boris, for a screening of the Val Lewton production The Body Snatcher (1945), directed by Robert Wise, as well as actor Andy Robinson at Charley Varrick, Don Siegel's classic heist film.
As in previous years at the festival, the majority of the film screenings are presented on archival 35mm prints. Producer and programmer Alan K. Rode and co-presenters Eddie Muller and Foster Hirsch will be introducing the films. According to Rode, "One of the most rewarding aspects about this festival is that it is much more than treating our loyal audience and new patrons to these classic films. We are preserving the original movie going experience." View the entire film and guest schedule or purchase tickets and passes. The festival is executive produced by the Palm Springs Cultural Center.
Political Noir
On April 26 at San Francisco's Roxie Theatre, Midcentury Productions will present Agitprop! An Evening of Social Justice Film & Television. This one night event comprises three narratives that shone a light on some of the dark issues lying beneath the surface of Midcentury America, programmed and hosted by Don Malcolm. The triple bill starts at at 6pm with an episode of The Defenders from 1962, "The Benefactor". The series' father and son team of lawyers (E.G. Marshall and Robert Reed) defend a principled doctor who tries to use his trial on charges of performing illegal abortions as a platform to change the law. John Reinhardt's "B" noir Open Secret (1948) follows at 7:30. A newlywed couple (John Ireland and Jane Randolph) uncover a murderous conspiracy fueled by anti-Semitism. Edward Dmytryk's brilliant film noir Crossfire (1947) featuring noir icons Robert Ryan, Robert and Gloria Grahame caps off the evening. Check the Midcentury website or Facebook page for updates and more information regarding speakers who will be featured at the event.
International Noir
A RARE NOIR IS GOOD TO FIND returns to San Francisco's Roxie Theatre for its second edition May 5-8 with a slate of 12 films from eleven countries, programmed and hosted by Don Malcolm. While some of the entries may be familiar to audiences, like Carol Reed's 1947 Brit Noir Odd Man Out which helped bring James Mason to prominence on the world's cinematic stage and Giuseppe De Santis' 1949 arthouse hit, Bitter Rice, the festival will mostly bring viewers into undiscovered noir country. The tour through world darkness incudes films from Egypt (Cairo Station), Belgium (Seagulls are Dying in the Harbor) and Korea (the original Housemaid from 1960). These films often blew way past their American cousins in terms of sex, violence and social commentary, eventually helping Hollywood push past their own boundaries in order to compete with the art house darlings. Malcolm promises, "The spring is when we push the envelope. Come join us and see just how far noir can go when the whole world goes dark. It's an experience you won't soon forget!" Visit the Midcentury Productions official website for full program notes and ticket information.
New Episode of NOIR TALK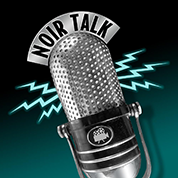 For this month's episode of NOIR TALK, producer and host Haggai Elitzur sits down with FNF charter director and treasurer Alan K. Rode. They discuss the recent NOIR CITY Hollywood, as well as the upcoming Arthur Lyons Film Noir Festival in Palm Springs, produced and hosted by Rode. He also talks about his how his family connections with old Hollywood influenced him, his biography of Charles McGraw, and narrating Hollywood history through a non-superstar's perspective, reviving interest in McGraw's movies, and his upcoming Michael Curtiz biography. You can listen either on SoundCloud or on iTunes. Mobile users on Android can subscribe to the podcast using the RSS feed.

Tweets