'Tis the Season – NOIR CITY Xmas 2017
Join us on Wednesday, December 20, at San Francisco's historic Castro Theatre for the eighth annual NOIR CITY XMAS, as the Film Noir Foundation offers a double-feature of rare noir-stained 1940s' yuletide films to darken your spirit, Manhandled (1949) starring Dan Duryea, Dorothy Lamour and Sterling Hayden, and Alias Boston Blackie (1942) starring Chester Morris. More about the films here.
The evening will also feature the unveiling of the full schedule (and poster!) for NOIR CITY 16, the world's most popular film noir festival, coming to the Castro Theatre January 26 — February 4, 2018. And, for your holiday shopping pleasure, NOIR CITY 16 Passports (all-access festival passes) will be available for sale at NOIR CITY Xmas – just visit the FNF's merchandise table on the Castro mezzanine! As always, NOIR CITY co-programmer and FNF prez Eddie Muller will be your noir Noël host.
Tickets for NOIR CITY XMAS are now available online and can also be purchased at the Castro Theatre box office on the day of the show. BUY TICKETS
Holiday Giving at NOIR CITY Xmas
Here's your chance to prove it's not such a bitter little world at this year's NOIR CITY Xmas. We will have collection bins at the event for both the San Francisco Firefighters Toy Program and the SF-Marin Food Bank, and we encourage everyone to give what they can. The San Francisco Firefighters are looking for toys for kids--infants through 12-years old. Toys must be not be wrapped. The SF-Marin Food Bank needs the following: peanut butter, low-sugar cereal, whole-grain rice, pasta, oats, low-sodium soups and stews, tuna and other canned meats, and canned fruits and vegetables. Please no glass, opened items, perishables, or items past their "use before" date.
NOIR CITY returns to its home at the historic Castro Theatre, January 26 - February 4, 2018, for its 16th edition. The 2018 film festival will focus on films noirs from the years 1941-1953.
New NOIR CITY Satellite Festival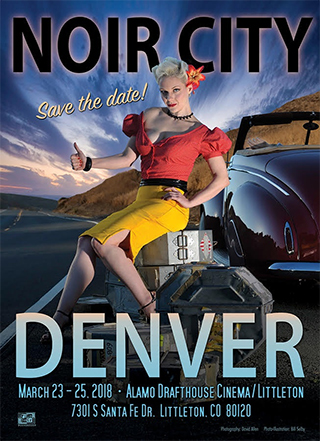 The Film Noir Foundation will be partnering with the Alamo Drafthouse Cinema in Littleton, Colorado, to present the first NOIR CITY: Denver, March 23 - 25, 2018, a three-day festival featuring ten films. FNF founder and president Eddie Muller will have a special co-host—legendary crime fiction author (and FNF Advisory Council member) James Ellroy, who will be co-programming the festival with the Czar of Noir. The schedule for NOIR CITY: Denver will be announced in 2018. See you next year, Denver!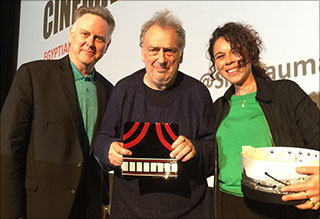 FNF Fetes Frears as "Modern Master"
SANTA MONICA, CA—Film director Stephen Frears was presented with the mantle "Modern Noir Master" by the Film Noir Foundation on Wednesday, September 20, following an invitation-only screening of his latest film, Victoria and Adbul, at the Aero Theatre in Santa Monica. Eddie Muller engaged Frears in a post-film discussion and Q&A, which culminated in the presentation of the FNF's inaugural award prior to a screening of Frears' classic noir, The Grifters. The American Cinematheque and Focus Features partnered with the FNF on the event, which drew a capacity crowd. + READ MORE
FNF Receives $25K Grant from The Hollywood Foreign Press Association for 2017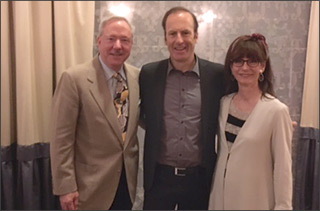 [Celebrity Sighting – Film Noir Foundation's Daryl Sparks (right) and Brian Light (left) with Better Call Saul's Bob Odenkirk at HFPA's grant awards dinner, August 2, 2017, Beverly Hilton Hotel/Los Angeles.]
For the fifth consecutive year, the Film Noir Foundation is a grant recipient of the Hollywood Foreign Press Association's Charitable Trust. This year's $25,000 grant, along with 2016's endowment, will be used to help fund a specific film restoration project the FNF hopes to premiere in 2018.
HFPA's mission is to foster education, diversity, and creative expression in art and film through a variety of programs and special grants. For more than 25 years, the HFPA Charitable Trust has committed nearly $30 million in grants, provided more than 1,500 scholarships, and helped restore over 90 films – including three completed FNF restorations.
This year's grants banquet was held Wednesday, August 2, 2017, at Los Angeles' Beverly Wilshire Hotel with FNF promotional director and grants manager Daryl Sparks in attendance. Also representing the FNF was NOIR CITY e-mag contributing writer Brian Light. The evening's festivities were hosted by Chelsea Handler with highlighted award presentations by various Hollywood celebrities including Dustin Hoffman, Anthony Mackie, Mark Hamill, Katherine Hahn, Chrissy Metz, Chadwick Boseman, Alison Brie, Patrick Stewart, Elisabeth Moss, and Bob Odenkirk.
From the Collection of
Eddie Muller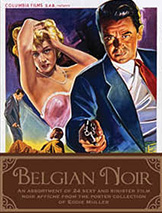 The WORLD OF FILM NOIR was created in black and white, but its intrigue and passion was sold worldwide by movie posters -- in vivid color -- that enticed audiences into this sinister and sensual demimonde. Nowhere on earth was the come-on more colorful than in Belgium, where the nation's standardly sized posters (a mere 14" x 22") virtually exploded with the danger and desire at the heart of cinema's most alluring and durable genre. Small posters from a small country--but packed with more lust and larceny than Hollywood would dare.
NOW, EXCLUSIVELY FROM BLACK POOL PRODUCTIONS—Eddie Muller, "The Czar of Noir," presents 24 glorious Belgian cinema posters from his personal collection, reproduced as 5-1/4" x 7" cards, each complete with his terse and tangy commentary highlighting what made these films—and this artwork--so magical and memorable. $20 + tax/shipping at BlackPoolProductions.com.
Don't Print the Legend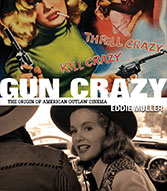 Gun Crazy caused barely a ripple in public consciousness when it hit movie screens in 1950. Yet over time it would prove to be the most innovative and provocative motion picture of its era—a simple genre film, but packed with so much cinematic bravura and timeless symbolism, its power has spanned decades, crossed oceans, and influenced countless filmmakers.
+ READ MORE

Come follow us on Tumblr to indulge your passion for noir! We'll be posting daily, celebrating all things noir with exclusive stills and images you won't see anywhere else, as well as trailers, film clips, and more.

Share our posts with your friends; your love of the art form is the Foundation's biggest asset in its mission to preserve and restore classics of the genre. We are also fully committed to present our rescued films in the way they were meant to be seen: in 35mm at our NOIR CITY festivals around the country.
Film Noir Series at SAM Blends Classics and Neo-Noir
The Seattle Art Museum's 40th annual film noir series, Here Comes the Night, screens every Thursday at 7:30 p.m., now through December 7, excluding Thanksgiving. This year's programming includes Roman Polanski's seminal neo-noir Chinatown (1974) and the hybrid black comedy/neo-noir Pretty Poison (1968), directed by Noel Black. A limited number of single-film tickets may be available on a first-come, first-served basis day of, beginning at 7:25 p.m. Check the SAM website for additional info.
Michael Curtiz - A Life in Film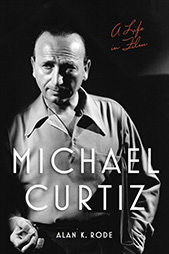 The University Press of Kentucky has published FNF director/treasurer Alan K. Rode's biography Michael Curtiz – A Life in Film. Early reviews have praised the book, with FNF president Eddie Muller calling it "a deeply researched and compelling biography" and "a significant addition to existing scholarship on Hollywood, the studio system, and the auteur theory." Rode will be signing books at Larry Edmunds Bookshop (6644 Hollywood Blvd.) on Saturday, November 18, and will host a screening of the recently restored The Sea Wolf (1941) and The Breaking Point (1950) at Hollywood's Egyptian Theater on Thursday, December 7.
Nancy Mysel Legacy Grant 2018 – Applications due December 14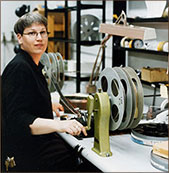 As part of the FNF's dedication to rescuing and restoring noir film, we established The Nancy Mysel Legacy Grant in 2015 – created in film preservationist Nancy Mysel's honor and funded by the Mysel family. Each year, $5,000 in funding goes to a deserving student involved in cinema restoration.
The Film Noir Foundation invites film preservation students to apply by December 14, 2017, for the 2018 Nancy Mysel Legacy Grant. This grant will be awarded by the FNF in January 2018 to a deserving undergraduate or graduate student in film restoration/preservation or moving image archive studies. The grant announcement will be made public during NOIR CITY 16. For complete details (the application is easy!), please visit the FNF's Grant page.
She's a Femme Fatale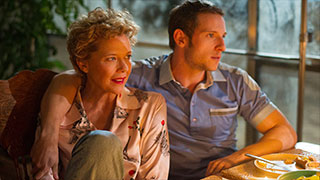 Oscar winner Anette Benning is brining Gloria Grahame's last fling to the silver screen. Paul McGuigan's Film Stars Don't Die in Liverpool, based on Peter Turner's memoir, unfolds the tale of the much younger Turner's brief relationship with Grahame (Bening) and his time with her in the final days of her life when she was dying of cancer and turned to him and his family for help. Jamie Bell plays Turner an aspiring actor who met Grahame when they lived in the same boardinghouse. The film garnished positive reviews from its Telluride film festival screening and in the UK, where it has already screened. The Guardian praised the film, "The movie makes the right decision to focus on the humanity and compassion. It's a beguiling story and Bell and Bening are tremendous as the star-crossed lovers." The film opens in New York and Los Angeles on December 29, positioning Bening for an Oscar nomination and the buzz is that she'll earn one.
Latest FNF Rescue: The Man Who Cheated Himself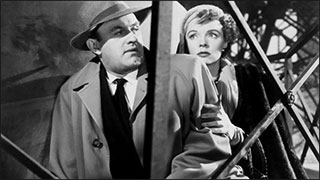 The Man Who Cheated Himself, an independently made noir thriller from 1950, is the latest preservation project of the Film Noir Foundation. The restored film will have its world premiere in San Francisco—the film's setting—at the 16th Annual NOIR CITY festival, running January 26–February 4, 2018. The only existing 35mm print of the film was screened last April as part of the annual NOIR CITY: Hollywood festival at the Egyptian Theatre. It was apparent that "vinegar syndrome" had afflicted the print since its previous screening at a NOIR CITY festival in 2006. "We realized we needed to do something immediately," said FNF president Eddie Muller. "I mean, this is Lee J. Cobb's only starring role, and the one time Jane Wyatt played a femme fatale. Can't lose that."
20th Century–Fox, the film's original distributor, provided an original fine-grain from its vault as the essential restoration element, and UCLA's Head of Restoration, Scott Mac-Queen, oversaw the project—which for the first time includes restoration of the film's original trailer, as well. The Felix Feist-directed feature, which concerns a cop entangled with a cunning socialite who murders her husband, will play the NOIR CITY circuit in 2018.
A June 23 screening of the film on TCM's Noir Alley hosted by Muller, will be followed by Flicker Alley's release of the film on Blu-ray, with special features produced by the FNF. In addition to The Man Who Cheated Himself, NOIR CITY patrons and FNF donors have made it possible over the years for the FNF to restore Los tallos amargos (1956), Cry Danger (1951), The Prowler (1951), Try and Get Me! (1951), Repeat Performance (1947), High Tide (1947), Too Late for Tears (1949), The Guilty (1947) and Woman on the Run (1950), as well as funding our many 35mm preservations. DONATE HERE and be a film noir savior.
New Episode of NOIR TALK
Marsha Hunt 100th Birthday Tribute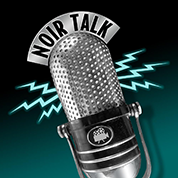 NOIR TALK pays tribute to actress and FNF Advisory Council member Marsha Hunt on the milestone of her 100th birthday, October 17th, 2017. FNF treasurer and charter director Alan K. Rode discusses her early life and film roles, her guest appearances at NOIR CITY film festivals, plus her fight against the Hollywood blacklist and its effect on her movie career with host and producer Haggai Elitzur . They also discuss Marsha's humanitarian work and activism, as well as her prominent role in the film community throughout her life, both on-screen and off. FNF president and founder Eddie Muller joins them to talk about developing his 2008 short film The Grand Inquisitor with Marsha in mind for one of its roles. Muller also shares behind-the-scenes stories of working with her on-set.
You can listen either on SoundCloud or on iTunes. Mobile users on Android can subscribe to the podcast using the RSS feed.

Tweets