NOIR CITY Returns to the Windy City
NOIR CITY Chicago returns to the Music Box Theatre August 25-31, with an epically suspenseful series of criminal capers! "The Big Knockover" celebrates the history of the heist film from black-and-white Hollywood classics such as The Asphalt Jungle (1950) and Kansas City Confidential (1952), to 1974's The Taking of Pelham 1,2,3, to the stunning contemporary thriller from Argentina El Aura (2005). This year's focus on hold-ups, heists, and schemes gone awry provides the perfect opportunity to venture beyond the 1940s and '50s to show how noir has expanded and transformed over the decades. NOIR CITY Chicago's opening night will celebrate the 20th anniversary of Curtis Hanson's L.A. Confidential with a screening of the film in 35mm.
We'll let you know when the Music Box updates their website with the NOIR CITY line-up.
UPCOMING NOIR CITY DATES
NOIR CITY Chicago: August 25-31
NOIR CITY Detroit: September 22-24
NOIR CITY D.C.: October 14-26
NOIR CITY Xmas: Wed., December 20
NOIR CITY SF: January 26-February. 4, 2018
Melville Mania
The Gene Siskel Film Center in Chicago, Hollywood's Egyptian Theatre and the UC Berkeley Art Museum and Pacific Film Archive will all be saluting Jean-Pierre Melville's centennial with retrospectives of the influential director's work this summer. The Film Center's Jean-Pierre Melville: Criminal Codes screens June 3—July 6. BAMPFA will present the most extensive presentation of Melville's films in their history, Melville 100 June 8–August 12. Both series will include three rarities, an imported print of his 1953 Franco-Italian co-production Quand tu liras cette lettre, 1959's Two Men in Manhattan, filmed on location in New York City, and his first feature, Le silence de la mer (1946) shot during the German occupation of France. They will also be screening his more well-known films like his three pictures with star Alain Delon: Le Samouraï (1967), Le cercle rouge (1970) and Un flic (1972). Additionally, BAMPFA will screen his collaboration with Jean Cocteau, Les enfants terribles (1950). The Egyptian's nine film series Jean-Pierre Melville at 100 will include Le silence de la mer. Remy Grumbach, the director's nephew and co-founder of the Jean-Pierre Melville Foundation, will introduce several screenings.
Facial Noir
Imogen Sara Smith has curated a series for the streaming service FilmStruck entitled Changing Faces. Smith describes it as bringing "together films in which faces are transformed—through plastic surgery, a mask, a scar or disfigurement—and that explore connections between identity and appearance, delving into the darker side of the human face's power on screen." Smith is the author of In Lonely Places: Film Noir Beyond the City and a frequent contributor to Noir City e-magazine.
The series comprises an intro by Smith, The Face of Another (Teshigahara Hiroshi, 1966), The Face Behind the Mask (Robert Florey, 1941), A Woman's Face (George Cukor, 1941), Eyes Without a Face (Georges Franju, 1960), and Seconds (John Frankenheimer, 1966). The series will be available on site during the month of July. FilmStruck offers a 14-day free trial for new subscribers.
The Feminine Side of Pulp Noir
The Berkeley Art Museum and Pacific Film Archive is presenting a film series inspired by the Library of America's recent anthology Women Crime Writers: Eight Suspense Novels of the 1940s & 50s (ed. Sarah Weinman). Band of Outsiders: Women Crime Writers includes justly famous noirs: Otto Preminger's Laura (1944), based on the novel by Vera Caspry, and Nicholas Ray's In a Lonely Place (1950), based on the novel by Dorothy B. Hughes, as well as lesser known Hollywood gems: Roy Ward Baker's Don't Bother to Knock (1952), based on the novel Mischief by Charlotte Armstrong and featuring an early and atypical role for Marilyn Monroe, and Robert Montgomery's Ride the Pink Horse, also based on a book by Hughes and produced by Alfred Hitchcock's protégé Joan Harrison. The series, curated by Kathy Geritz and Judy Bloch, runs now through August 17. Complete film notes, schedule and tickets available at the BAMPFA website.
The Czar of Noir Now on TCM
We're ecstatic that FNF president and NOIR CITY producer Eddie Muller is now hosting a new franchise for Turner Classic Movies, Noir Alley. Every Sunday at 10 a.m. EST / 7 a.m. PST, Muller presents a classic film noir. The series kicked off on March 5 with arguably the first and greatest noir, The Maltese Falcon (1941) based on the novel by pulp fiction great Dashiell Hammett and starring an outstanding ensemble of actors: Humphrey Bogart, Mary Astor, Sydney Greenstreet and Peter Lorre.
Noir Alley is designed to be an immersive, multiplatform experience for both seasoned noir fans and newcomers to the genre. Fans are invited to engage with the Noir Alley community through social media by joining the conversation on the @NoirAlley Twitter page and Noir Alley Facebook page and tagging #NoirAlley. Noir Alley's Twitter and Facebook pages feature a constantly refreshed collection of special content, including exclusive videos from Eddie Muller. View TCM's Noir Alley schedule.
Czech Film Noir Fest Returns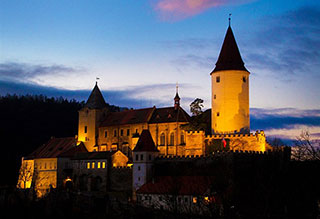 The fifth edition of Noir Film Festival in the Czech Republic will take place August 17–20 and held in a breathtaking venue, the majestic 12th century Křivoklát Castle Castle, about 100km outside Prague. More than 40 screenings will be held in the castle's upper courtyard as well as four historical halls. This year's programming includes a Humphrey Bogart retrospective, series on trains in film noir and Mexican noir, and tributes to the film noir icons Lizabeth Scott and Robert Mitchum. This year's festival will also include the series, Noir South of El Paso and Alfred Hitchcock – On the Frontier of Noir, as well as their annual HBO screenings and Czechoslovak Noir series.The complete program is available on the festival's official website.
Woman on the Run Blu-ray/DVD – International Recognition
We are very proud that Flicker Alley's Blu-ray/DVD release of the FNF's 35mm restoration of Woman on the Run (1950) was honored by to Lorenzo Codelli naming it as his "Personal Choice" at the 2017 Il Cinema Ritrovato DVD Awards. The DVD/Blu-ray release was one of 35 finalists for the DVD Awards at this year's Il Cinema Ritrovato film festival in Bologna, Italy. Organized by the Cineteca di Bologna, the 9-day event ran June 24 – July 2 and is one of the world's major festivals of film restoration. This wasn't the first time the FNF has been part of Il Cinema Ritrovato; in 2015. The FNF's then-newly-restored 35mm Woman on the Run print made its European premiere at the Cineteca's festival to wide acclaim. To see the list of Il Cinema Ritrovato 2017 DVD honorees go here.
Calling Aspiring Film Noir Auteurs!
The Bogart Film Noir Shorts Competition and Film Showcase, October 15 through 22, is looking for submissions. The event is hosted in partnership with the Humphrey Bogart Film Festival, the Bogart Estate, University of Miami's Department of Cinema and Interactive Media, and its Norton Herrick Center for Motion Picture Studies. It identifies, fosters and celebrates emerging and independent talent in the genre that Bogie made famous, particularly fitting as Humphrey Bogart was a producer as well as an actor.
The weeklong program showcases the best classic film noir, neo-noir, and dark/noir comedy shorts from around the world. The week begins at the University of Miami with student shorts and pilot screenings, script table-reads, filmmaker workshops, networking events, and awards party. It then moves to the Humphrey Bogart Film Festival (HBFF) in Key Largo at midweek with additional short film screenings to complement their classic Bogart repertoire and other varied festivities. Learn more and submit your film here.
From the Collection of
Eddie Muller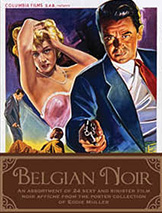 The WORLD OF FILM NOIR was created in black and white, but its intrigue and passion was sold worldwide by movie posters -- in vivid color -- that enticed audiences into this sinister and sensual demimonde. Nowhere on earth was the come-on more colorful than in Belgium, where the nation's standardly sized posters (a mere 14" x 22") virtually exploded with the danger and desire at the heart of cinema's most alluring and durable genre. Small posters from a small country--but packed with more lust and larceny than Hollywood would dare.
NOW, EXCLUSIVELY FROM BLACK POOL PRODUCTIONS—Eddie Muller, "The Czar of Noir," presents 24 glorious Belgian cinema posters from his personal collection, reproduced as 5-1/4" x 7" cards, each complete with his terse and tangy commentary highlighting what made these films—and this artwork--so magical and memorable. $20 + tax/shipping at BlackPoolProductions.com.
Don't Print the Legend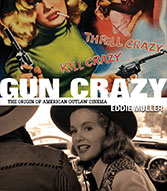 Gun Crazy caused barely a ripple in public consciousness when it hit movie screens in 1950. Yet over time it would prove to be the most innovative and provocative motion picture of its era—a simple genre film, but packed with so much cinematic bravura and timeless symbolism, its power has spanned decades, crossed oceans, and influenced countless filmmakers.
+ READ MORE

Come follow us on Tumblr to indulge your passion for noir! We'll be posting daily, celebrating all things noir with exclusive stills and images you won't see anywhere else, as well as trailers, film clips, and more.

Share our posts with your friends; your love of the art form is the Foundation's biggest asset in its mission to preserve and restore classics of the genre. We are also fully committed to present our rescued films in the way they were meant to be seen: in 35mm at our NOIR CITY festivals around the country.
Eddie Muller Hosts Sacramento's Light & Noir Film Festival
The California Museum and Film Noir Foundation will present its "Light & Noir Film Festival" at the historic Crest Theatre in Sacramento on Saturday, July 22, 5:00 to 10:00 p.m. The event will include screenings of Billy Wilder's film noir classics Double Indemnity (1944) and Sunset Boulevard (1950), both featured in the California Museum's installation of the traveling exhibit Light & Noir: Exiles & Émigrés in Hollywood, 1933-1950. Between films, a Q&A with Eddie Muller at 7:00 p.m. will explore the contributions of legendary director Wilder, a refugee from Nazi persecution during WWII whose legacy of achievements helped define the film noir genre.
Festivities include a 1940s-1950s costume contest plus custom cocktails from the theatre's adjoining Empress Tavern. Be sure to stop by our table at the Crest to pick up our newest NOIR CITY Annual and other official FNF merchandise. Prior to going to the theatre, you can attend a book signing with Eddie, taking place 3–4 p.m at the California Museum. The Light and Noir Film Festival Pass, which includes museum admission, is now on sale on the Crest's website.
Dan Duryea Tribute with Son, Richard Duryea
The Aero Theater will screen two of Dan Duryea's best films, Robert Siodmak's Criss Cross (1949) and Roy William Neil's Black Angel (1945) on Thursday, July 20 at 7:30pm. The first shows Duryea on familiar ground, in a supporting role playing a gang leader whose wife (Yvonne De Carlo), along with her ex-husband and current lover (Burt Lancaster), are plotting to double cross him in the heist they are all planning together. The second films presents the rare chance to see Duryea in a sympathetic role as alcoholic composer Marty Blaine who tries to help Catherine Bennett (June Vincent) solve his ex-wife's murder to free her husband, wrongfully committed of the crime.
There will be a discussion between films with Dan Duryea's son Richard Duryea and author Mike Peros, moderated by FNF board member Alan K. Rode. Mike Peros will sign his book, Dan Duryea: Heel with a Heart at 6:30 PM in the lobby. Full program notes and tickets are available on the Aero website.
Light & Noir: Exiles & Émigrés in Hollywood Visits Sacramento

Light & Noir: Exiles & Émigrés in Hollywood, 1933-1950 will make its final stop on its national tour at Sacramento's California Museum on May 16—Oct 15. Organized by the Skirball Cultural Center in association with the Academy of Motion Picture Arts and Sciences, the exhibit explores how the experiences of German-speaking exiles—many of them Jewish—shaped the classic films of Hollywood's Golden Age.
When the Nazis banned Jews from the German film industry in 1933, it launched an exodus of Europe's top talent. Over 800 movie professionals arrived in Los Angeles over the next fifteen years. Among them were directors Fritz Lang, Billy Wilder and Robert Siodmak and actors Marlene Dietrich, Paul Henreid, and Peter Lorre. The exhibit features over 60 portraits of these émigrés who made significant contributions to Hollywood filmmaking and the development of film noir in particular. The film noir section of the exhibit includes production stills and an original costume worn by Joan Crawford in Mildred Pierce (1945). In addition, original posters, storyboards, production stills and more from Scarlet Street (1945), directed by Fritz Lang; The Killers (1946), directed by Robert Siodmak; and Double Indemnity (1944) and Sunset Boulevard (1950), both directed by Billy Wilder, are included. For more information and related programming, visit the California Museum website.
L.A. Stage Noir
The sixth rendition of PL.A.Y Noir premiers at the Actors Workout Studio in North Hollywood on July 14 and runs through August 6. The show comprises six one act plays, a mix of comedy and drama set in the Golden Age of Hollywood. The playlets are in the tradition of classic films noir like The Maltese Falcon as well as the crime novels of Raymond Chandler, Dashiell Hammett and James M. Cain. The series includes plays written by David-Matthew Barnes, Michael Cote, Joe Janes, Dagney Kerr, Daniel Weisman and Carl L. Williams and are helmed by John Conroy, James Elden, Roxanne Jaeckel, and Jim Shipley. The opening night performance on Friday, July 14 includes a post-performance sparkling wine and cheese reception. Show times and tickets are available on the Punk Monkey Production website. Compendiums of previous year's plays (2012, 2013 and 2014) are available on Amazon.
Noir at SFJFF
The FNF is proud to announce that it will be a community partner for two films in this year's San Francisco Jewish Film Festival, July 20 – Aug 6. The first is Andrei Konchalovsky's Paradise (2016). Shot in lustrous black-and-white, this bold and severe Holocaust drama explores the complex relationship between a Russian aristocrat—caught hiding two Jewish children in her Paris apartment—and two Nazi officials. Both relationships have a sexual frisson and the film's exploration of the intersection of intimacy, politics, and power is complicated further by austerely photographed scenes that play like confessional interviews. The film screens three times during the festival: Saturday, July 29, 3:45 p.m. at San Francisco's Castro Theatre; Wednesday, August 2, 8:15 p.m. at the Albany Twin in Albany; and Friday, August 4, 3:50 p.m. at the Smith Rafael in San Rafael.
In Gordian Maugg's Fritz Lang (2016)—which made its U.S. debut at last year's NOIR CITY D.C.—filmmaker Fritz Lang seeks inspiration for his first sound film by immersing himself in the case of notorious serial killer Peter Kürten. Combined live action and archive footage lends the film an added depth and authenticity. Fritz Lang will screen twice during the festival, first on Thursday, July 27, 9:30 p.m. at the Castro and then on Thursday, August 3, 8:30 p.m. at the Albany Twin. SFJFF is extending a special offer to FNF supporters — use the promo code FNF17 when you buy online to receive a discounted price of $13 for regularly priced screenings.
New Episode of NOIR TALK: Special Guest Renee Patrick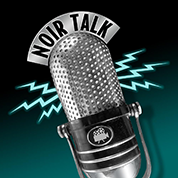 In the new episode of NOIR TALK, co-authors of the Classic Hollywood mysteries Design for Dying and Dangerous to Know, Rosemarie and Vince Keenan, aka Renee Patrick, join host and producer Haggai Elitzur to discuss film noir, costume design, and mystery writing. The conversation turns to legendary costume designer Edith Head and the Keenans' NOIR CITY e-magazine article (Issue #16, Fall 2015) exploring the designer's career and contributions to film noir, her partnerships with Alfred Hitchcock and Grace Kelly, plus her work designing clothes for the Academy Awards and for Bette Davis. The Keenans happily describe their book series that "co-stars" Edith Head, including their newest release Dangerous to Know. You can listen either on SoundCloud or on iTunes. Mobile users on Android can subscribe to the podcast using the RSS feed.

Tweets