NOIR CITY: D.C. returns to the AFI Silver Theatre and Cultural Center in Silver Spring, MD, October 14-26. This year's festival, dubbed "The Big Knockover", features an astounding collection of classic and post-noir era heist films. The lineup explores the desperate lengths to which people will go to beat the system and hit the big time. FNF president Eddie Muller, a.k.a. the "Czar of Noir" will host the last weekend of the festival. Noted film scholar and FNF board member Foster Hirsch will introduce the screenings during the opening weekend.
Opening night features a triumvirate of classic Hollywood heist films— Robert Siodmak's Criss Cross (1949), John Huston's The Asphalt Jungle (1950) and Stanley Kubrick's The Killing (1956). The festival will also include some unexpected treasures. NOIR CITY will present a newly restored DCP of Violent Saturday (1955), a widescreen Technicolor spectacle that mixes a bank robbery with Douglas Sirk-style small town melodrama as well as Claude Sautet's Classe tous risques (1960), an exceptional French crime caper too long in the shadow of Jules Dassin's 1955 classic Rififi (1955) which will also screen during the festival.
To see the full lineup and to purchase tickets for all 20 films as well as the Big Combo Card (good for six NOIR CITY admissions) visit the AFI Silver's website.
Great Reading for a Good Cause!
Subscribe to NOIR CITY e-magazine for your chance to win Warner Archive Blu-ray releases of Murder, My Sweet or Alfred Hitchcock's The Wrong Man. For a shot at these, donate $20 or more to the FNF between now and October 21. Your name will be entered in two random drawings—one for each title.
And, for a donation of $50 or more, you have two chances to win Kino Lorber's Blu-ray release of Cry of the City (with Eddie Muller commentary track) in random drawings.
Everyone who donates and signs up on our mailing list will receive NOIR CITY e-magazine for a year. Be sure to give us your mailing address as well, so if you win, we know where to send your prize. All winners will be announced Wednesday, October 25, here on the FNF's news page. Your donations help the FNF locate, restore, and exhibit films that, without our intervention, would be lost forever.
Don't miss out! Take a look at this issue's Table of Contents and subscribe to NOIR CITY!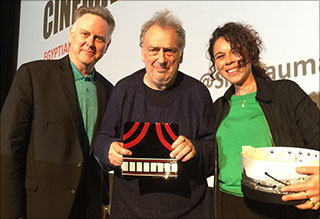 FNF Fetes Frears as "Modern Master"
SANTA MONICA, CA—Film director Stephen Frears was presented with the mantle "Modern Noir Master" by the Film Noir Foundation on Wednesday, September 20, following an invitation-only screening of his latest film, Victoria and Adbul, at the Aero Theatre in Santa Monica. Eddie Muller engaged Frears in a post-film discussion and Q&A, which culminated in the presentation of the FNF's inaugural award prior to a screening of Frears' classic noir, The Grifters. The American Cinematheque and Focus Features partnered with the FNF on the event, which drew a capacity crowd.
The Film Noir Foundation created the Modern Master award in 2016 to recognize contemporary artists whose work extended the thematic and artistic traditions of classic noir. Frears' selection was accompanied by an exclusive interview with NOIR CITY e-magazine's Vince Keenan (Issue #19). In bestowing the honor, Muller called Frears—whose distinguished career spans 50 years—"one of the world's great cinematic storytellers." Among his lengthy résumé are such noir-stained titles as Gumshoe (1971), The Hit (1984), Dangerous Liaisons (1988), The Grifters (1990), and Dirty Pretty Things (2002).
The release of Frears' latest film finally presented the FNF with the opportunity to present the director with the actual award., which was designed and hand-crafted by Samantha Fuller, daughter of legendary filmmaker Samuel Fuller. Muller chose Samantha to create the award to "include a bloodline" in the process that would "underscore the link between classic and contemporary noir." Etched in the glass is the inscription: The Film Noir Foundation presents Its Inaugural award "Modern Noir Master" to Stephen Frears in recognition of his understanding, empathy and artistry in extending the tradition of classic film noir to new generations. Mr. Frears graciously accepted his Modern Master award to a rousing standing ovation. [Photo by M. Gerber]
UPCOMING NOIR CITY DATES
NOIR CITY D.C.: October 14-26
NOIR CITY Xmas: Wed., December 20
NOIR CITY SF: January 26-February. 4, 2018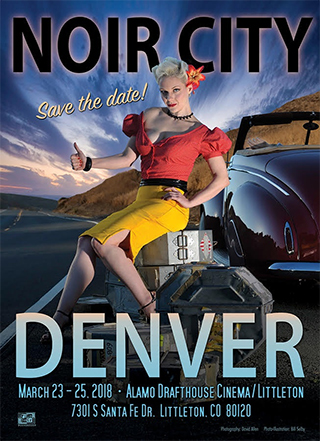 The Film Noir Foundation will be partnering with the Alamo Drafthouse Cinema in Littleton, Colorado, to present the first NOIR CITY: Denver, March 23 - 25, 2018, a three-day festival featuring ten films. FNF founder and president Eddie Muller will have a special co-host—legendary crime fiction author (and FNF Advisory Council member) James Ellroy, who will be co-programming the festival with the Czar of Noir. The schedule for NOIR CITY: Denver will be announced in 2018. See you next year, Denver!
NOIR CITY returns to its home at the historic Castro Theatre, January 26 - February 4, 2018, for its 16th edition. The 2018 film festival will focus on films noirs from the years 1941-1953. The theme, schedule and final poster for NOIR CITY 16 will be unveiled at NOIR CITY Xmas on December 20 at the Castro. You will be able to pick up passports (full series passes) for the festival that night at the theatre along with official Film Noir Foundation merchandise. Passports and individual tickets will also go on sale that night at the NOIR CITY festival website.
FNF Receives $25K Grant from The Hollywood Foreign Press Association for 2017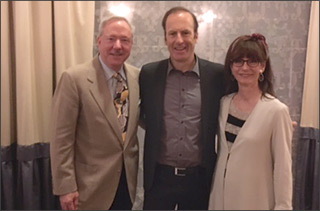 [Celebrity Sighting – Film Noir Foundation's Daryl Sparks (right) and Brian Light (left) with Better Call Saul's Bob Odenkirk at HFPA's grant awards dinner, August 2, 2017, Beverly Hilton Hotel/Los Angeles.]
For the fifth consecutive year, the Film Noir Foundation is a grant recipient of the Hollywood Foreign Press Association's Charitable Trust. This year's $25,000 grant, along with 2016's endowment, will be used to help fund a specific film restoration project the FNF hopes to premiere in 2018.
HFPA's mission is to foster education, diversity, and creative expression in art and film through a variety of programs and special grants. For more than 25 years, the HFPA Charitable Trust has committed nearly $30 million in grants, provided more than 1,500 scholarships, and helped restore over 90 films – including three completed FNF restorations.
This year's grants banquet was held Wednesday, August 2, 2017, at Los Angeles' Beverly Wilshire Hotel with FNF promotional director and grants manager Daryl Sparks in attendance. Also representing the FNF was NOIR CITY e-mag contributing writer Brian Light. The evening's festivities were hosted by Chelsea Handler with highlighted award presentations by various Hollywood celebrities including Dustin Hoffman, Anthony Mackie, Mark Hamill, Katherine Hahn, Chrissy Metz, Chadwick Boseman, Alison Brie, Patrick Stewart, Elisabeth Moss, and Bob Odenkirk.
The Czar of Noir on TCM
Since March 5, FNF president Eddie Muller a.k.a. "The Czar of Noir" has been hosting a weekly program titled Noir Alley, airing every Sunday at 10:00 a.m. ET/7:00 a.m. PT on Turner Classic Movies. Muller programs and introduces a different classic noir each week. At the end of the screening, Muller returns for an outro, often answering viewer questions about the genre or a specific film. As with the FNF's NOIR CITY festivals, the program is aimed at both "noiristas" (Muller's nickname for noir devotees) and noir novices. Muller eschews the snobbery about classic films he often experienced at the repertory cinemas of his youth; "I don't want to be an aficionado. I want to be accessible." Muller is delighted with the latitude he's been given by TCM to program what he calls a "48-day film festival." (The current schedule runs through the end of January 2018. Noir Alley took a hiatus for the month of August for their annual "Summer under the Stars").
Muller is also enthusiastic about the role TCM plays in introducing viewers to the world of classic films and believes the loyalty the network instills in its audience will also lead into a passion for saving films. "TCM is the gatekeeper for American cinema history. I grew up around San Francisco going to theaters seeing these films. Now, you mostly see them on TCM… and to be part of that is an honor. And it can only be good for the fortunes of the FNF." Check out the official Noir Alley website for the schedule through January 2018, Muller's Noir 101 and a video archive of selected Noir Alley intros, outros and promos.
From the Collection of
Eddie Muller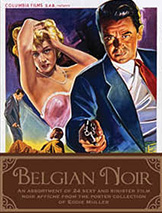 The WORLD OF FILM NOIR was created in black and white, but its intrigue and passion was sold worldwide by movie posters -- in vivid color -- that enticed audiences into this sinister and sensual demimonde. Nowhere on earth was the come-on more colorful than in Belgium, where the nation's standardly sized posters (a mere 14" x 22") virtually exploded with the danger and desire at the heart of cinema's most alluring and durable genre. Small posters from a small country--but packed with more lust and larceny than Hollywood would dare.
NOW, EXCLUSIVELY FROM BLACK POOL PRODUCTIONS—Eddie Muller, "The Czar of Noir," presents 24 glorious Belgian cinema posters from his personal collection, reproduced as 5-1/4" x 7" cards, each complete with his terse and tangy commentary highlighting what made these films—and this artwork--so magical and memorable. $20 + tax/shipping at BlackPoolProductions.com.
Don't Print the Legend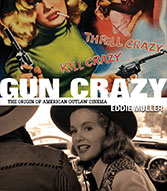 Gun Crazy caused barely a ripple in public consciousness when it hit movie screens in 1950. Yet over time it would prove to be the most innovative and provocative motion picture of its era—a simple genre film, but packed with so much cinematic bravura and timeless symbolism, its power has spanned decades, crossed oceans, and influenced countless filmmakers.
+ READ MORE

Come follow us on Tumblr to indulge your passion for noir! We'll be posting daily, celebrating all things noir with exclusive stills and images you won't see anywhere else, as well as trailers, film clips, and more.

Share our posts with your friends; your love of the art form is the Foundation's biggest asset in its mission to preserve and restore classics of the genre. We are also fully committed to present our rescued films in the way they were meant to be seen: in 35mm at our NOIR CITY festivals around the country.
Film Noir Series at SAM Blends Classics and Neo-Noir
The Seattle Art Museum kicks of its 40th annual film noir series on September 28 with a screening of Howard Hawk's The Big Sleep (1946) and an opening night party featuring Top Pot Doughnuts. This year's series Here Comes the Night screens every Thursday at 7:30 p.m. through December 7, excluding Thanksgiving. The series includes two vintage noirs starring Richard Widmark: Henry Hathaway's Kiss of Death (1947) and Sam Fuller's Pickup on South Street (1953). Other classic noirs playing this year include Robert Siodmak's The File on Thelma Jordan (1950) with noir goddess Barbara Stanwyck and Jerry Hopper's The Naked Alibi (1954) featuring two noir icons, Gloria Grahame and Sterling Hayden. This year's programming also includes Roman Polanski's neo-noir Chinatown (1974) and the hybrid black comedy/neo-noir Pretty Poison (1968), directed by Noel Black. Series passes and film notes are available on the SAM website. A limited number of single-film tickets may be available on a first-come, first-served basis day of, beginning at 7:25 p.m.
I Wake Up Dreaming Returns to SF
Former Bay Area programmer Elliot Lavine returns to San Francisco's Castro Theatre every Monday in October to present I WAKE UP DREAMING 2017: SLEEP NO MORE. This year's series features pristine 35mm studio archive prints of all 11 nightmarish noirs. The programming ranges greatly in style and time frame from the opening film, Robert Siodmak's quintessential classic noir Phantom Lady (1944) to the closing film, John Frankenheimer's late era paranoid political noir The Manchurian Candidate (1962). Along the way the series will feature several hybrid noirs including Anatole Litvak's musical noir Blues in the Night (1941); the supernatural noir The Amazing Mr. X (1948) directed by Bernard Vorhaus and shot by John Alton; and Don Siegel's sci-fi noir Invasion of the Body Snatchers (1956). For more on the festival, visit the I WAKE UP DREAMING Facebook page. Portland Dreaming fans, Lavine is planning on bringing 18 noirs to the Cinema 21 Friday, October 27— Thursday, November 2. Check the Facebook page for more details.
French Noir Fest Returns to San Francisco
This year's edition of FRENCH HAD A NAME FOR IT features 13 classic Gallic films noirs culled from four decades, the '30s, '40s, '50s and '60s. The mini-festival, running November 3-6 at the Roxie Theatre, features dark cinematic classics starring some of the greatest actors to grace the French silver screen, Charles Boyer, Jean Gabin, Maria Casares, Arletty and Jeanne Moreau. The festival will also feature two early works by master thriller director Claude Chabrol, Le beau serge (1958) and Les bonnes femmes (1960). Attendees will also get a chance to see the origin story of Alphaville's lead character Lemmy Caution (Eddie Constantine) in Cet homme est dangereux (1953). To see the full lineup and to buy tickets or passes, visit the official Midcentury Production site.
Film Noir Looms Large This Fall at NCMA
The North Carolina Museum of Art has announced a new ongoing series called NCMA ArtHouse. The mostly monthly screenings are curated and introduced by John Munson, who for 25 years was program manager for the Rialto, Raleigh's oldest art house cinema. The series highlights the latest in critically acclaimed independent, international, and documentary features. Other screenings are chosen and introduced by NCMA film curator Laura Boyes, who brings some classic film noir to the fall lineup. The noirs in the series include Alfred Hitchcock's Notorious (1946) starring Ingrid Bergman and Cary Grant; David Miller's Sudden Fear (1952) in which Joan Crawford faces off against Jack Palance and Gloria Grahame; and the newly restored Panique (1947), directed by Julien Duvivier and based on the novel by Georges Simenon. Full series information can be found on the NCMA's website.
Marsha Hunt Turns 100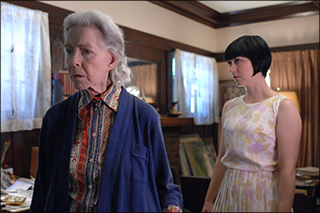 Turner Classic Movies will be celebrating actress and FNF Advisory Council member Marsha Hunt's 100th birthday on October 17 with a day-long program of her films—and one of them will be The Grand Inquisitor, a 20-minute "noir fairy tale" written and directed by Eddie Muller in 2008. "Marsha was 92 when she agreed to be in the film, which some reviewers described as 'transgressive,'" Muller said. "Marsha understood the character completely, empathized with what I was trying to say, and showed real guts tackling a role unlike anything from her days in mid-century Hollywood. That's why she did it!" The film will air at 7:30 pm ET / 4:30 pm PT. Eddie will also be saluting Marsha on his Noir Alley show, October 22, when he screens Raw Deal. "I actually get a little choked up paying tribute to her in my outro," he says. "Only right—she's the most exceptional person I've ever had the pleasure of knowing. Working with Marsha Hunt? Greatest collaborative experience of my life."
New Episode of NOIR TALK
Marsha Hunt 100th Birthday Tribute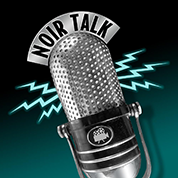 NOIR TALK pays tribute to actress and FNF Advisory Council member Marsha Hunt on the milestone of her 100th birthday, October 17th, 2017. FNF treasurer and charter director Alan K. Rode discusses her early life and film roles, her guest appearances at NOIR CITY film festivals, plus her fight against the Hollywood blacklist and its effect on her movie career with host and producer Haggai Elitzur . They also discuss Marsha's humanitarian work and activism, as well as her prominent role in the film community throughout her life, both on-screen and off. FNF president and founder Eddie Muller joins them to talk about developing his 2008 short film The Grand Inquisitor with Marsha in mind for one of its roles. Muller also shares behind-the-scenes stories of working with her on-set.
You can listen either on SoundCloud or on iTunes. Mobile users on Android can subscribe to the podcast using the RSS feed.

Tweets