NOIR CITY Returns to the Windy City
NOIR CITY Chicago returns to the Music Box Theatre August 25-31, with an epically suspenseful series of criminal capers!  "The Big Knockover" celebrates the history of the heist film from black-and-white Hollywood classics such as The Asphalt Jungle (1950) and Kansas City Confidential (1952), to 1974's The Taking of Pelham 1,2,3, to the stunning contemporary thriller from Argentina El Aura (2005).  This year's focus on hold-ups, heists, and schemes gone awry provides the perfect opportunity to venture beyond the 1940s and '50s to show how noir has expanded and transformed over the decades. NOIR CITY Chicago's opening night will celebrate the 20th anniversary of Curtis Hanson's L.A. Confidential with a screening of the film in 35mm.
We'll let you know when the Music Box updates their website with the NOIR CITY line-up.
2017 NOIR CITY Satellite
Fests Slated
The heist theme from San Francisco's NOIR CITY 15: The Big Knockover will be carried through in most of the NOIR CITY festivals scheduled around the U.S. in the coming months. Remaining satellite festivals for 2017 include Chicago, August 25 (co-presented with Chicago's Music Box Theatre); Detroit, September 22–24 (co-presented with the historic Redford Theatre); and Washington D.C., October 14–26 (co-presented with the AFI Silver Theatre and Cultural Center) in Silver Spring, MD. FNF president Eddie Muller notes that the various festivals will not necessarily play the same line-up of titles.
The Czar of Noir Now on TCM
We're ecstatic that FNF president and NOIR CITY producer Eddie Muller is now hosting a new franchise for Turner Classic Movies, Noir Alley. Every Sunday at 10 a.m. EST / 7 a.m. PST, Muller presents a classic film noir. The series kicked off on March 5 with arguably the first and greatest noir, The Maltese Falcon (1941) based on the novel by pulp fiction great Dashiell Hammett and starring an outstanding ensemble of actors: Humphrey Bogart, Mary Astor, Sydney Greenstreet and Peter Lorre.
Noir Alley is designed to be an immersive, multiplatform experience for both seasoned noir fans and newcomers to the genre. Fans are invited to engage with the Noir Alley community through social media by joining the conversation on the @NoirAlley Twitter page and Noir Alley Facebook page and tagging #NoirAlley. Noir Alley's Twitter and Facebook pages feature a constantly refreshed collection of special content, including exclusive videos from Eddie Muller. View TCM's Noir Alley schedule.
Calling Aspiring Film Noir Auteurs!
The Bogart Film Noir Shorts Competition and Film Showcase, October 15 through 22, is looking for submissions. The event is hosted in partnership with the Humphrey Bogart Film Festival, the Bogart Estate, University of Miami's Department of Cinema and Interactive Media, and its Norton Herrick Center for Motion Picture Studies. It identifies, fosters and celebrates emerging and independent talent in the genre that Bogie made famous, particularly fitting as Humphrey Bogart was a producer as well as an actor.
The weeklong program showcases the best classic film noir, neo-noir, and dark/noir comedy shorts from around the world. The week begins at the University of Miami with student shorts and pilot screenings, script table-reads, filmmaker workshops, networking events, and awards party. It then moves to the Humphrey Bogart Film Festival (HBFF) in Key Largo at midweek with additional short film screenings to complement their classic Bogart repertoire and other varied festivities. Learn more and submit your film here.
Czech Film Noir Fest Returns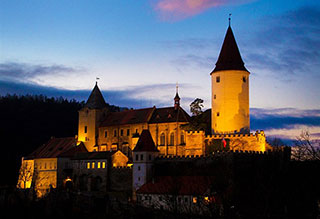 The fifth edition of Noir Film Festival in the Czech Republic will take place August 17–20, and includes a Humphrey Bogart retrospective, a series on trains in film noir, Mexican noir, and tributes to the film noir icons Lizabeth Scott and Robert Mitchum. The festival is held in a breathtaking venue, the majestic 12th century Křivoklát Castle Castle, about 100km outside Prague.
More than 40 screenings will be held in the castle's upper courtyard as well as four historical halls. Announced films include Raoul Walsh's High Sierra (1941), Charles David's Lady on a Train (1945), Anthony Mann's The Tall Target (1951), Richard Fleishcher's The Narrow Margin (1952) and Fritz Lang's Human Desire (1954).
The complete program will be announced June 24 on the festival's official website.
From the Collection of
Eddie Muller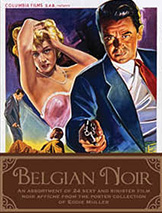 The WORLD OF FILM NOIR was created in black and white, but its intrigue and passion was sold worldwide by movie posters -- in vivid color -- that enticed audiences into this sinister and sensual demimonde. Nowhere on earth was the come-on more colorful than in Belgium, where the nation's standardly sized posters (a mere 14" x 22") virtually exploded with the danger and desire at the heart of cinema's most alluring and durable genre. Small posters from a small country--but packed with more lust and larceny than Hollywood would dare.
NOW, EXCLUSIVELY FROM BLACK POOL PRODUCTIONS—Eddie Muller, "The Czar of Noir," presents 24 glorious Belgian cinema posters from his personal collection, reproduced as 5-1/4" x 7" cards, each complete with his terse and tangy commentary highlighting what made these films—and this artwork--so magical and memorable. $20 + tax/shipping at BlackPoolProductions.com.
Don't Print the Legend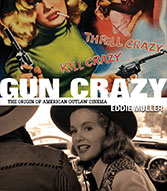 Gun Crazy caused barely a ripple in public consciousness when it hit movie screens in 1950. Yet over time it would prove to be the most innovative and provocative motion picture of its era—a simple genre film, but packed with so much cinematic bravura and timeless symbolism, its power has spanned decades, crossed oceans, and influenced countless filmmakers.
+ READ MORE

Come follow us on Tumblr to indulge your passion for noir! We'll be posting daily, celebrating all things noir with exclusive stills and images you won't see anywhere else, as well as trailers, film clips, and more.

Share our posts with your friends; your love of the art form is the Foundation's biggest asset in its mission to preserve and restore classics of the genre. We are also fully committed to present our rescued films in the way they were meant to be seen: in 35mm at our NOIR CITY festivals around the country.
Silent Noir
We are proud to announce the Film Noir Foundation will be co-presenting two films on June 3 during the San Francisco Silent Film Festival at the historic Castro Theatre. FNF president Eddie Muller will introduce Henryk Szaro's A Strong Man (Mocny Człowiek). In this 1929 Polish silent, unsuccessful writer Henryk Bielecki coaxes his friend Jerzy to commit suicide so he can steal the manuscript of Jerzy's book and publish it as his own. The book becomes a bestseller, leading to fame and fortune for Henryk, but eventually Henryk's secrets start to unravel.
The FNF's second co-presentation will be Tod Browning's Outside the Law (1920), beautifully restored by Universal Pictures, starring Lon Chaney in a remarkable double role. San Francisco crime boss Silent Madden and his daughter (Priscilla Dean) are friends with respected Confucian master Chang Lo, whose influence is shifting the Maddens' thinking toward the straight and narrow. Nefarious bad guy Black Mike Sylva, however, has other ideas! Chaney plays both the evil Sylva and Ah Wing, Chang Lo's dedicated servant. The screening will be introduced by esteemed film critic Leonard Maltin. The SF Silent Film Festivals runs June 1 – 4. Visit the official SFSFF website for the full line-up and to buy tickets and/or festival passes. FNF Supporters can use promo-code FLMN to receive the $14 SFSFF-member price instead of the standard $16 on up to 2 tickets per program.
Melville Mania
Both the Gene Siskel Film Center in Chicago and the UC Berkeley Art Museum and Pacific Film Archive will be saluting Jean-Pierre Melville's centennial with retrospectives of the influential director's work. The Film Center's Jean-Pierre Melville: Criminal Codes screens June 3—July 6. BAMPFA will present the most extensive presentation of Melville's films in their history, Melville 100 June 8–August 12. Both series will include three rarities, an imported print of his 1953 Franco-Italian co-production Quand tu liras cette lettre, 1959's Two Men in Manhattan, filmed on location in New York City, and his first feature, Le silence de la mer (1946) shot during the German occupation of France. They will also be screening his more well-known films like his three pictures with star Alain Delon: Le Samouraï (1967), Le cercle rouge (1970) and Un flic (1972). Additionally, BAMPFA will screen his collaboration with Jean Cocteau, Les enfants terribles (1950).
Light & Noir: Exiles & Émigrés in Hollywood Visits Sacramento

Light & Noir: Exiles & Émigrés in Hollywood, 1933-1950 will make its final stop on its national tour at Sacramento's California Museum on May 16—Oct 15. Organized by the Skirball Cultural Center in association with the Academy of Motion Picture Arts and Sciences, the exhibit explores how the experiences of German-speaking exiles—many of them Jewish—shaped the classic films of Hollywood's Golden Age.
When the Nazis banned Jews from the German film industry in 1933, it launched an exodus of Europe's top talent. Over 800 movie professionals arrived in Los Angeles over the next fifteen years. Among them were directors Fritz Lang, Billy Wilder and Robert Siodmak and actors Marlene Dietrich, Paul Henreid, and Peter Lorre. The exhibit features over 60 portraits of these émigrés who made significant contributions to Hollywood filmmaking and the development of film noir in particular. The film noir section of the exhibit includes production stills and an original costume worn by Joan Crawford in Mildred Pierce (1945). In addition, original posters, storyboards, production stills and more from Scarlet Street (1945), directed by Fritz Lang; The Killers (1946), directed by Robert Siodmak; and Double Indemnity (1944) and Sunset Boulevard (1950), both directed by Billy Wilder, are included. For more information and related programming, visit the California Museum website.
New Episode of NOIR TALK: Special Guest Imogen Sara Smith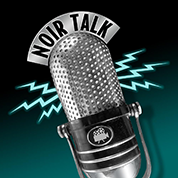 For the May episode of NOIR TALK, producer and host Haggai Elitzur sits down with film critic and historian Imogen Sara Smith, who is also a regular contributor to NOIR CITY e-magazine. Elitzur and Smith discuss her commentary track for the new DVD/Blu-ray release of The Scar (aka Hollow Triumph) including the central role of star/producer/director Paul Henreid and the contributions of cinematographer John Alton. They also talk about Imogen's NOIR CITY e-magazine articles "Wanted Man: The Fugitive" from the current issue and "A Light in the Dark: Ella Raines and Film Noir's Working Girls" from the Fall 2015 issue. The discussion then turns to Smith's book In Lonely Places: Film Noir Beyond the City, which focuses on classic films noir set outside cities and how that noir sub-genre reflected post-war trends in the U.S. The podcast concludes with a discussion of the film series that Imogen programmed in connection with her book. You can listen either on SoundCloud or on iTunes. Mobile users on Android can subscribe to the podcast using the RSS feed.
Woman on the Run Blu-ray/DVD – International Recognition
Flicker Alley's Blu-ray/DVD release of the FNF's 35mm restoration of Woman on the Run (1950) is one of 35 finalists for the DVD Awards at this year's Il Cinema Ritrovato film festival in Bologna, Italy. Organized by the Cineteca di Bologna, the 9-day event running June 24 – July 2 is one of the world's major festivals of film restoration. This won't be the first time the FNF has been part of Il Cinema Ritrovato; in 2015. The FNF's then-newly-restored 35mm Woman on the Run print made its European premiere at the Cineteca's festival to wide acclaim. To see the list of Il Cinema Ritrovato 2017 DVD finalists go here.

Tweets