NOIR CITY 15
10 Days of Heists, Hold-ups, and Schemes Gone Awry
The 2017 incarnation of the world's most popular film noir festival, returning to the legendary Castro Theatre January 20–29, will present 24 exceptional films ranging from the mid-20th century to today and culled from all parts of the globe. "The Big Knockover" is a veritable history of the heist film, from black-and-white Hollywood classics such as Criss Cross (1949) and The Asphalt Jungle (1950) to stunning contemporary thrillers like El Aura (2005) and Victoria (2015). NOIR CITY 15's lineup explores, in films both suspenseful and comedic, the desperate lengths to which people will go to beat the system and hit the big time.
Films in the festival come from the United States, England, Japan, France, Italy, Argentina, and Germany and span eight decades of filmmaking. Festival producer, co-programmer and host Eddie Muller clarifies that despite the change of pace, "This doesn't mean we've run out of films from the original noir movement. That remains our primary focus, and it is films of that period the Film Noir Foundation is dedicated to rescuing and restoring. But this particular theme—heist films—is much richer when the parameters are expanded to include films from different countries and eras. By making that leap, a more intriguing experience emerges for those loyal patrons who join us for the full ride." Visit NOIR CITY for the full line-up and to purchase tickets and Passports (full series passes).
Save Money & Time with a NOIR CITY Passport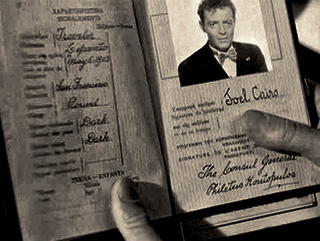 Secure your spot at NOIR CITY 15 with an all-access NOIR CITY PASSPORT. It grants the bearer entry to all 24 films in this year's program. Because the separate passport holders' queue allows early admittance to the theatre, you'll be able to grab a prime seat at all the shows—even on opening night. And if that's not enough, there's also the opening-night reception on the Castro Mezzanine beginning at 5:45 p.m., exclusively for passport holders. All this for the incredible price of $120. The NOIR CITY Passport also makes the perfect holiday gift for the film lover in your life! Best of all, proceeds from the festival help fund the FNF's restoration and preservation efforts year-round. This is your chance to have a smashing time AND preserve a valuable art form. BUY YOURS TODAY!
NOIR CITY Accommodations
If you're an out-of-towner looking for lodging in the City, or a local wanting to turn a night at the festival into an easy getaway, our friends at the Hotel Rex are offering a 15% discount off regular room rates for festival guests during NOIR CITY 15, January 20-29, 2017. Located in Union Square at 562 Sutter between Mason and Powell, you can get to the festival's Castro Theatre in about 20 minutes via MUNI underground, street car, or cab. Amenities at the Hotel Rex include complimentary Wi-Fi, upgraded to 100 MB, and flat-screen TVs with iPod docks in every room as well as a complimentary glass of wine from 5:00-6:00 each evening. For something special, treat yourself to the hotel's lovely Library Bar offering handcrafted cocktails and a menu of American classics. BOOK HERE for your special festival rate.
FNF Receives $25K Grant
from The Hollywood Foreign Press Association
On Thursday night, August 4, 2016, the Hollywood Foreign Press Association hosted their annual grant awards banquet at Los Angeles' Beverly Wilshire Hotel. For the fourth consecutive year, the Film Noir Foundation was a recipient of a grant from The HFPA Trust with promotional director Daryl Sparks in attendance. This year's $25,000 grant will be put toward costs for the FNF's latest film restoration project premiering at a NOIR CITY festival in 2017.
From the Collection of
Eddie Muller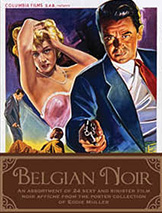 The WORLD OF FILM NOIR was created in black and white, but its intrigue and passion was sold worldwide by movie posters -- in vivid color -- that enticed audiences into this sinister and sensual demimonde. Nowhere on earth was the come-on more colorful than in Belgium, where the nation's standardly sized posters (a mere 14" x 22") virtually exploded with the danger and desire at the heart of cinema's most alluring and durable genre. Small posters from a small country--but packed with more lust and larceny than Hollywood would dare.
NOW, EXCLUSIVELY FROM BLACK POOL PRODUCTIONS—Eddie Muller, "The Czar of Noir," presents 24 glorious Belgian cinema posters from his personal collection, reproduced as 5-1/4" x 7" cards, each complete with his terse and tangy commentary highlighting what made these films—and this artwork--so magical and memorable. $20 + tax/shipping at BlackPoolProductions.com.
Don't Print the Legend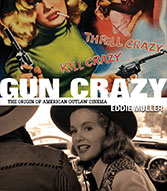 Gun Crazy caused barely a ripple in public consciousness when it hit movie screens in 1950. Yet over time it would prove to be the most innovative and provocative motion picture of its era—a simple genre film, but packed with so much cinematic bravura and timeless symbolism, its power has spanned decades, crossed oceans, and influenced countless filmmakers.
+ READ MORE
FNF/Nancy Mysel Legacy Grant Winner Announced
The Film Noir Foundation is proud to announce the winner of this year's $5,000 FNF/Nancy Mysel Legacy Grant, Jana D. Gowan of UCLA, a Master of Library and Information Science/Media Archives Specialization student. Specifically, Gowan wants to pursue a career as a moving image archivist in film restoration and preservation at a regional film archive. Preserving the diverse history of rural communities by restoring locally relevant films is her passion. + READ MORE
2015 Restoration Project
FNF Restores "Lost" Argentine Classic
Los tallos amargos (1956), a vitally significant "lost" film in the history of international noir cinema, has been restored this year by the Film Noir Foundation with the cooperation of UCLA Film & Television Archive and the Hollywood Foreign Press Association's Charitable Trust (The HFPA Trust). Based on the novel by journalist Adolfo Jasca, Los tallos amargos (The Bitter Stems) tells the tale of a down-on-his-luck journalist whose creation of a lucrative, if unethical, correspondence course leads to his committing the perfect murder. + READ MORE

Come follow us on Tumblr to indulge your passion for noir! We'll be posting daily, celebrating all things noir with exclusive stills and images you won't see anywhere else, as well as trailers, film clips, and more.

Share our posts with your friends; your love of the art form is the Foundation's biggest asset in its mission to preserve and restore classics of the genre. We are also fully committed to present our rescued films in the way they were meant to be seen: in 35mm at our NOIR CITY festivals around the country.
DONATION DRIVE
Win Newly Restored Classics...
Subscribe to NOIR CITY e-magazine between now and January 21 for your chance to win…Kino-Lorber's Blu-ray release of Pitfall with a "yak track" by FNF president, NOIR CITY publisher and TCM guest host Eddie Muller and/or DEFA's new digitally restored transfer of The Murderers are Among Us on DVD which includes an Eddie Muller special feature!
Subscribing is easy: donate $20 or more to the FNF and sign up on our mailing list. Your name will be entered into two random drawings—one for each film title. With a donation of $100 or more, you'll have the chance to win both titles in a single random drawing. Winners will be announced Monday, January 23, here on the FNF news page. Everyone that subscribes will receive the current issue of NOIR CITY e-magazine and then the next three issues as they are released.
→ Read about the current issue of NOIR CITY E‑Mag and view its Table of Contents here.
Neo-Noir Double Plays at Mostly British Film Fest
This year's Mostly British Film Festival will present two neo-noirs—one classic and one brand new—on Friday, February 17, at San Francisco's Vogue Theatre. Neil Jordan's atmospheric thriller, Mona Lisa, kicks off the Brit Noir evening at 7 p.m. Bob Hoskins earned an Oscar nomination for this 1986 release playing an ex-con hired to drive an expensive call girl (Cathy Tyson) to her appointments. She pulls him into her quest to find her missing friend, putting them both in peril. Michael Caine contributes a chilling performance as the pair's dangerous boss. Introduced by Peter Robinson, movie critic for KALW 91.7 FM.
The evening's second feature, 2015's neo-noir A Patch of Fog, is a slow-burning thriller set in Northern Ireland's overcast Belfast, starring Conleth Hill of HBO's Game of Thrones. Hill plays a literary celebrity who turns to shoplifting to cure his writer's block and becomes enmeshed with a blackmailing security guard (Stephen Graham). The film will be introduced by Tony Broadbent, author of "The Smoke" series of mystery novels. The films require separate admission. For information on and tickets to the festival, running February 16-23, please visit MostlyBritish.org.
Panique Restored
Pierre Simenon, son of novelist Georges Simenon, will introduce the 7:00 screening of Panique, Julien Duvivier's adaptation of his father's novel Mr. Hire's Engagement, on Friday, January 20 at New York's Film Forum. This special event kicks off the two week long run of the recent DCP restoration of the classic French film noir. Duvivier's first postwar project in France stars Michel Simon as Hire, a small town outcast, who makes the mistake of falling in love with Alice (Viviane Romance) who already loves Alfred (Paul Bernard). Despite being newly out of prison for taking a rap for Alfred, she doubles down on her passion for him and plots to have Hire take the fall for Alfred's current misdeed, the murder of a young woman. The film was reestored from a nitrate interpositive by TF1 Droits Audiovisuels at Digimage. Copies of the novel, in a new edition from Penguin Classics, will be available at the concession throughout the run. Can't make it to New York? Check distributor Rialto Picture's official site to see when it's playing in your neck of the woods.
Blood from a Stone
The path to hell is paved with good intentions in writer/director Johnny Ma's debut feature, Old Stone (2016). When a drunken passenger causes taxi driver Lao Shi (Chen Gang) to swerve and hit a motorcyclist, he stops to help the injured man. When no police or ambulance arrive he drives the victim to the hospital, checks him in and finds himself liable for the man's medical bills. The repercussions of Shi's selfless act expose a society rife with bone-chilling callousness and bureaucratic indifference. On the verge of losing his cab, his job and his family, Lao Shi has to resort to desperate measures to survive. The film, which won Best Canadian First Feature Film at the Toronto International Film Festival, opens December 9 at San Francisco's Opera Plaza and Berkeley's Shattuck Cinema. To see where and when it's playing in your neck of the woods, visit the official film page.

Tweets