NOIR CITY Returns to the Windy City
Brand new 35mm prints of several rare Universal Pictures noir titles are highlights of this year's eighth edition of the NOIR CITY: CHICAGO film festival, running August 19–25, at its usual home, the Music Box Theatre. Among the rarely screened offerings are Flesh and Fantasy (1943), Destiny (1944), Outside the Wall (1950), Shakedown (1950), Meet Danny Wilson (1951), and Flesh and Fury (1952). The festival will also be presenting a 35mm restoration of Hollow Triumph (1948), courtesy UCLA Film & Television Archive. This gritty noir stars Paul Henreid, who also directed the film, and Joan Bennett. Master cinematographer John Alton shot the film.
Opening night will feature a conversation with actor Jon Polito, appearing with the Coen Brothers hard-boiled homage Miller's Crossing (1990). The series will also include the Chicago premiere of the FNF's latest restoration, the Argentinean noir classic Los tallos amargos (1956), which has played to rave reviews in San Francisco, New York, Los Angeles, and Seattle. The festival will be hosted by FNF board members Alan K. Rode and Foster Hirsch, respective authors of Charles McGraw: Biography of a Film Noir Tough Guy and The Dark Side of the Screen: Film Noir. Visit the Music Box's website to view the full line-up and purchase a full series pass or tickets to individual screenings.
UPCOMING NOIR CITY DATES
NOIR CITY Chicago: August 19-25
NOIR CITY Detroit: September 23-25
NOIR CITY D.C.: October 15-27
NOIR CITY SF: January 20-29, 2017
FNF Receives $25K Grant
from The Hollywood Foreign Press Association
On Thursday night, August 4, 2016, the Hollywood Foreign Press Association hosted their annual grant awards banquet at Los Angeles' Beverly Wilshire Hotel. For the fourth consecutive year, the Film Noir Foundation was a recipient of a grant from The HFPA Trust with promotional director Daryl Sparks in attendance. This year's $25,000 grant will be put toward costs for the FNF's latest film restoration project premiering at a NOIR CITY festival in 2017.
From the Collection of
Eddie Muller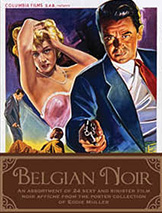 The WORLD OF FILM NOIR was created in black and white, but its intrigue and passion was sold worldwide by movie posters -- in vivid color -- that enticed audiences into this sinister and sensual demimonde. Nowhere on earth was the come-on more colorful than in Belgium, where the nation's standardly sized posters (a mere 14" x 22") virtually exploded with the danger and desire at the heart of cinema's most alluring and durable genre. Small posters from a small country--but packed with more lust and larceny than Hollywood would dare.
NOW, EXCLUSIVELY FROM BLACK POOL PRODUCTIONS—Eddie Muller, "The Czar of Noir," presents 24 glorious Belgian cinema posters from his personal collection, reproduced as 5-1/4" x 7" cards, each complete with his terse and tangy commentary highlighting what made these films—and this artwork--so magical and memorable. $20 + tax/shipping at BlackPoolProductions.com.
Don't Print the Legend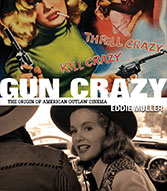 Gun Crazy caused barely a ripple in public consciousness when it hit movie screens in 1950. Yet over time it would prove to be the most innovative and provocative motion picture of its era—a simple genre film, but packed with so much cinematic bravura and timeless symbolism, its power has spanned decades, crossed oceans, and influenced countless filmmakers.
+ READ MORE
Martha Gruft R.I.P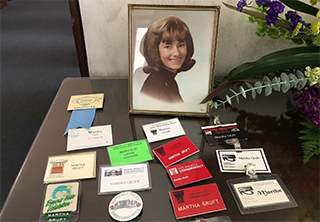 The Film Noir Foundation family was deeply saddened by the death July 2 of long-time volunteer Martha Gruft. Martha was a constant, reassuring presence behind the FNF merchandise table during our annual NOIR CITY festival at the Egyptian Theatre in Hollywood. Her knowledge of film, and particularly Los Angeles, was extraordinary. She immersed herself in the cultural heritage of her adopted hometown as a volunteer at the American Cinematheque, the Los Angeles Conservancy, the Santa Monica Conservancy, and the Marina del Rey Chamber of Commerce, among other organizations.
A habitué of the downtown library, there wasn't a significant historical site in Los Angeles of which Martha wasn't familiar. She could also deliver an impromptu critiques of countless local restaurants listed in Zagat's Guide; she had, seemingly, dined everywhere. Martha was a cherished mother and doting grandmother with a devoted circle of friends as wide as her welcoming smile. Everyone who had the pleasure to know Martha Gruft will sorely miss her.
FNF/Nancy Mysel Legacy Grant Winner Announced
The Film Noir Foundation is proud to announce the winner of this year's $5,000 FNF/Nancy Mysel Legacy Grant, Jana D. Gowan of UCLA, a Master of Library and Information Science/Media Archives Specialization student. Specifically, Gowan wants to pursue a career as a moving image archivist in film restoration and preservation at a regional film archive. Preserving the diverse history of rural communities by restoring locally relevant films is her passion. + READ MORE
2015 Restoration Project
FNF Restores "Lost" Argentine Classic
Los tallos amargos (1956), a vitally significant "lost" film in the history of international noir cinema, has been restored this year by the Film Noir Foundation with the cooperation of UCLA Film & Television Archive and the Hollywood Foreign Press Association's Charitable Trust (The HFPA Trust). Based on the novel by journalist Adolfo Jasca, Los tallos amargos (The Bitter Stems) tells the tale of a down-on-his-luck journalist whose creation of a lucrative, if unethical, correspondence course leads to his committing the perfect murder. + READ MORE

Come follow us on Tumblr to indulge your passion for noir! We'll be posting daily, celebrating all things noir with exclusive stills and images you won't see anywhere else, as well as trailers, film clips, and more.

Share our posts with your friends; your love of the art form is the Foundation's biggest asset in its mission to preserve and restore classics of the genre. We are also fully committed to present our rescued films in the way they were meant to be seen: in 35mm at our NOIR CITY festivals around the country.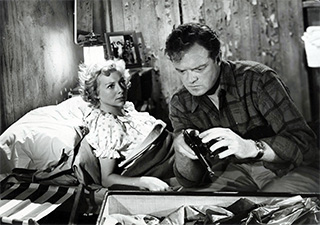 Film Noir Returns to SAM
The world's longest-running film noir series returns this fall to the Seattle Art Museum. This year's edition, Shadowland, plays every Thursday night, September 29 – December 8, 2016 (no screening on Thanksgiving). Screenings include classics of the genre, like Edmund Goulding's Nightmare Alley (1947) featuring Tyrone Power as a ruthless carny-turned-mentalist and Alexander Mackendrick's Sweet Smell of Success (1957) starring Burt Lancaster as a Broadway columnist disturbingly obsessed about breaking up his sister's romance with the help of a cynical press agent, Tony Curtis, in one of his best performances. Lesser known gems are also featured, including Michael Curtiz' The Unsuspected (1947) featuring Claude Rains as a silver-tongued radio personality who is not what he seems, and Joseph Losey's tale of a steamy love triangle turned murderous, The Prowler (1951), penned by Dalton Trumbo and restored by the FNF in conjunction with the Stanford Theatre Foundation. The series is capped off by Dan Gilroy's critically acclaimed neo-noir Nightcrawler (2014), a searing indictment of "if it bleeds, it leads" television journalism starring a truly creepy Jake Gyllenhaal.
Visit SAM's website for the full line-up and to purchase tickets for the entire series. A limited number of single-film tickets may be available at the auditorium entrance prior to screenings.
I Wake Up Dreaming for the Last Time
This August at the Castro Theatre, I Wake Up Dreaming returns with 11 boundary pushing films noir. Programmer Elliot Lavine has announced that after 25 years of outstanding programing, this will be the festival's last cycle. Thankfully, he's going out with a bang. Lavine will present two of the genre's most emotionally and morally edgiest noirs, Phil Karlson's 99 River Street and Edmund Goulding's Nightmare Alley. Both feature protagonist with deep-rooted psychological problems being pushed to their limits. John Payne and Tyrone Power, the respective leads of these two noir masterpieces, broke out of their glamorous leading man personas to deliver harrowing performances.
Lavine has also programmed noirs that pushed narrative limits, like Roy William Neill's Black Angel, based on the novel by Cornell Woolrich, or those of genre, the film noir/monster movie mash-up, The Monster and the Girl and the docu-noir/epidemic disaster film The Killer That Stalked New York. Two noirs that dealt vividly with the apocalyptic fears of the atomic age are also included, Robert Aldrrich's Kiss Me Deadly and Five, written and directed by radio's legendary Arch Oboler, creator of Lights Out. With the exception of The Monster and the Girl, all the films screening will be 35mm studio archival prints. For the full line-up of films, playing every Wednesday in August, visit the official website.
Czar of Noir Meets Czech Noir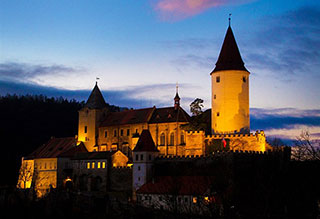 The third edition of Czechoslovakia's Noir Film Festival will take place August 18–21, 2016 and includes tributes to Otto Preminger, Alfred Hitchcock, San Francisco-based noir, noir-stained westerns, and films featuring Kirk Douglas and Olivia de Havilland. The festival is held in the majestic 13th century Krivoklát Castle, about 30 miles outside Prague. More than 40 screenings will be held in the castle's upper courtyard as well as four historical halls.
As in previous years, various Czech actors, directors, and producers will be introducing many of the screenings, including director Jiří Strach and actress Marika Šoposká. We are excited to announce that this year FNF president Eddie Muller will also be attending and presenting a number of films on the program. "I hope many of the FNF's European patrons will be able to attend," said Muller. "This is a rare opportunity in a fabulously unique environment. It's an exciting program, and I'm thrilled to be a part of it." More information about this festival, as well as the full schedule, can be found on the official website.

Tweets