Film Noir & Neo Noir
in the Theaters
NOIR CITY XMAS
NOIR CITY once again offers the dark gift of film noir for the holidays. Join us at San Francisco's historic Castro Theatre on Wednesday, December 18 for a double dose of Noir Noël: Allen Baron's landmark independent crime drama Blast of Silence (1961) followed by the ultra-rare genre-bending Christmas Eve (1947). Mr. Baron will be in attendance to introduce his legendary cult classic, and at the intermission will be signing copies of his new book, Blast of Silence: A Memoir. The show will also feature the public release of the NOIR CITY 12 program schedule, the unveiling of the new NOIR CITY 12 poster, and holiday shopping for the noir-lover in your life. "Czar of Noir" Eddie Muller and the reigning Ms. NOIR CITY, Audra Wolfmann, will host. Both films will screen in 35mm, and as usual tickets for this exceptional event are only $10 for the double bill—less than the cost of a single holiday eggnog at any bar in town!
Blast of Silence
Celebrate the holidays in proper noir style with one of the bleakest films ever set during the Christmas season! Taciturn hitman Frankie Bono returns to his childhood haunts in New York for a quick Noël knockoff, only to be tortured by the ghosts of Christmases past. Will Frankie make it to a New Year? A unique and spellbinding low-budget indie that's a singular bridge between classic '40s' film noir and the cinema verité style of the '60s. Produced, written, directed and starring Allen Baron. (1961, 77 min.)
Christmas Eve, aka Sinner's Holiday
Our yuletide gift to NOIR CITY fans is a one-time only screening of this ultra-rare com edy-drama hybrid, shown in the only surviving 35mm print! A rich widower will be swindled out of her fortune by a shady executor unless her three ne'er-do-well sons can ALL make it home by Christmas to stake a claim to the estate! George Raft, Joan Blondell and Randolph Scott head an all-star cast of film noir favorites. (1947, 90 min.)
ORDER TICKETS THROUGH BROWN PAPER TICKETS. Tickets will also be available at the Castro box office the day of show.
Save the Date: NOIR CITY 12
Get ready to visit dangerous ports of call at NOIR CITY 12, taking place at the historic Castro Theatre, Jan. 24 through Feb. 2, 2014. We'll take you around the world with this year's internationally themed programming. Intrigued? Come to NOIR CITY Xmas on December 18 at the Castro Theatre for the grand unveiling of our schedule. Can't make it to NOIR CITY Xmas? Don't worry, NoirCity.com will be updated that night with the full schedule, program notes and ticketing information.
Looking for a place to stay during NOIR CITY? If you're an out-of-towner looking for lodging in the City by
the Bay or you're a local looking to turn a night at the festival into a romantic getaway, our friends at the Prescott Hotel have an offer you can't refuse—a special nightly rate of $155 per night (before taxes) exclusively for NC12 attendees. Visit NoirCity.com for more information and the link to book a room at the special NOIR CITY 12 patron rate.
And if you can't make it to our flagship NOIR CITY festival in San Francisco, don't despair. You'll still have the opportunity to experience NOIR CITY at our 2014 satellite festivals in Seattle, Austin, Los Angeles, Chicago, Portland (OR), and Washington D.C.
Not Too Late for
Too Late for Tears
On Tuesday, August 13, Marsha Hunt and Tab Hunter presented the Hollywood Foreign Press Association's grant of $10,000 to the FNF at the HFPA's annual, and star-studded, luncheon. The grant will help fund the FNF's restoration of "one of the best film noir movie no one has seen," Too Late For Tears. Based on a novel by future television titan Roy Huggins, and featuring Huggins' own brilliant screenplay, the film is a neglected masterpiece of noir, awaiting rediscovery. A suburban housewife's decision to keep a satchel of money accidentally tossed into her convertible results in mayhem and murder. FNF president Eddie Muller (who attended the luncheon with fellow board member Alan K. Rode) commented, "We hope this is only the start of a long, supportive relationship with the Hollywood Foreign Press Association. Its current chairman, Yoram Kahana, has been a attendee of NOIR CITY: Hollywood since the first beginning, and this grant would not have happened without his encouragement and guidance. Marsha Hunt and Tab Hunter stole the show on your behalf. It was fabulous to see Nicole Kidman pay Marsha all due respect. In all, a great day for the FNF."
For many years, all 35mm prints of the film were believed lost, but through the determined efforts of the Film Noir Foundation, sufficient original material has been discovered to enable a restoration, performed under the auspices of the UCLA Film & Television Archive. The six-month preservation project will culminate in the film being returned to the big screen in 2014, at NOIR CITY screenings and the international film festival circuit. Want to help support the FNF's efforts to restore endangered film noir classics like Too Late for Tears? You can make a tax deductible donation here.
NOIR CITY E-MAG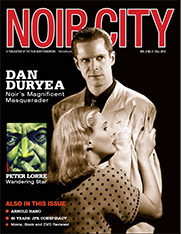 At left, the cover of NOIR CITY® — the Film Noir Foundation's latest quarterly e-magazine issue. For access to the best writing on noir available today, and to enjoy one of the most cutting-edge interactive multimedia cinema publications in the world, subscribe to NOIR CITY. Start by adding your name to our mailing list and then making a donation to the FNF of $20 or more. For an overview of the current issue and to view article excerpts, go here.
Keep Us Posted!
Keep us posted on noir news and events in your area! Email Anne Hockens, Film Noir Foundation news and events editor.
<!fin keepposted-->
Blu-Ray & DVD Releases
Twilight Time has released through Screen Archives a limited edition Blu-ray of Blake Edward's late era noir Experiment in Terror (1962). A San Francisco bank teller (Lee Remick) is forced to be an accomplice to a daring robbery scheme when her sister (Stefanie Powers) is taken hostage by a perverted criminal genius. Glenn Ford is the taciturn old-school FBI agent charged with hunting down the mysterious mastermind. Typically light and breezy Blake Edwards shows masterful skill with suspense, ratcheting up the tension to Hitchcockian heights while making abundant and evocative use of actual San Francisco locales. More than a time capsule of the city circa 1962, this is arguably the most intense thriller ever set in San Francisco. Special features include an isolated track of Henry Mancini's jazzy score, as well as, trailers and TV spots.
Twentieth Century Fox Home Entertainment has included four film noirs is their latest slate of MOD titles distributed under their Fox Cinema Archives brand. The best known of the four is Robert Siodmak's Cry of the City (1948) featuring Victor Mature as a police officer and Richard Conte as a cop-killer and his former best friend. The pair is on an inevitable collision course, morally, legally and emotionally. The period noir Moss Rose (1947), stars Gun Crazy's Peggy Cummins as plucky chorus girl determined to solve the murder of her friend in turn-of-the-century London. Victor Mature, Vincent Price, and Ethel Barrymore co-star. Jean
Forde's Backlash (1947) concerns the discovery of a burnt out car containing a corpse with a bullet through the heart. The ensuing investigation sets off a series of flashbacks and red herrings. The final noir entry is Circumstantial Evidence (1945) in which a postman (Lloyd Nolan) tries to win a new trial for the father (Michael O'Shea) of a kid that he's befriended since Dad was sent to the big house on a murder rap. Retailers for the Fox Cinema Archive include Movies Unlimited, Amazon and Oldies.com.
We're delighted that Olive Films is releasing the FNF funded restoration of Robert Parrish's Cry Danger (1951) on Blu-ray and DVD on October 15. In this unjustly little known noir, Rocky (Dick Powell), recently sprung from the big house, wants to find the rat who framed him for the robbery that landed him there. Priceless dialog and an outstanding supporting performance by Richard Erdman as Powell's alcoholic sidekick elevate this noir well above the ordinary. Sadly, no extras on either format.
Olive Films will also be releasing Joseph H. Lewis' seminal noir The Big Combo (1955) on September 24 on Blu-ray and DVD. Lt. Leonard Diamond (Cornelll Wilde), a police detective, tries to convict a mob boss Mr. Brown (Richard Conte) by going to the man's suicidal girlfriend Susan (Jean Wallace). Diamond's obsessive desire to catch Mr. Brown may be due to his love for Susan. Cinematographer John Alton provided the iconic noir visual style of the film. No extras announced for this one. + MORE OLIVE FILM RELEASES.
The Columbia Pictures Film Noir Classics IV DVD set is now available exclusively from the TCM Shop. The set includes Joseph H. Lewis' So Dark the Night (1946) in which a Parisian detective (Steven Geray) on vacation finds love and murder in a small coastal town. Dick Powell plays a casino co-owner who finds himself in both criminal and romantic trouble in Robert Rossen's Johnny O'Clock (1947). An FBI agent (Dennis O'Keefe) and a Scotland Yard detective (Louis Hayward) team up to bring down a spy ring led by frequent noir heavy Raymond Burr in Gordon Douglas' Walk a Crooked Mile (1948). Two cops (Edmund O'Brien and Mark Stevens) find their friendship tested by their pursuit of a racketeer and their mutual love of the same woman (Gale Storm) in Gordon Douglas' Between Midnight and Dawn (1950). Alfred L. Werker's Walk East on Beacon! (1952), adapted from an article written by then Director of the F.B.I. Edgar J. Hoover, follows a dedicated G-man (George Murphy) as hunts down a Communist sleeper-cell in Boston. Extras include an introduction by Martin Scorsese and a digital image gallery.
Gene Tierney gives an astonishing, and Oscar nominated performance as Ellen, an insanely jealous woman in John M. Stahl's Leave Her to Heaven (1945). Ellen will stop at nothing to destroy anyone that she perceives as a threat to her being first place in her husband Richards's affections. The truth begins to dawn on Richard (Cornell Wilde) after a tragic "accident." When Ellen realizes that Richard no longer loves her, she designs the ultimate revenge. Based on the novel by Ben Ames (a highly recommended read), Twilight Time has done an extremely limited release (3,000 units) of the classic color noir on Blu-ray. Extras include an isolated score track, audio commentary with actor Darryl Hickman and critic Richard Schickel, Movietone news footage, original theatrical trailer, and an essay by Julie Kirgo.
Jean Negulesco's The Mask of Dimitrios starring the eternal noir duo of Sydney Greenstreet and Peter Lorre, and featuring Zachary Scott in his film debut, is now available, newly remastered, from the Warner Archive. In this film based on the Eric Ambler novel, novelist Cornelius Leyden (Lorre) investigates the mysterious death of international criminal Dimitrios Makopoulus (Scott) after Dimitrios' body is discovered in Istanbul. The mysterious Peters (Greenstreet) encourages Leyden and promises him a financial reward. But what is Peters' motivation for the investigation? The always wonderful character actress Fay Emerson plays a supporting role as a lover formerly fleeced by Dimitrios. + MORE WARNER ARCHIVES RELEASES.
TCM shows off the dark side of Glenn Ford in their DVD set Glenn Ford: Undercover Crimes. The set comprises Charles Vidor's The Lady in Question (1940) co-starring Rita Hayworth in the onscreen couple's first film together; Framed (1947) also featuring film noir regulars Janice Carter and Barry Sullivan; master noir director Joseph H. Lewis' The Undercover Man (1949); the Christmas noir Mr. Soft Touch; and the prison drama Convicted (1950) co-starring noir stalwart Broderick Crawford. Extras include an introduction by Ben Mankiewicz and a digital image gallery. + MORE TCM RELEASES
Criterion is now offering a new 2K digital restoration of Fritz Lang's Ministry of Fear (1944) on both DVD and Blu-ray. In this effectively paranoiac and suspenseful noir, a recently released mental patient (Ray Milland) finds himself embroiled in a fantastic espionage plot after getting his fortune told at a fete. Watch for a wonderfully chilling performance by Dan Duryea as a conspiratorial tailor. Extras include an interview with Fritz Lang scholar Joe McElhaney, trailer and an essay by critic Glenn Kenny. + MORE CRITERION RELEASES.
MGM's has added several noir titles under their Limited Edition Collection brand. The films are available on demand from various retailers, including Amazon and the Warner Archive. In Budd Boetticher's The Killer is Loose (1956), a seemingly mild mannered embezzler (Wendell Corey), recently released from prison, tries to avenge his wife's accidental shooting by Detective Sam Wagner (Joseph Cotton) by killing Sam's wife (Rhonda Fleming). Can Sam stop him? + MORE MGM RELEASES
TV NOIR/NEO-NOIR
Check our monthly listings for noir and neo-noir films coming up on TCM and the Fox Movie Channel.