NOIR CITY Returns to the Nation's Capital
The annual NOIR CITY: D.C. film festival returns to the AFI Silver Theatre and Cultural Center in Silver Spring, Maryland, to present 23 films over 13 days, October 15-27. One of the highlights of this year's festival is the U.S. premiere of the new German film Fritz Lang, starring Heino Ferch as the famed director. The fictional film, written and directed by Gordian Maugg, explores Lang's experiences researching the script for M, and delves provocatively into the mystery of Lang's first wife, "Lisa Rosenthal," the suspicious circumstances surrounding her death by gunshot, and Lang's attempts at expiating his guilt. The story also examines the relationship of Lang and his lover, screenwriter Thea von Harbou. It will play before a screening of Lang's restored 1931 classic about the murderous "Vampire of Düsseldorf."
Following the lead of this year's flagship festival in San Francisco, the D.C. edition centers around the theme "The Art of Darkness." While some traditional noirs will play, such as Nicholas Ray's In a Lonely Place (1950), with noir icons Humphrey Bogart and Gloria Grahame, and Charles Vidor's Gilda (1946), starring Rita Hayworth and Glen Ford, many of the films screening are more noir-stained than noir. These include Terence Young's rarely-screened Corridor of Mirrors (1948) in which a wealthy eccentric in Post-War England tries to recreate his previous incarnation in Renaissance Italy with the help of a young beauty. In addition, two bonus features, not thematically linked to the rest, will also screen: The Killers (1946) and The Narrow Margin (1952).
FNF president Eddie Muller and noted film noir scholar (and FNF board member) Foster Hirsch will introduce selected shows. Hirsch will be on hand opening weekend, October 15-16, while Muller will attend the second weekend of the festival, October 21-23. See the full lineup and purchase tickets here.
UPCOMING NOIR CITY DATES
NOIR CITY D.C.: October 15-27
NOIR CITY XMAS: December 14
NOIR CITY SF: January 20-29, 2017
Czar of Noir Co-Hosting
Bogart Fest
FNF president Eddie Muller returns to Key Largo next month to co-host this year's Humphrey Bogart Film Festival along with Stephen Bogart, son of Bogie and Lauren Bacall. The festival, running October 12-16, will celebrate the 75th anniversary of John Huston's The Maltese Falcon (1941) and the 70th Anniversary of Howard Hawks' The Big Sleep (1946), with both films screening during the festival. To kick off the 5-day event, the "The Czar of Noir" will host a one-hour presentation titled "Bogart and Film Noir." On Saturday, Stephen Bogart, Eddie Muller, and other special guests will participate in a roundtable discussion about The Maltese Falcon and The Big Sleep.
This year's programming is substantially weighted toward noir. Nicholas Ray's tragic noir romance In a Lonely Place, which teamed Bogart with Ray's then-wife Gloria Grahame, will play twice. One of director William Wyler's rare forays into noir also screens twice, The Desperate Hours (1955), pitting Bogart as a ruthless criminal against suburban dad Fredric March. A trifecta of lesser known but quite excellent noirs are also scheduled: Richard Brooks' newspaper noir Deadline U.S.A. (1952); Mark Robson's realistically grim portrayal of boxing, The Harder They Fall (1956); and The Enforcer (1951), based loosely on the judicial takedown of Murder, Inc. As to be expected, Huston's Key Largo (1948) will also play. Go here for full program information and to buy passes and tickets to individual screenings.
Henry Hathaway Retrospective at NYFF
The 54th New York Film Festival will include a salute to classic Hollywood era director Henry Hathaway. The look back at the versatile director's career comprises Westerns, spiritual dramas and action films. The retrospective will also include three noirs.
First, The Dark Corner (1946), in this self-reflexive noir, a spunky secretary (Lucille Ball in her finest wise-cracking mode) helps her private eye boss (Mark Stevens) when he's framed for murder. Clifton Webb and William Bendix add considerably to the fun as the two heavies of the piece. The straightforward and rather brutal noir, Kiss of Death (1947) will also screen. A psychotic gangster (Richard Widmark) torments a small-time crook (the strapping Victor Mature) who has given state's evidence against him in this classic New York City crime drama. Widmark gives as career making performance as the giggling menace.
The last of the noirs to screen is Niagara (1953). Despite Joseph MacDonald's Technicolor cinematography and its spectacular use of Niagara Falls, this film falls firmly into the noir category. A young couple (Jean Peters and Casey Adams) on vacation find themselves embroiled in a murderous plot involving their neighbors at the motor court. The beautiful wife (Marilyn Monroe) and her lover (Richard Allen) plot to kill her mentally unstable husband (Joseph Cotton) and things go awry. The festival runs from September 30 through October 16 at the Film Society of Lincoln Center theaters.
Donation Drive Winners Announced
The winner of the Kino-Lorber Blu-ray release Deadline U.S.A., with an audio commentary by Eddie Muller, is Susan Levy of Malibu, California. The winner of the Kino-Lorber Blu-ray release of 99 River Street, with an audio commentary by Eddie Muller, is Pierce Swofford of McLean, Virginia. The winner of Kino-Lorber Blu-ray releases Deadline U.S.A. and 99 River Street, both with audio commentary by Eddie Muller, is Terry Hinshaw of Miami Beach, Florida. The winner of the Warner Archive DVD release of Stakeout on Dope Street is Mark Marziale of Oak Forest, Illinois.
Thanks to everyone who's participated in the drive. Your donations help the FNF locate, restore, and exhibit films that, without your intervention, would be lost forever. As always, anyone who donates $20 or more to the FNF and signs up on our mailing list, receives the current issue of NOIR CITY e-magazine and will then receive the next three issues as they are released.
FNF Receives $25K Grant
from The Hollywood Foreign Press Association
On Thursday night, August 4, 2016, the Hollywood Foreign Press Association hosted their annual grant awards banquet at Los Angeles' Beverly Wilshire Hotel. For the fourth consecutive year, the Film Noir Foundation was a recipient of a grant from The HFPA Trust with promotional director Daryl Sparks in attendance. This year's $25,000 grant will be put toward costs for the FNF's latest film restoration project premiering at a NOIR CITY festival in 2017.
From the Collection of
Eddie Muller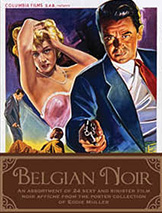 The WORLD OF FILM NOIR was created in black and white, but its intrigue and passion was sold worldwide by movie posters -- in vivid color -- that enticed audiences into this sinister and sensual demimonde. Nowhere on earth was the come-on more colorful than in Belgium, where the nation's standardly sized posters (a mere 14" x 22") virtually exploded with the danger and desire at the heart of cinema's most alluring and durable genre. Small posters from a small country--but packed with more lust and larceny than Hollywood would dare.
NOW, EXCLUSIVELY FROM BLACK POOL PRODUCTIONS—Eddie Muller, "The Czar of Noir," presents 24 glorious Belgian cinema posters from his personal collection, reproduced as 5-1/4" x 7" cards, each complete with his terse and tangy commentary highlighting what made these films—and this artwork--so magical and memorable. $20 + tax/shipping at BlackPoolProductions.com.
Don't Print the Legend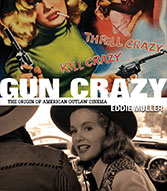 Gun Crazy caused barely a ripple in public consciousness when it hit movie screens in 1950. Yet over time it would prove to be the most innovative and provocative motion picture of its era—a simple genre film, but packed with so much cinematic bravura and timeless symbolism, its power has spanned decades, crossed oceans, and influenced countless filmmakers.
+ READ MORE
FNF/Nancy Mysel Legacy Grant Winner Announced
The Film Noir Foundation is proud to announce the winner of this year's $5,000 FNF/Nancy Mysel Legacy Grant, Jana D. Gowan of UCLA, a Master of Library and Information Science/Media Archives Specialization student. Specifically, Gowan wants to pursue a career as a moving image archivist in film restoration and preservation at a regional film archive. Preserving the diverse history of rural communities by restoring locally relevant films is her passion. + READ MORE
2015 Restoration Project
FNF Restores "Lost" Argentine Classic
Los tallos amargos (1956), a vitally significant "lost" film in the history of international noir cinema, has been restored this year by the Film Noir Foundation with the cooperation of UCLA Film & Television Archive and the Hollywood Foreign Press Association's Charitable Trust (The HFPA Trust). Based on the novel by journalist Adolfo Jasca, Los tallos amargos (The Bitter Stems) tells the tale of a down-on-his-luck journalist whose creation of a lucrative, if unethical, correspondence course leads to his committing the perfect murder. + READ MORE

Come follow us on Tumblr to indulge your passion for noir! We'll be posting daily, celebrating all things noir with exclusive stills and images you won't see anywhere else, as well as trailers, film clips, and more.

Share our posts with your friends; your love of the art form is the Foundation's biggest asset in its mission to preserve and restore classics of the genre. We are also fully committed to present our rescued films in the way they were meant to be seen: in 35mm at our NOIR CITY festivals around the country.
Drama on the Set of
Double Indemnity
With their new play The Stand-In, Alicia Adams and Peter Monro explore the creation of Billy Wilder's iconic film noir, Double Indemnity through the lens of their original story of love (or is it lust?) gone wrong. Cinematographer Max rescues the beautiful and enigmatic Kasia when she washes up onto a beach. They begin an affair and he hires her to work on the set of Wilder's film, but her ambition threatens what they have begun. The drama of their relationship plays out as Wilder constructs his masterpiece. The play will be making its world premiere at Los Angeles' Bootleg Theatre under the direction of Peter Murphy. Previews October 13 and 14. Plays Thursday, Fridays & Saturdays, October 15 through November 5. Sunday matinees: October 23 and 30. For tickets and more information on the show visit the Bootleg Theatre's official website.
Film Noir at Historic
Union Station
The Los Angeles County Metropolitan Transit Authority (LACMTA) and The Film Noir Foundation are co-presenting a series of Friday evening film noir screenings at historic Union Station in Los Angeles. The fall program of Rudolph Maté's Union Station (1950) on October 7, Robert Siodmak's Criss Cross (1949) on November 4 and Byron Haskin's Too Late for Tears (1949) on December 2 are the latest edition of LACMTA's Metro Art series. The trio of films includes scenes shot inside the 1939 transportation landmark that is undergoing an extensive revitalization campaign as a transit hub and historic destination. FNF board member Alan K. Rode will present the screenings in the station's grand ticket hall with seating for 400 patrons. Special screening guests are also being arranged. Richard Duryea, son of noir icon Dan Duryea is scheduled to attend Too Late for Tears. Doors open at 7:30 pm and the screenings begin at 8:00 pm. Admission is free. For more information, please consult LACMTA's website.
Déjà vu at the Roxie: The French Had a Name for It 3
The French Had a Name for It returns to San Francisco's Roxie Theatre November 3-7 for its third edition, featuring a slate of 15 French films noir. Programmer Donald Malcom takes the audience on a journey through France's noir era which fell between the poetic realism movement and La Nouvelle Vague. Opening night features two 1939 classics: the first silver screen adaptation of James M. Cain's The Postman Always Rings Twice, Pierre Chenal's Le dernier tournant (The Last Turn), followed by Marcel Carné's Le jour se lève (Daybreak), a perfect blending of poetic realism and noir, starring Jean Gabin who contributed indelible performances to both film movements.
Similarly, Simone Signoret, successfully negotiated the transition from film noir to La Nouvelle Vague. The series will feature her turn as a femme fatale in 1950's Manèges (The Cheat), directed by her lover at the time, Yves Allegret. Her husband/victim is played by (who else?) Bernard Blier, whose career spanned from the 1930s to the 1980s, but is probably best known to French noir fans for his memorable role in Henri-Georges Clouzot's Quai des Orfèvres (1947).
The series will also introduce attendees to talents less known in the States including two actresses whose careers were destroy by World War II, Mirelle Balin and Corinne Luchaire. Balin co-stars in the opening night film Le dernier tournant (The Last Turn) and Luchaire in the closing night film, Jean Delannoy's 1942 noir Macao, l'enfer de jeu (Gambling Hell). Saturday features a five film tribute to actor/director Robert Hossein who explored everything from serial killers, Le vampire de Düsseldorf (The Secret Killer), to sex trafficking, Les femmes disparaissent (The Road to Shame). You can check out the whole series schedule and purchase tickets and passes here.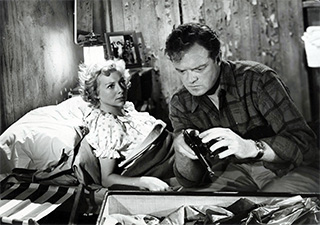 Film Noir Returns to SAM
The world's longest-running film noir series returns this fall to the Seattle Art Museum. This year's edition, Shadowland, plays every Thursday night, September 29 – December 8 (no screening on Thanksgiving). Screenings include classics of the genre, like Edmund Goulding's Nightmare Alley (1947) featuring Tyrone Power as a ruthless carny-turned-mentalist and Alexander Mackendrick's Sweet Smell of Success (1957) starring Burt Lancaster as a Broadway columnist disturbingly obsessed about breaking up his sister's romance with the help of a cynical press agent, Tony Curtis, in one of his best performances. Lesser known gems are also featured, including Michael Curtiz' The Unsuspected (1947) featuring Claude Rains as a silver-tongued radio personality who is not what he seems, and Joseph Losey's tale of a steamy love triangle turned murderous, The Prowler (1951), penned by Dalton Trumbo and restored by the FNF in conjunction with the Stanford Theatre Foundation. The series is capped off by Dan Gilroy's critically acclaimed neo-noir Nightcrawler (2014), a searing indictment of "if it bleeds, it leads" television journalism starring a truly creepy Jake Gyllenhaal. Visit SAM's website for the full line-up and to purchase tickets for the entire series. A limited number of single-film tickets may be available at the auditorium entrance prior to screenings.

Tweets