NOIR CITY Returns to the Emerald City
NOIR CITY returns to Seattle July 22 through 28 to a new home at the historic SIFF Cinema Egyptian with an 18-film lineup, programmed and hosted by FNF president Eddie Muller, a.k.a. the "Czar of Noir." The latest edition of NOIR CITY: Seattle is subtitled "Film Noir: A to B" and comprises nine double bills that present a chronological excursion through the classic noir era, with themed pairs of "A" and "B" titles playing together.
The paring includes some seemingly unlikely match-ups, for example, the homo-erotic color noir, Desert Fury and the classic thriller Sorry, Wrong Number on July 26. What the connection? Legendary costume designer, and winner of eight Oscars, Edith Head, created the wardrobes for both films. In addition to the double bill, Seattle author Renee Patrick will be signing copies of her new novel Design for Dying, in which Head helps solve a murder in 1930s Hollywood. Here's a little insider knowledge, Renee Patrick is a pseudonym for the husband and wife writing team of Rosemarie and Vince Keenan, long time NOIR CITY e-magazine contributors.
On July 27, the FNF-funded 35mm restoration of Woman on the Run (1950), a once-lost title recently celebrated at screenings in San Francisco, Manhattan, Paris, and Bologna, plays with Max Ophüls' transcendent noir melodrama The Reckless Moment, an excellent adaption of Elisabeth Sanxay Holding's novel The Blank Wall. The festival will close with another 1950 classic, Joseph H. Lewis' extraordinary examination of l'amour fou, Gun Crazy. Muller will be on site to sign copies of his latest book, Gun Crazy: The Origin of American Outlaw Cinema, an in-depth examination of the film's creation and influence. A FNF-funded preservation, Southside 1-1000 follows Gun Crazy.
Presented by the Seattle International Film Festival in partnership with the Film Noir Foundation. Visit SIFF's website to see the full schedule and to purchase individual tickets and passes.
2016 NOIR CITY DATES
NOIR CITY Seattle: July 22-28
NOIR CITY Chicago: August 19-25
NOIR CITY Detroit: September 23-25
NOIR CITY D.C.: October 15-27
Don't Print the Legend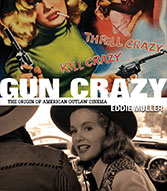 Gun Crazy caused barely a ripple in public consciousness when it hit movie screens in 1950. Yet over time it would prove to be the most innovative and provocative motion picture of its era—a simple genre film, but packed with so much cinematic bravura and timeless symbolism, its power has spanned decades, crossed oceans, and influenced countless filmmakers. + READ MORE.
2015 Restoration Project
FNF Restores "Lost" Argentine Classic
Los tallos amargos (1956), a vitally significant "lost" film in the history of international noir cinema, has been restored this year by the Film Noir Foundation with the cooperation of UCLA Film & Television Archive and the Hollywood Foreign Press Association's Charitable Trust (The HFPA Trust). Based on the novel by journalist Adolfo Jasca, Los tallos amargos (The Bitter Stems) tells the tale of a down-on-his-luck journalist whose creation of a lucrative, if unethical, correspondence course leads to his committing the perfect murder. Although he's never apprehended, guilt takes its ultimate toll. The film won the Silver Condor—the Argentine Film Critics Association award to the nation's best film in 1957, with Best Director honors going to Fernando Ayala. Forty-three years later, in 2000, American Cinematographer magazine placed the film at #49 on its list of the "Best Photographed Films of All-Time." Despite these accolades, a 35mm print has not been available for decades, and the film is virtually unknown outside Argentina. With the FNF's restoration, including for the first time English subtitles, Los tallos amargos will be returned to its rightful place in cinema history.
The 35mm restoration of Los tallos amargos made its North American premiere at NOIR CITY 14 in San Francisco on Saturday night, January 23, 2016. The film will be featured at our satellite festivals throughout the year. You can read the full story of the film's restoration in the current issue of NOIR CITY e-magazine.
The FNF Needs You!
You're the ones who make it possible for us to save and restore films like the classic Argentinian film noir Los tallos amargos (The Bitter Stems), making its North American debut at NOIR CITY 14. Do it for the love of noir—but also enjoy the thank-you gifts. Everyone who makes a (tax-deductible) donation of $20 or more and signs up on our mailing list receives our NOIR CITY e-magazine! The FNF would like to thank the following companies for including us in their Matching Donation Programs: Microsoft, Bristol-Myers Squibb, Salesforce.com Foundation, Charles Schwab, Levi Strauss & Co., Merck, and Google. If you are an employee of any of these companies and would like to contribute to the FNF, please make your contribution through your company's Matching Donation program. If you are not employed by one of these companies, and are interested in having your company match your donation, please contact the administrator of your company's Matching Donation program. Donate here and be a film noir savior!
Role-playing Road Trip at Frameline40
The Film Noir Foundation is proud to be co-presenting the world premiere of Nick Corporon's first feature, Retake, at the Frameline40 festival, Tuesday, June 21, 4:00 PM at San Francisco's historic Castro Theatre. This partially San Francisco set neo-noir decidedly tips its hat to Alfred Hitchcock's Vertigo with a similar sense of doom and intense exploration of a dysfunctional romance. An amorous game of manipulation and obsession commences after a businessman (Tuc Watkins) recruits a young hustler (Devon Graye) to play the role of "Brandon" on a road trip to the Grand Canyon in this seductive, suspenseful drama of love and loss. The film screens a second time during the festival at the Victoria Theatre, Saturday, June 25, 7:00 PM.
Expected to attend screenings: Director Nick Corporon, Producer Collin Brazie, Producer Sean Mandell, and Actor Tuc Watkins (June 25 only), Actor Devon Graye (June 25 only), Actor Kit Williamson (June 21 only) Fameline, the San Francisco International LGBTQ Film Festival, runs June 16 - 26, 2016 at multiple venues.
DONATION DRIVE - JUNE 22 - 29
Win FNF's New Blu-ray/DVDs!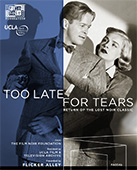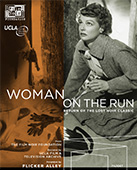 FNF restorations Too Late for Tears and Woman on the Run are now available! For a chance to win these dual-format Blu-ray/DVDs from Flicker Alley, donate $20 or more to the FNF between June 22-29. Your name will be entered into two random drawings—one for each film title. With a donation of $100 or more, you have the chance to win both titles in a single random drawing. Winners will be announced here on Thursday, June 30.
Each Blu-ray/DVD package includes bonus features produced by the FNF—documentaries on the making of the films, the restorations, the mission of the FNF, audio commentaries by Eddie Muller (WOTR) and Alan K. Rode (TLFT), plus a 24-page souvenir booklet.
FNF/Nancy Mysel Legacy Grant Winner Announced
The Film Noir Foundation is proud to announce the winner of this year's $5,000 FNF/Nancy Mysel Legacy Grant, Jana D. Gowan of UCLA, a Master of Library and Information Science/Media Archives Specialization student. Specifically, Gowan wants to pursue a career as a moving image archivist in film restoration and preservation at a regional film archive. Preserving the diverse history of rural communities by restoring locally relevant films is her passion.
Gowan attended NOIR CITY on Saturday night, January 30, for the grant announcement where she spoke on the Castro Theatre stage with FNF founder and president Eddie Muller. The Mysel family, the grant's benefactors, were in attendance as well. Gowan told the audience that the grant will enable her to accept two unpaid internships where she'll gain valuable experience without the worry of how to pay for her living expenses. She also revealed a more personal connection to the late Nancy Mysel. In addition to a shared passion for film restoration, Gowan volunteers at the hospice that assisted the Mysel family in caring for Nancy during her final days battling cancer.
Instructions for applying for 2017's FNF/Nancy Mysel Legacy Grant are already available! Students who applied this year, but were not selected, may apply for 2017's grant as long as they are in school. Applications for next year's grant are due December 14, 2016, and the winner will be announced at NOIR CITY 15 in January 2017. Visit our Grant page for details.

Come follow us on Tumblr to indulge your passion for noir! We'll be posting daily, celebrating all things noir with exclusive stills and images you won't see anywhere else, as well as trailers, film clips, and more.

Share our posts with your friends; your love of the art form is the Foundation's biggest asset in its mission to preserve and restore classics of the genre. We are also fully committed to present our rescued films in the way they were meant to be seen: in 35mm at our NOIR CITY festivals around the country.

Tweets