MOONRISE
(1948) Criterion - Blu-ray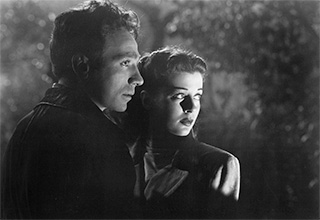 The most authentically romantic filmmaker of classic Hollywood, Frank Borzage made films where the power of love conquered all—not simply narrative obstacles and stubborn complications, but time and space itself. He's the last filmmaker you would expect to produce a film noir masterpiece, yet Moonrise is something special indeed––a small town melodrama with a psychologically tormented hero, directed like a distorted reflection of Sunrise. Dane Clark is Danny Hawkins, a kid from the backwoods orphaned when his father went to the gallows, bullied into an angry young man, and finally pushed into killing a tormenter in a blind rage. Set in a dreamworld of a small southern town ringed in perpetual mist and haunted by the ghosts and sins of the past, it's a world out of time and space created entirely on studio sets. With its poetic imagery, eerily expressionistic flashbacks, and floating camera movement, it has the texture of a silent movie in the sound era. The romance of the title is apt; even in daytime, there is something nocturnal about Danny's lush and claustrophobic and beautifully unreal world. Criterion gives the film its Blu-ray and DVD debut from a 4K digital transfer of the original 35mm nitrate camera negative. This transfer looks amazing with great detail, rich texture, excellent contrast, and a sense of depth to the image. The sole supplement is an informative conversation between film critic and historian Peter Cowie and Borzage-expert Hervé Dumont, and there's a leaflet featuring an essay by Philip Kemp.
WHILE THE CITY SLEEPS
(1956) Warner Archive Blu-ray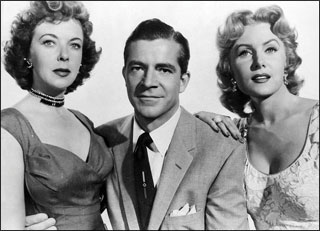 The final American productions by Fritz Lang, a giant of silent cinema in Germany and one of the great film noir directors in America, are a strange pair indeed. Made for RKO during its precipitous decline under the capricious command of Howard Hughes, with Hollywood greats past their box-office prime and budgets that look threadbare even with Lang's eye, they are sour little portraits of modern America with mercenary heroes in a tawdry culture. His heart doesn't appear to be in these films—his disillusionment with Hollywood seems complete—but they have their moments of nasty satisfaction, especially with actors who sink their teeth in cynical characters.
While the City Sleeps (1956), ostensibly a thriller about a serial killer (John Drew Barrymore) on the loose in the generic big city and the media circus around the investigation, is really more of a media satire centered on a multi-media news company. Dana Andrews stars as a TV newscaster competing with the company's daily paper and a wire service. Ida Lupino is the newspaper columnist whose nose for office politics is her greatest survival skill, the first among equals in a cast of wily Hollywood pros: Rhonda Fleming, George Sanders, Howard Duff, Thomas Mitchell, and Vincent Price. Lang seems to have given up trying to create any sense of tension or menace in Barrymore's scenes as the psychotic leatherboy who kills girls over mommy issues, but it's a pleasure watching the old pros become sharks in the newsroom when playboy Price inherits the business and pits his employees against one another as they vie for promotion.
BEYOND A REASONABLE DOUBT
(1956) Warner Archive Blu-ray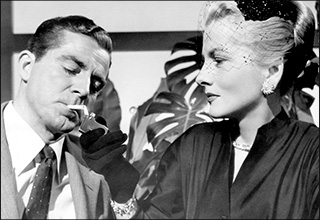 Dana Andrews is back in the lead for Beyond a Reasonable Doubt (1956), Lang's final American feature, as a novelist who ends up framing himself for murder in an elaborate anti-capital punishment protest. Joan Fontaine is his fiancée who goes desperately in search of any evidence to exonerate him. It makes an odd little bookend to Lang's 1930s dramas of social protest and it boomerangs back with a weirdly cynical twist. Andrews lets a lecherous side show through as he chases a showgirl (part of his stage-managed scheme that he embraces a little too creepily) and anyone familiar with Lang's disdain for Hollywood's contrived happy endings will have a field day imaging how Lang would have preferred to end this barbed little picture.
Both While the City Sleeps and Beyond a Reasonable Doubt are presented in the SuperScope process, a cheap widescreen alternative to the anamorphic CinemaScope process that involves masking and re-photographing the negative in post-production to create an anamorphic print. By the mid-fifties, as Hollywood tried to counter the threat of TV, it was standard practice to project films in aspect ratios somewhere between 1.66:1 and 1.85:1 and Lang surely framed these films with that in mind. These discs present the SuperScope editions at 2:1, which results in cramped compositions in some scenes, suggesting it was imposed by the studio in post-production though it will take more detective work to confirm what Lang actually intended. The new 2K Blu-ray masters show the increased grain inherent in the process. While softer than true widescreen productions, it looks fine, with good contrasts and clean images.
THE CRIMSON KIMONO
(1953) Twilight Time - Blu-ray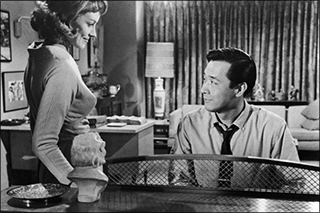 Sam Fuller knows how to grab an audience. After the credits play over a time-lapse painting of a woman in a kimono from sketch to completion, we are immediately slammed into "Los Angeles—Main Street": a montage of seedy burlesque club and strip joint marquees at night that ends with a brassy blonde stripper running half-naked through the streets. The tawdry tabloid energy gives way to a police procedural, but the real story of The Crimson Kimono is the buddy drama between police detective partners Joe (James Shigeta), a Japanese-American married to the job, and easy-going Caucasian cop Charlie (Glenn Corbett): roommates, best friends, and battlefield blood brothers whose friendship is upended by a girl (Victoria Shaw). It's a romantic triangle tangled up in cultural identity and racism, and Fuller offers an interesting flip on his approach to race in America (a theme that goes back to his 1951 Korean War drama The Steel Helmet). Set in L.A.'s Little Tokyo, the blasts of Japanese culture offer fresh flourishes to familiar genre conventions. Anna Lee, playing a skid row artist with a taste for bourbon and cigars, is one of the greatest of Fuller's gallery of streetwise eccentrics. For all of the director's commitment to the celebration of racial and cultural diversity, The Crimson Kimono remains more interesting than illuminating or dramatically gripping. The Blu-ray debut from Twilight Time presents a crisp master of the black-and-white image. It carries over two featurettes from Sony's 2009 The Samuel Fuller Collection DVD box set and features an isolated soundtrack and booklet.
HE WALKED BY NIGHT
(1948) ClassicFlix - Blu-ray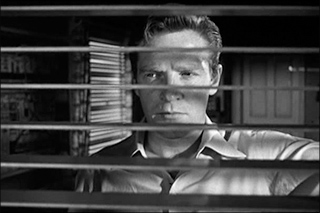 Some noir films are so adept at telling the story visually that the inclusion of dialogue becomes incidental. He Walked by Night (1948) is one such case. At an airtight 79 minutes, the film chronicles the LAPD's efforts to apprehend Roy Martin (Richard Basehart), a burglar responsible for killing one of their own. Despite its tired premise, it excels by providing cinematographer John Alton with a chance to flex his incomparable skill in nearly every scene.
In addition to maintaining a cohesive style under two directors (Alfred L. Werker and an uncredited Anthony Mann), Alton builds upon each of Martin's volatile encounters, like a recurring and foreboding theme. Dialogue is kept to a minimum whenever the killer appears, with auditory and visual tactics used to heighten tension. It works brilliantly. Then, of course, there is the film's iconic finale, where the cops chase Martin through the city's underground sewer system. The imagery here all but overloads the ocular senses, with reflective surfaces puncturing the darkness and chiaroscuro wielded with a precision that leaves subsequent examples underwhelming in comparison.
ClassicFlix's Blu-ray gives He Walked by Night the definitive home release. The picture transfer, capturing every flicker and visual flourish, is immaculately handled, as is the audio commentary by film historians Alan K. Rode and Julie Kirgo. Additional perks include the featurette "Below the Surface" and a lush, 24-page booklet by author Max Alvarez (and designed by the FNF's Michael Kronenberg) that details the film's perplexing directorial history.
HELL ON FRISCO BAY
(1955) Warner Archive Blu-ray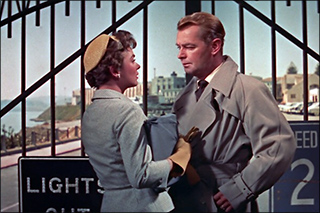 Despite its saturated, widescreen WarnerColor photography, 1955's Hell on Frisco Bay offers familiar noir shenanigans with Alan Ladd typecast as Steve Rollins, a grim ex-cop attempting to settle a score with a menacing San Francisco mob kingpin. Said mobster, Vic Amato, is played by Edward G. Robinson in full "now don't get sore, see" mode, fully unrepentant for sending decent-guy Rollins to San Quentin on a false murder rap. Spurred on by a Biblical "vengeance is mine" morality, Rollins sets out to kill the men who framed him despite the pleas of his former love (Joanne Dru), an elegant nightclub singer. Rollins comes to realize, however, that Amato's death-grip on the city's police force and business community has made himself the target. Although the script depends too heavily on Ladd and Robinson's well-established screen personae, Hell on Frisco Bay is a watchable-enough crime melodrama bolstered by an array of fascinating supporting characters (Fay Wray's poised, yet anxious, movie-queen-turned-gangster's-moll, for instance). Parts of the Frank Tuttle-directed movie were filmed throughout San Francisco, causing some jarring transitions between outdoor locales and sterile studio-bound scenes. Warner Archive's Blu-ray edition sports a pristine picture and lush sound (in mono), a fitting venue for a typically grandiose score from Max Steiner.
DON'T BOTHER TO KNOCK
(1952) Twilight Time Blu-ray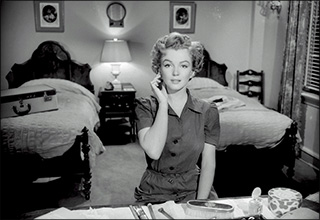 Contained entirely within the confines of a not-quite-luxurious New York hotel and observed over the course of a long, dark night of a young soul, Don't Bother To Knock doesn't have the familiar noir look—handsomely shot on modest studio sets by Lucian Ballard, it has no ominous shadows, slashes of light, or precarious angles—or themes. What it offers, along with Richard Widmark as a commitment-wary airline pilot and the debut of 21-year-old Anne Bancroft as an experienced-beyond-her-years nightclub chanteuse, is rising 20th Century–Fox starlet Marilyn Monroe as a small-town girl unraveling on a babysitting assignment. Instead of the twitchy behavior of a classic paranoid schizophrenic movie character, pinging from one emotion to another, Monroe's performance is quiet and scared and she uses that breathy delivery (so effective in her sexy innocent roles) to define a fragile, wounded girl losing her grip on reality. British filmmaker Roy Ward Baker, making his American debut (as Roy Baker), uses the maze of hallways and elevators and compartmentalized spaces to create an atmosphere of disconnection and dislocation and delivers a delicious play of flirtation and voyeurism through keyholes and the facing windows across the courtyard of the U-shaped hotel, with blinds dropping and rising up in invitation, all in a tight 75 minutes. The new Twilight Time Blu-ray looks clean and sharp and creamy and includes short documentaries on Monroe and Widmark originally produced for A&E Biography, plus an isolated music track and booklet.
NO ORCHIDS FOR MISS BLANDISH
(1948) Kino Lorber Blu-ray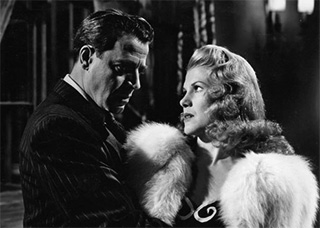 A British take on American crime cinema, No Orchids for Miss Blandish is adapted from a salacious novel by James Hadley Chase. It features cold-blooded gangsters colliding with high society and throws out sexual suggestions that American movies hadn't allowed since the pre-code days. So how do these combustible elements fail to ignite? Imported American B-movie actor Jack La Rue is tough but inexpressive and never genuinely commanding as the ruthless thug who falls in love with the jaded heiress (Linden Travers) his gang has kidnapped. We have to take their hot-and-heavy romance on faith as their chemistry is inert at best. The static direction by St. John Legh Clowes (who also scripts) fails to bring a savage edge to the mercenary twists, and the slipping accents and generic settings don't quite get the American vernacular, giving it all a weird, unreal atmosphere. There's more fun to be found around the details at the edges of the story: a reporter (Hugh McDermott) who peeps on a showgirl getting undressed, gang members shacking up with their latest conquests, and a cigarette girl whose outfit features a zipper that plunges right down the front (and gets tested by more than one customer). The film was condemned by the British press, but for all its notoriety it's little more than a curiosity. The new Blu-ray and DVD editions from Kino Lorber features a strong, sharp picture and is a significant upgrade from the previous DVD from VCI. No supplements beyond a trailer.
UNDERWORLD U.S.A.
(1961) Twilight Time Blu-ray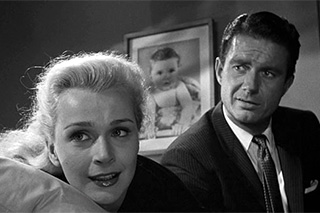 Underworld U.S.A., a "kino-fist" crime thriller from Hollywood's great independent, is a revenge drama driven by one of director/writer/producer Samuel Fuller's greatest anti-heroes—Cliff Robertson as street kid turned safecracker Tolly Devlin. Tolly nurtures a near sociopathic purity of purpose behind his crooked smile and twinkling eyes, but in contrast to the boardroom thugs of the syndicate who send "field agents" (a bland euphemism for drug dealers) to schools to expand their customer base, he at least has a code. And like Skip McCoy in Pickup on South Street, this defiantly apolitical survivor is roused from apathy when confronted by the brutal culture of organized crime he's been trying to play. Fuller carves out his Underworld on the tiny budget of an independent production, creating his city entirely from studio sets shot by Hal Mohr (who has a long career of noir bona fides) with a hard-edged look that turns the anonymous, enclosed cityscape into a kind of prison for Tolly, who never escapes the alley where his father was murdered. There's a jagged quality to the narrative keeping the film and the characters off-balance, and behind the pulp melodrama is Fuller's take on the crime syndicate as cold-blooded big business. The Blu-ray debut from Twilight Time presents a crisp master of the black-and-white picture and features an isolated soundtrack and a booklet. The featurette "Sam Fuller: Storyteller" (24 min.) and Martin Scorsese's video introduction (5:08 min.) were originally produced for Sony's Samuel Fuller Collection DVD box set.
INTO THE NIGHT
(1985) Shout! Factory - Blu-ray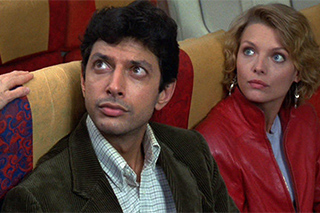 John Landis is not a name you connect to the neo-noir boom of the '80s, but his 1985 Into the Night takes a classic noir situation—the middle-class innocent (Jeff Goldblum, in his first leading role) jolted out of his protected-but-dull existence and plunged into a nightmarish odyssey through the urban underworld—and gives it a charge of romance and an edge of danger. Michelle Pfeiffer (in her first lead) is the tough-talking former model and jilted mistress who smuggles the film's MacGuffin into L.A. and ends up targeted by both gangsters and Goldblum, a bystander who provides her getaway and then sticks around.
Into the Night plays like the flip side of Martin Scorsese's After Hours, where the suburban guy caught in the nocturnal city finds he's not only more at home in the dark than in the mundane routine of his daytime life—he thrives on the danger. The insomniac who sleepwalks through his days comes alive, finding not just inner strength but an old-fashioned sense of chivalry and a surprising calm in the midst of chaos. Landis has fun without making fun of it, and the mix of B. B. King guitar lines through the synth score is surprisingly evocative. Shout! Factory's newly remastered Blu-ray preserves the rich, deeps colors evoking the city at night, and features new interviews with John Landis and Jeff Goldblum, plus a 26-minute TV documentary with B. B. King and Landis.
T-MEN
(1947) ClassicFlix - Blu-ray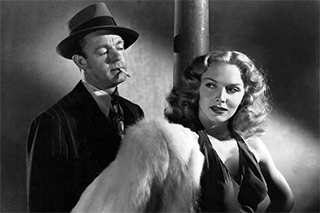 Of the countless "docu-noirs" released during Hollywood's golden age, none are as slyly contradictory as the 1947 classic T-Men. A fictional retelling of an actual treasury case, the film cuts through its cloying propagandic message with a startlingly bleak depiction of the criminal world in which its titular agents (Dennis O'Keefe and Alfred Ryder) are forced to navigate—a world where the smallest mistake can mean the difference between life and death, regardless of what side you're on.
T-Men has strong narrative tension, as the threat of violence constantly looms over its undercover agents, but for the most part the screenplay takes a back seat to the extreme stylings of director Anthony Mann and cinematographer John Alton. In this, the first of their six collaborations, the duo blend shadows, smoke, and sordid location shooting into a hypnotic visual brew. Each scene could be bottled and sold as emblematic of the film noir aesthetic, due to Mann's dynamic framing of tough guys O'Keefe and Charles McGraw, and Alton's mastery of single-source lighting, always accentuating the uncertainty of the surroundings. Their efforts ensure that the film's stilted (and mercifully sparing) narration doesn't deter from its momentum.
All this comes expertly packaged in ClassicFlix's new Blu-ray release. In addition to a superb digital restoration, T-Men comes with a booklet by author Max Alvarez, a commentary by Alan K. Rode, and a pair of featurettes, the more notable of which includes an interview with Anthony Mann's daughter, Nina.
FOUR FILM NOIR CLASSICS
Arrow Films UK
FORCE OF EVIL (1948) / THE DARK MIRROR (1946) / SECRET BEYOND THE DOOR (1947) / THE BIG COMBO (1955)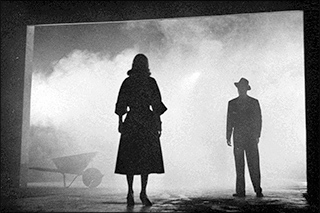 UK distributor Arrow Films has released a handsome, limited-edition box set (complete with Saul Bass-inspired artwork) that includes Blu-ray/DVD combo packs of four noirs originally released in the U.S. by Olive Films.
If we're being honest, the "classic" label only applies to two of the selections: The Big Combo (1955) and Force of Evil (1948). The former follows a trio of characters—single-minded cop Leonard (Cornel Wilde), quietly psychotic gangster Mr. Brown (Richard Conte), and Susan (Jean Wallace), the tortured woman stuck between their two competing agendas—as they circle each other, their flaws and weaknesses pushing them into some of noir's darkest corners. The film boasts some genuinely nasty content for a 1955 release, as well as some of legendary cinematographer John Alton's finest work. The latter, a searing indictment of conscience-free capitalism from Body and Soul (1947) scribe Abraham Polonsky, stars the typically excellent John Garfield as Joe, a corrupt lawyer caught between Tucker, his numbers-running client, and one of Tucker's targets: Joe's younger brother, Leo (Thomas Gomez). Martin Scorsese's citation of its influence on several of his movies provides a sufficient indicator of its quality. + READ MORE