Wednesday, August 30, 11:00 PM
LURED 1947): n this period noir, Scotland Yard enlists the help of brassy American dancer Sandra (Lucille Ball) to find and trap the serial killer responsible for her friend's murder. The victim was quitting the dance hall because she was going off with a man she met through a personal advertisement. Through the personals, Sandra meets an eccentric artist (Boris Karloff) and a charming playboy (George Sanders). Is one of them the killer? Dir. Douglas Sirk
NOIR ALLEY
Sunday, September 3, 7:00 AM

FNF Prez Eddie Muller presents
FRAMED (1947): A mining engineer (Glenn Ford) finds himself stranded in a small mountain town after he accidently crashes a truck. Luckily for him, a miner who just hit a major vein wants to make him his partner. Unluckily for him, a blonde (Janis Carter) and her married lover need him as a dupe for their own plans. Dir. Richard Wallace
Sunday, September 5, 3:00 PM
ROPE (1948): Two wealthy and louche pseudo-intellectuals (John Dahl and Farley Granger) murder a friend in a Nietzschean demonstration of will and folly. Then they throw a party inviting the victim's friends, family and their old school teacher (Jimmy Stewart) who begins to suspect something odd when the guest of honor doesn't arrive for his own party. Dir. Alfred Hitchcock
Tuesday, September 5, 12:30 AM
THE HARDER THEY FALL (1956): A cynical press agent (Humphrey Bogart) tempted by the money, goes to work as a PR flak for the corrupt manager of a naïve boxer. He then must decide between the dough and exposing the inhuman conditions rife in the boxing game. DP Burnett Guffey earned an Oscar nomination for Best Cinematography, Black-and-White for his work on the film. Dir. Mark Robson
Wednesday, Sept. 06, 1:45 PM—4:30
Ida Lupino Directorial Double Bill
1:45 PM
THE HITCH-HIKER (1953): In this gripping suspense piece, a murderous madman (William Talman) on the lam from the law kidnaps two businessmen (Edmond O'Brien and Frank Lovejoy) on a hunting trip. Noir siren Ida Lupino both directed and co-wrote the film which was produced by The Filmmakers, the independent production company she founded with her then husband Collier Young. Dir. Ida Lupino
3:00 PM
OUTRAGE (1950): In this hybrid of social-commentary and noir, director Ida Lupino sympathetically explores a young woman's emotional and social struggles after being raped. Dir. Ida Lupino
Friday, September 08, 10:30 PM
TAXI DRIVER (1976): Paul Schrader wrote the script for this tale about a loner (Robert De Niro) who becomes fixated on a beautiful campaign worker (Cybill Sheperd) and befriends a teen prostitute (Jodie Foster) with violent results. Director Martin Scorsese's choices of composer, Bernard Hermann and cinematographer, Michael Chapman, added immeasurably to the film's impact. Dir. Martin Scorsese
Saturday, September 9, 9:00 AM
REAR WINDOW (1954): A wheelchair-bound photographer passes the time of his disability by spying on his neighbors. One day he witnesses a murder. Or does he? This iconic mystery was adapted from a story by Cornell Woolrich and earned a Best Writing, Screenplay Oscar nomination for screenwriter John Michael Hayes. The film earned three more Oscar nods for Best Director, Best Cinematography, Color and Best Sound, Recording. Dir. Alfred Hitchcock
Saturday, September 9, 5:00 PM
BULLITT (1968): When mobsters kill the witness Frank Bullitt (Steve McQueen) was assigned to protect, he uses unorthodox methods to investigate the case. Beautiful San Francisco location work and a breathtaking car chase sequence add additional pleasure to watching this fine neo-noir. Dir. Peter Yates
NOIR ALLEY
Sunday, September 10, 7:00 AM
FNF Prez Eddie Muller presents
711 OCEAN DRIVE (1950): A telephone repairman (Edmond O'Brien) gets mixed up with illegal gambling and winds up with a warrant for murder. Dir. Joseph M. Newman.
Wednesday, September 13, 9:30 AM
THE RACKET (1951): A tough cop, Captain Thomas McQuigg (Robert Mitchum), has to fight both his superiors and a corrupt system in order to battle the mob. His mobster nemesis Nick Scanlon (Robert Ryan) is also battling his own superiors, as well as McQuigg. They object to his old style violent tactics. McQuigg uses Nick's brother Joe Scanlon (Brett King) and his lover and singer Irene Hayes (Lizabeth Scott) as a cat's paw to get to Nick. Dir. John Cromwell
Wednesday, September 13, 12:45 PM
BORDERLINE (1950): In this lighthearted thriller, two undercover agents (Claire Trevor and Fred MacMurrary) whom each believe the other to be part of a narcotic ring, try to find a way to bust the gang while fighting their growing feelings for each other. Raymond Burr brings both humor and menace to his "heavy" role. Dir. William A. Seiter
NOIR ALLEY
Sunday, September 17, 7:00 AM
FNF Prez Eddie Muller presents
IN A LONELY PLACE (1950): This heartbreaking noir revolves around an alcoholic screenwriter (Humphrey Bogart) and the woman who loves him but fears he may be a murder (Gloria Grahame). This film is both a bitter commentary on Hollywood and on the impossibility of romance. Very loosely based on Dorothy B. Hughes's novel—an intense thriller and examination of post-WWII misogyny. Dir. Nicholas Ray
Wed. September 20, 2:15 PM—5:00 PM
Anatole Litvak Noir Triple Bill
12:15 PM
BLUES IN THE NIGHT (1941): In this consummate jazz noir, pianist Jigger Pine (Richard Whorf) forms a quintet with his singer/wife fronting the band (Priscilla Lane). Relationship problems, criminal activity and the siren song of success all threaten the band's devotion to jazz and the blues. A remarkable collection of talented actors contribute to the film, Lloyd Nolan, Jack Carson, Wallace Ford, Joyce Compton, Howard Da Silva, and a young Elia Kazan. Harold Arlen and Johnny Mercer scored the film and penned the Oscar nominated title song, Blues in the Night which became a huge hit and part of the Great American Songbook. Dir. Anatole Litvak
1:45 PM
OUT OF THE FOG (1941): A racketeer (John Garfield) terrorizes a small fishing community and seduces a tailor's daughter (Ida Lupino). The tailor and his friend must figure out how to fight the racketeer to keep their only solace, their fishing boat, from being destroyed in an "accident" and to save the daughter from throwing her life away on the racketeer. Dir. Anatole Litvak
3:15 PM
THE LONG NIGHT (1947): Henry Fonda stars as Joe Adams in this American remake of Marcel Carné's Le jour se lève (1939). The film opens with Joe wanted for murder and trapped by the police in his apartment. The film tells in flashback how he got there. Vincent Price gives a great supporting performance as his nemesis, dog act maestro Maximilian the Great. Dir. Anatole Litvak
Wednesday, September 20, 5:00 PM
IN THE HEAT OF THE NIGHT (1967): In a small Mississippi town, racist Police Chief Bill Gillespie (Rod Steiger) mistakenly accuses African American Virgil Tibbs (Sidney Poitier) of the recent murder of a prominent Northern industrialist. When Gillespie discovers that Tibbs is a Homicide detective from Philadelphia, he enlists his help to solve the murder. This groundbreaking neo-noir won five Oscars, including Best Picture. Dir. Norman Jewison
Thursday, September 21, 1:00 AM
KLUTE (1971) Small town detective John Klute (Donald Sutherland) journeys to the Big Apple to search for a missing friend. He has only one lead: an obscene letter from the man to New York City prostitute Bree Daniels (Jane Fonda). He unravels both the mystery of the missing man and of the call girl. Fonda won a well-deserved Best Actress Oscar for her portrayal of the disturbed and disturbing Bree. Dir. Alan J. Pakula
Saturday, September 23, 5:30 AM
THE UNSUSPECTED (1947): The star and producer of a radio crime series, a rather nasty Claude Rains, commits the perfect crime in order to cover some irregularities concerning his late niece's estate, only to have his plans thwarted when his niece Constance Bennett is found alive and well. Audrey Totter plays her slutty cousin who stole her fiancé and now has designs on her husband. Dir. Michael Curtiz
NOIR ALLEY
Sunday, September 24, 7:00 AM
FNF Prez Eddie Muller presents
SCANDAL SHEET (1952): A terrific tabloid thriller based on Samuel Fuller's smashmouth novel The Dark Page. Broderick Crawford stars as managing editor of a scandal-mongering tabloid who murders his ex-wife, covers it up, and then -- unable to resist the allure of a juicy circulation booster -- assigns his young star reporter (John Derek) to track down the culprit. Dir. Phil Karlson
Sunday, Sept. 24, 5:00 PM—9:00 PM
True Crime Noir Double Bill
5:00 PM
CALL NORTHSIDE 777 (1948): In this fact based film noir, a Chicago journalist (Jimmy Stewart) crusades to overturn the false conviction of a man (Richard Conte) serving a life sentence for a policeman's murder. Director: Henry Hathaway
7:00 PM
BOOMERANG (1947): In this fact based noir, State's Attorney Henry L. Harvey (Dana Andrews) contends with an explosive political situation while trying to discover rather or not a drifter is innocent of a terrible crime, the murder of a beloved priest. Richard Murphy earned an Oscar nod for Best Writing, Screenplay for his script. Dir. Elia Kazan
Monday, Sept. 25, 3:00 AM—5:00 PM
TCM Train Marathon
Here are the noirs...
5:30 AM
THE TALL TARGET (1951): In this film noir cloaked as historical fiction, a determined detective (Dick Powell) tries to prevent the assassination of President-elect Abraham Lincoln during the train ride to his inauguration. It's helmed by legendary noir director Anthony Mann and shot by Paul Vogel, the cinematographer responsible for Lady in the Lake's first person P.O.V. Dir. Anthony Mann
7:00 AM
THE NARROW MARGIN (1952): In this seminal noir, a tough cop (Charles McGraw) meets his match when he has to guard a gangster's moll, (Marie Windsor) on a tense train ride. Can he keep her alive long enough for her to testify? Dir. Richard Fleischer
11:45 AM
LA BETE HUMAINE (1938): In this French proto-noir, a railroad engineer (Jean Gabin) enters an affair with his friend's amoral wife (Simone Simon) with, of course, disastrous results. Dir. Jean Renoir
1:30 PM
STRANGERS ON A TRAIN (1951): Childlike but charming psychopath Bruno (Robert Walker) suggests that he and Guy (Farley Granger), a tennis player with political ambitions, crisscross murders. Unfortunately, Guy realizes too late that Bruno wasn't joking. Guy's unwanted wife shows up murdered and he has no alibi. Screenplay by Raymond Chandler and Czenzi Ormonde. D.P. Robert Burks' outstanding work earned an Oscar nomination for Best Cinematography, Black-and-White. Dir. Alfred Hitchcock
Thursday, September 28, 7:15 AM
BEYOND A REASONABLE DOUBT (1956): At the behest of his future father-in law, newspaper editor Austin Spenser, Tom Garret (Dana Andrews)—a novelist and opponent of capital punishment—frames himself for the murder of a stripper to prove the fallibility of circumstantial evidence. The pair callously decides against taking Garret's fiancée (Joan Fontaine) into their confidence. Dir. Fritz Lang
Thursday, September 28, 3:00 PM
WITNESS FOR THE PROSECUTION (1958): A British lawyer (Charles Laughton) gets caught up in a couple's tangled marital affairs when he defends the husband for murder. Laughton's wife Elsa Lanchester plays the nurse trying to keep him on his diet and off the cigars and brandy. This first rate film features both one of Tyrone Power's and one of Marlene Dietrich's best performances Based on the play written by Agatha Christie, adapted from her own short story. Dir. Billy Wilder
Friday, September 29, 5:00 AM
CRY WOLF (1947): A woman (Barbara Stanwyck) visits her late husband's family to claim her inheritance and soon finds herself in conflict with her scientist brother-in-law (Errol Flynn). Things take a gothic twist when she discovers agonizing cries coming from his secret laboratory. Richard Basehart, as always, raises the film out of its slightly silly story with his supporting performance. Dir. Peter Godfrey
Friday, Sept. 29, 6:30 AM—5:00 PM
TCM Salutes Lizabeth Scott
Here are the noirs...
6:30 AM
THE STRANGE LOVE OF MARTHA IVERS (1946): Years after a murder drove them apart, an heiress (Barbara Stanwyck) tries to win back her lost love, Sam Masterson (Van Heflin). Her scion husband (Kirk Douglas), a four-star sot, objects. Lizbeth Scott plays the down on her luck girl that falls for Sam and further complicates things. Dir. Lewis Milestone
8:45 AM
PITFALL (1948): This independently produced gem is one of the most realistic explorations of adultery produced in 1940s. Bored suburbanite insurance salesman (Dick Powell) drifts into a dalliance with an anti-femme fatale, hard-luck model Mona (Lizabeth Scott), only to find his life and family threatened by an obsessive private eye (Raymond Burr) and a jealous ex-con. Director de Toth had the gifted Bill Bowers rewrite the script. The result is truly believable noir—a wrenching tale of repressed lust and suburban ennui. Dir Andre de Toth
12:00 PM
TOO LATE FOR TEARS (1949): For many years, all 35mm prints of Too Late for Tears (1949) were believed lost, but through the determined efforts of the Film Noir Foundation, sufficient original material has been discovered to enable a restoration, performed under the auspices of the UCLA Film & Television Archive. Based on a novel by future television titan Roy Huggins, and featuring Huggins' own brilliant screenplay, the film is a neglected masterpiece of noir, awaiting rediscovery. A suburban housewife (Lizabeth Scott) decides to keep a satchel of money accidentally tossed into her convertible, against the wishes of her husband (Van Heflin). Dan Duryea plays the intended recipient of the cash and he's not into sharing. The result? Mayhem and murder. Dir. Byron Haskin
3:15 PM
THE RACKET (1951): A tough cop, Captain Thomas McQuigg (Robert Mitchum), has to fight both his superiors and a corrupt system in order to battle the mob. His mobster nemesis Nick Scanlon (Robert Ryan) is also battling his own superiors, as well as McQuigg. They object to his old style violent tactics. McQuigg uses Nick's brother Joe Scanlon (Brett King) and his lover and singer Irene Hayes (Lizabeth Scott) as a cat's paw to get to Nick. Dir. John Cromwell
Saturday, September 30, 7:15 PM
BORN TO BE BAD (1950): An ambitious girl (Joan Fontaine) steals her cousin's (Joan Leslie) husband (Zachary Scott), but keeps her lover (Robert Ryan) on the side. No need to tell you that this won't end nicely. Dir. Nicholas Ray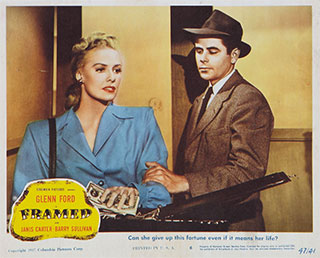 Eddie Muller presents Framed on the September 3 edition of NOIR ALLEY starring Janis Carter and Glenn Ford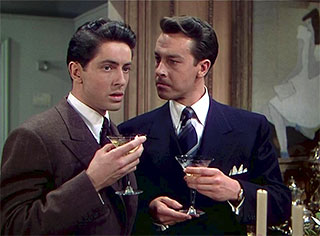 Farley Granger and John Dahl in Hitchcock's Rope on September 5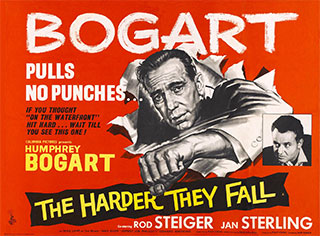 Humphrey Bogart in The Harder They Fall on September 5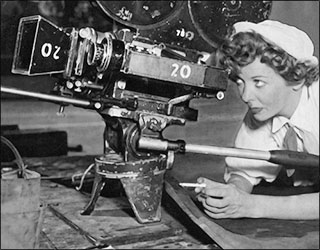 An Ida Lupino directorial double bill on September 6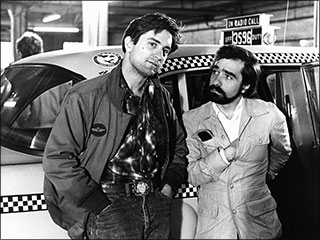 Martin Scorsese's Taxi Driver on September 8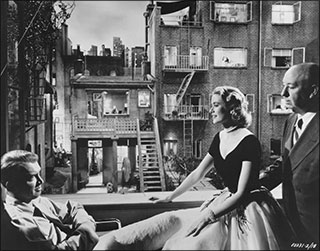 Hitch directs James Stewart and Grace Kelly on the set of Rear Window screening September 9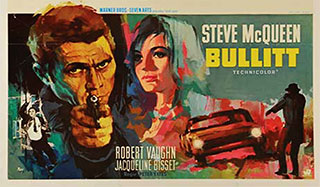 Steve McQueen stars in Bullit on September 9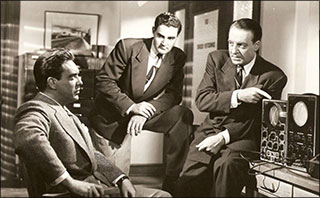 Eddie Muller presents 711 Ocean Drive on the September 10 edition of NOIR ALLEY starring Edmond O'Brien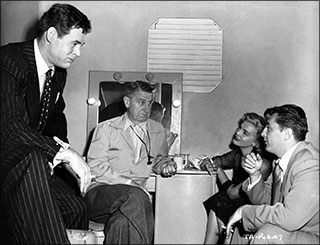 Robert Ryan v. Robert Mitchum in The Racket on September 13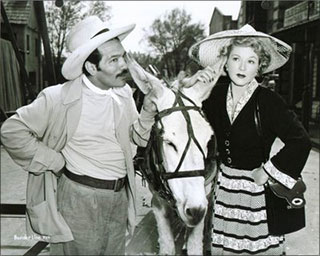 Claire Trevor in Borderline on September 13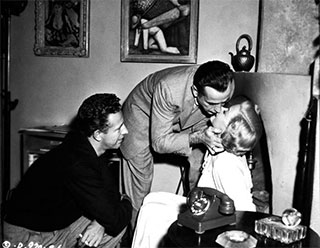 Eddie Muller presents In a Lonely Place on the September 17 edition of NOIR ALLEY starring Humphrey Bogart and Gloria Grahame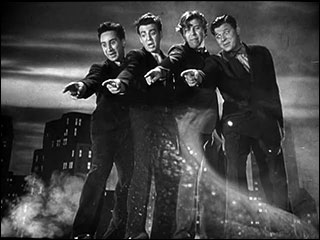 Noir musical Blues in the Night on September 20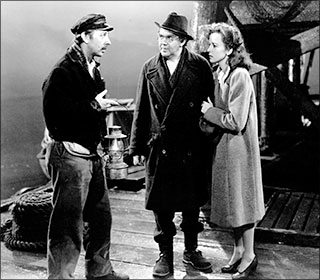 Ida Lupino stars in Out of the Fog on September 20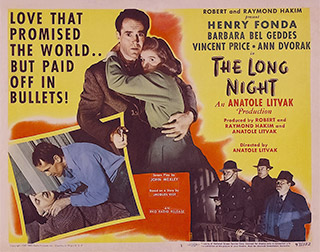 Henry Fonda stars in Litvak's The Long Night on September 20
Oscar-winning In the Heat of the Night airs September 20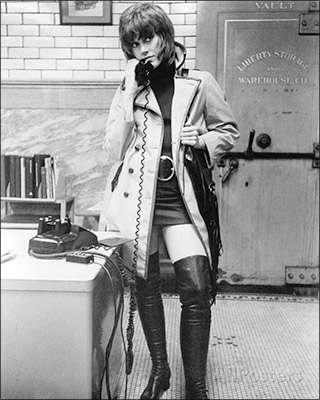 Jane Fonda in Klute playing September 21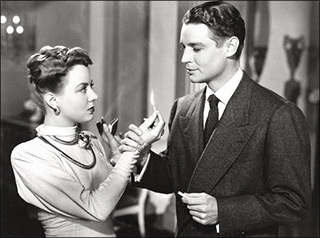 Audrey Totter and Michael North in The Unsuspected on September 23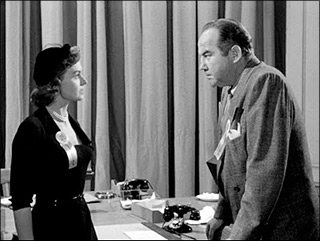 Eddie Muller presents Scandal Sheet on the September 24 edition of NOIR ALLEY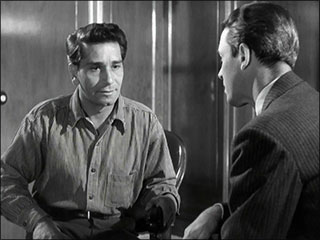 Richard Conte in Call Northside 777 on September 24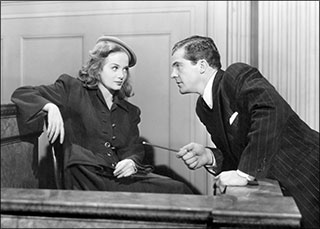 Elia Kazan's Boomerang starring Dana Andrews on September 24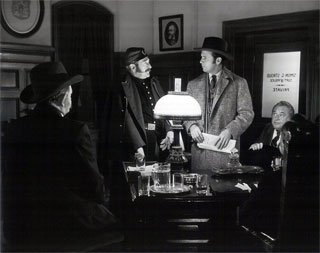 Anthony Mann's The Tall Target in TCM's Train Marathon on September 25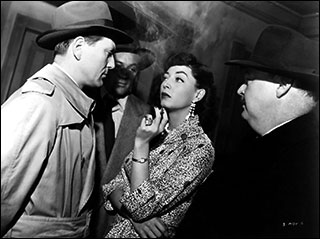 Marie Windsor and Charles McGraw in The Narrow Margini on September 25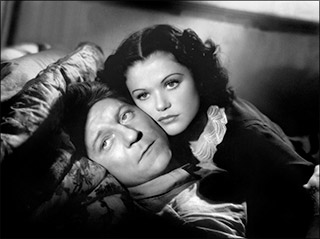 Jean Gabin and Simone Simon in Renoir's La bete humaine on September 25
Robert Walker crosses paths with Farley Granger in Strangers on a Train on September 28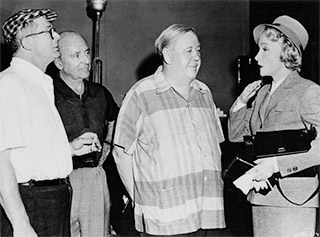 Charles Laughton and Marlene Dietrich on the set of Witness for the Prosecution screening September 28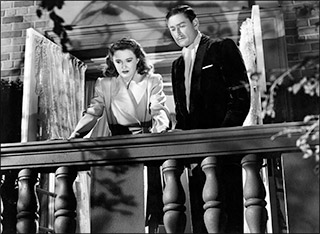 Barbara Stanwyck and Errol Flynn in Cry Wolf on September 29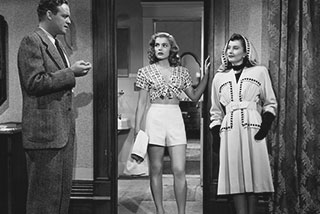 Van Heflin, Lizbeth Scott and Barbara Stanwyck in The Strange Love of Martha Ivers on September 29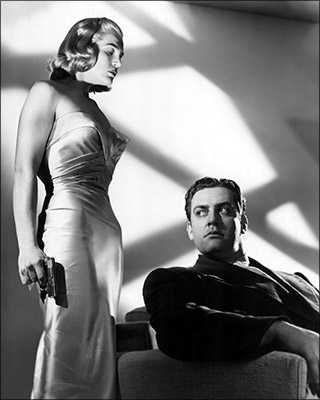 Lizbeth Scott and Raymond Burr in Pitfall screening September 29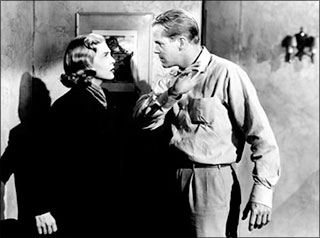 FNF-restored Too Late for Tears with Lizbeth Scott and Dan Duryea plays September 29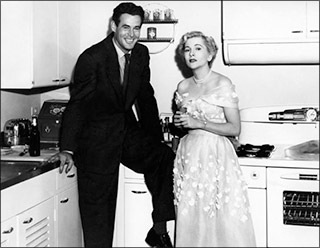 Robert Ryan and Joan Fontaine in Born To Be Bad on September 30