Monday, May 1, 6:30 AM
GILDA (1946): A gambler (Glenn Ford) discovers an old flame (Rita Hayworth) in South America, but she's married to his new boss (George Macready), and… um… friend—homoerotic noir at its best. If that weren't enough, there's Hayworth's incredibly steamy rendition of "Put the Blame on Mame" Whoof! Dir. Charles Vidor
Tuesday, May 2, 3:15 PM
KEY LARGO (1948): A returning veteran (Humphrey Bogart) tangles with a ruthless gangster (Edward G. Robinson) during a hurricane while falling for his dead war buddy's widow (Lauren Bacall). Claire Trevor steals the film with her Oscar winning performance as the gangster's alcoholic and emotionally abused girlfriend. Dir. John Huston
Saturday, May 6, 7:15 PM
CHAMPION (1949): An unscrupulous boxer (Kirk Douglas) claws his way to the top destroying everyone, including himself, along the way. Dir. Mark Robson
NOIR ALLEY
Sunday, May 7, 7:00 AM

FNF Prez Eddie Muller presents
SHIELD FOR MURDER (1954): A crooked detective (Edmond O'Brien) kills and robs a criminal, in order to by his girlfriend their suburban dream house. He soon finds himself under suspicion by his fellow cops, the mob and a crime reporter. Dir. Howard W. Koch
Sunday, May 7, 9:00 AM—12:45 PM
Small Town Noir
Double Bill
9:00 AM
THE TROUBLE WITH HARRY (1955): This quirky black comedy reverses the whodunit genre as multiple residents of a Vermont hamlet believe themselves responsible for Harry's death and the disposal of his body. Dir. Alfred Hitchcock
11:00 AM
THE NIGHT OF THE HUNTER (1955): Bogus preacher Harry Powell (Robert Mitchum) marries an outlaw's widow (Shelly Winters in a stunning performance) in search of the dead man's hidden loot. The widow's son (Billy Chapin) sees through him, and tries to keep the secret of the treasure location and protect his mother, sister and himself from Powell. Lillian Gish plays the force of good in opposition to Mitchum's evil. Dir. Charles Laughton
Wednesday, May 10, 3:30 PM
GAMBLING HOUSE (1951): A gambler (Victor Mature) faces deportation after he agrees to take the rap for a shooting. While awaiting his fate, he comes under the influence of a beautiful do-gooder (Terry Moore) murder. Dir. Ted Tetzlaff
Friday, May 12, 7:00 PM
IN THE HEAT OF THE NIGHT (1967): In a small Mississippi town, racist Police Chief Bill Gillespie (Rod Steiger) mistakenly accuses African American Virgil Tibbs (Sidney Poitier) of the recent murder of a prominent Northern industrialist. When Gillespie discovers that Tibbs is a Homicide detective from Philadelphia, he enlists his help to solve the murder. This groundbreaking neo-noir won five Oscars, including Best Picture. Dir. Norman Jewison
NOIR ALLEY
Sunday, May 14, 7:00 AM

FNF Prez Eddie Muller presents
THE PROWLER (1951): The lonely wife (Evelyn Keyes) of a nighttime DJ falls for the beat cop (Van Heflin) who responds to her report of a prowler. Unknown to her, he finds a murderous way to get rid of the husband. Dir. Joseph Losey
Sunday, May 14, 11:00 AM
MILDRED PIERCE (1945): Joan Crawford won an Oscar for her performance as a woman who builds herself up from grass widow to successful restaurateur in a desperate effort to win the love of the most ungrateful brat in the history of cinema, her daughter Veda, brilliantly played by Ann Blyth. A marriage of convenience, adultery and murder ensue. At least Mildred has the greatest best friend ever, a wisecracking Eve Arden. Based on the James M. Cain story. Dir. Michael Curtiz
Monday, May 15, 9:00 PM
BLOOD SIMPLE (1984): In the Coen brother's debut, a paranoid Texan bar (Dan Hedaya) owner hires a private detective (M. Emmett Walsh) to investigate his younger wife (Frances McDormand) and his employee (John Getz) whom he believes to be having an affair. Murder and madness follows. Dir. Joel Coen
Tuesday, May 16, 12:45 PM
ADVISE & CONSENT (1962): The President of the United States (Franchot Tone) nominates the controversial Robert A. Leffingwell (Henry Fonda) to the post of Secretary of State. The political machinations began immediately as the Senate debates whether or not to confirm the appointment. A ruthless politician, dead set against Leffingwell, tries to blackmail junior Senator Brig Anderson (Don Murray) the chair of the subcommittee reviewing the appointment, by threatening to reveal his homosexual past. Dir. Otto Preminger
Friday, May 19, 3:00 AM—4:30 PM
Radio Noir Marathon
3:00 AM
THE WHISTLER (1944): A grieving widower (Richard Dix) hires an assassin to kill him only to have his late wife (Gloria Stuart) turn up alive. The suspense kicks into high gear when he tries to call of the hit and finds out his go-between has died and he has no idea who the hired gun is. This is the first installment of the Columbia series based on the legendary radio show of the same name. Dir. William Castle
4:30 AM
THE POWER OF THE WHISTLER ((1945): After reading an amnesic stranger's (Richard Dix) fortune, a young woman (Janis Carter) aids him in his quest to find his true identity through the clues in his pockets. Dir. Lew Landers
6:00 AM
VOICE OF THE WHISTLER (1945): After reading an amnesic stranger's (Richard Dix) fortune, a young woman (Janis Carter) aids him in his quest to find his true identity through the clues in his pockets. Dir. Lew Landers
7:30 AM
THE MYSTERIOUS INTRUDER (1946): In the fifth film of The Whistler series, a detective, Richard Dix as always, discovers the woman he's been hired to track down is the key to an unusual inheritance. Dir. William Castle
9:00 AM
THE SECRET OF THE WHISTLER (1946): An artist (Guess who? That's right, Richard Dix again) plots murder when his rich wife (Mary Curier) when she catches him in an affair with one of his models, Leslie Brooks. Dir. George Sherman
10:30 AM
THE RETURN OF THE WHISTLER (1948): When a woman (Lenore Aubert) goes missing on the eve of her wedding, her fiancée (Michael Duane) hires a detective (Richard Lane) to track her down. Dir. D. Ross Lederman
12:00 PM
I LOVE A MYSTERY (1945): In this big screen adaption of Carlton E. Morse's immensely popular radio series, detectives and pals Jack (Jim Bannon) and Doc (Barton Yarborough) investigate the decapitation of Jefferson Monk (George Macready), a man who has predicted his murder three days earlier. Monks' wife Ellen (Nina Foch) and the foggy streets of San Francisco help obscure the mystery. Dir. Henry Levin
1:30 PM
THE DEVIL'S MASK (1946): I Love a Mystery's Jack and Doc identify a shrunken head found in a crashed cargo plane. Dir. Henry Levin
3:00 PM
THE UNKNOWN A woman hires I Love a Mystery's Jack and Doc to keep her alive long enough to claim her inheritance. Dir. Henry Levin
Friday, May 19, 5:00 PM—3:00 AM
1967 Crime-Minded Marathon
Here are the neo-noirs...
7:15 PM
BONNIE AND CLYDE (1967): In this critically acclaimed and deeply influential classic, the legendary bank robbers and lovers (Warren Beatty and Faye Dunaway) embark on a crime spree during the Depression era Dust Bowl of the 1930s and become folk heroes. The film won two Oscars, Estelle Parsons for Best Actress in a Supporting Role and Burnett Guffey for Best Cinematography, an additional eight nominations. Dir. Arthur Penn
9:15 PM
POINT BLANK (1967): Existential neo-noir at its best. Lee Marvin stars as a wraith like criminal out to get his share of the loot from a robbery after his partner shots him, leaves him for dead and absconds both with all the money and his wife. Angie Dickinson co-stars as his sympathetic sister-in-law who aids him. Dir. John Boorman
1:00 AM
WAIT UNTIL DARK (1967): A commercial artist unknowingly brings a stash of heroin into his home. A trio of bad guys (Richard Crenna, Jack Weston and Alan Arkin) trace the dope to him. They trick him into leaving the house, but, unfortunately, his blind wife (Audrey Hepburn) is there alone. They proceed to first try to trick and then to terrorize her while she tries to figure out how to turn the tables on her unknown assailants. Hepburn earned an Oscar nomination for Best Actress for her remarkable performance. Adapted from the Broadway hit written by Fredrick Knott and directed by Arthur Penn. Dir. Terence Young
Saturday, May 20, 5:00 PM—11:00 PM
The Essentials: A Night in Buenos Aires
Here are the noirs...
5:00 PM
GILDA 1946): A gambler (Glenn Ford) discovers an old flame (Rita Hayworth) in South America, but she's married to his new boss (George Macready), and… um… friend—homoerotic noir at its best. If that weren't enough, there's Hayworth's incredibly steamy rendition of "Put the Blame on Mame" Whoof! Dir. Charles Vidor 9:00 PM
9:00 PM
CORNERED (1945): Dick Powell stars as a World War II vet out to revenge the murder of his wife who died fighting for the French Resistance. He suspects the man who ordered the execution of her and her comrades faked his own death. He sets out to find him. For my two cents, Powell gives his best acting performance as the physically and psychologically wounded vet. Dir. Edward Dmytryk
NOIR ALLEY
Sunday, May 21, 7:00 AM

FNF Prez Eddie Muller presents
CRIME OF PASSION (1957): A journalist (Barbara Stanwyck) gives up her career to marry a cop (Sterling Hayden) and be a housewife in the burbs. Things go badly when she barters sex with her husband's sleazy boss (Raymond Burr) to further hubby's career. So worth watching if only for the scene where she lambasts the other oh-so-good 50's suburban wives at a hen party. Hard to feel sorry for the men in this film, Who would think Stanwyck would be happy as a suburban wife and who would think it is a good idea to double cross her? Dir. Gerd Oswald
Monday, May 22, 5:00 PM—3:00 AM
Grand Dame Guignol
5:00 PM
WHATEVER HAPPENED TO BABY JANE? (1962) A crazed, aging star (Bette Davis) torments her sister (Joan Crawford) in a decaying Hollywood mansion. This beautiful Hollywood gothic noir features a duet of superbly fearless performances by two legendary actresses. Nominated for five Oscars, but only one win, Best Costume Design, Black-and-White for Norma Koch Dir. Robert Aldrich
7:30 PM
DIE! DIE! MY DARLING! (1965): A religious fanatic (Tallulah Bankhead) imprisons her late son's "sinful" fiancée (Stefanie Powers) after she announces her intentions to marry. Dir. Silvio Narizzano
9:30 PM
STRAIT-JACKET (1964): Lucy Harbin (Joan Crawford) convicted of murdering her unfaithful husband and his mistress returns home to her now grown daughter Carol (Diane Baker) after her rehabilitation in a mental institution. A series of ax murders breaks out and she falls under suspicion. Dir. William Castle
11:15 PM
WHAT'S THE MATTER WITH HELEN (1971): After their sons are convicted of the brutal murder of a young woman, Harlowesque Adelle Bruckner (Debbie Reynolds) and frumpy Helen Hill (Shelly Winters) move to 1930's Hollywood to start a dance studio dedicated to turning out "little Shirley Temples." Madness, greed, jealousy and revenge follow. Dir. Curtis Harrington
1:15 AM
THE NANNY (1965): Before the studio exploded on the world cinematic stage with its legendary cycle of horror films mostly starring Peter Cushing and Christopher Lee, Hammer Studios produced a series of excellent, low budget thrillers, often featuring American stars on the wane. This is one of the best. Bette Davis plays the title character, an aging nanny now taking care of the children of her old charge. To be more accurate, looking after the one remaining child, Bobby, recently released from a home for disturbed children, who claims Nanny was responsible for his sister's drowning two years ago. Too bad no one believes him. Dir. Seth Holt
Tuesday, May 23, 4:45 AM
ACT OF VIOLENCE (1949): An embittered veteran (Robert Ryan) tracks down Frank R. Enley, a POW camp informer (Van Heflin) now a respected member of his community. Mary Astor steals the film as the boozy bar fly and prostitute trying to help Enley. Dir. Fred Zinnemann
NOIR ALLEY
Sunday, May 28, 7:00 AM

FNF Prez Eddie Muller presents
JOURNEY INTO FEAR (1942): This playful film features Joseph Cotten, who adapted the novel for the screen, as a munitions expert who gets tangled up in an espionage plot in Turkey. Watch for Orson Welles as an amorous army officer. Karl Struss served as director of photography. Dir. Norman Foster & Orson Welles (uncred.)
Sunday, May 28, 1:15 PM—5:00 PM
Espionage Double Bill
1:15 PM
SABOTEUR (1941): Aircraft factory worker Barry Kane (Robert Cummings) goes on the run across the United States when he is wrongly accused of starting a fire that killed his best friend. He finds love along the way with a girl (Priscilla Lane) who's positive he's guilty. Can he clear himself and win her love? The film is full of quirky touches (my favorite, an abductee is charged for a milkshake by her captors), unusual supporting characters (Norman Lloyd and Otto Kruger among others), and some outstanding set pieces, including the famous Statue of Liberty finale. Dir. Alfred Hitchcock
3:15 PM
ACROSS THE PACIFIC (1942): The cast and director of The Maltese Falcon reunited to make this breezy espionage thriller about an American agent, Humphrey Bogart, who tries to keep Axis spies from blowing up the Panama Canal. The all-time greatest Chinese-American character actor, Keye Luke, has the distinction of wearing the most hideously garish suit in the history of Hollywood cinema. Co-stars Mary Astor and Sydney Greenstreet add to the fun. Dir. John Huston
Tuesday, May 30, 6:45 AM—10:30 AM
Bogie & Bacall Double Bill
6:45 AM
TO HAVE AND HAVE NOT (1944): Watch Bogie and Baby fall in love on and off the screen in this classic adventure tale. A skipper-for-hire's romance, Humphrey Bogart, with a beautiful drifter and bar singer, Lauren Bacall, is complicated by his growing involvement with the French resistance. Walter Brennan plays the drunken first mate and Hoagie Carmichael plays Bacall's accompanist. Dir. Howard Hawks
8:30 AM
THE BIG SLEEP (1946): In Howard Hawks' clever and sophisticated adaptation of Raymond Chandler's novel, private eye Philip Marlowe's (Humphrey Bogart) investigates the involvement of an opium addled (and nymphomaniacal) society girl (Martha Vickers) in the murder of a pornographer. He also has to determine if her sister (Lauren Bacall) is helping or hindering him. Dir. Howard Hawks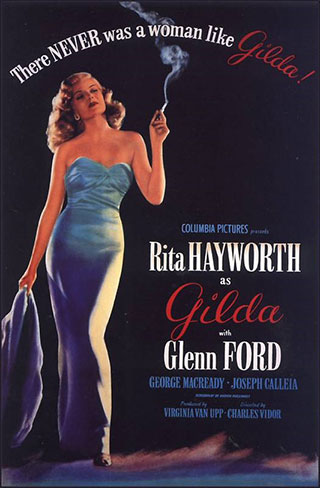 A luminous Rita Hayworth in Charles Vidor's Gilda kicks off the month of TCM noir for May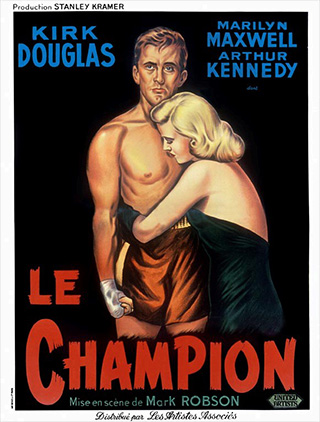 Kirk Douglas stars in Champion airing May 6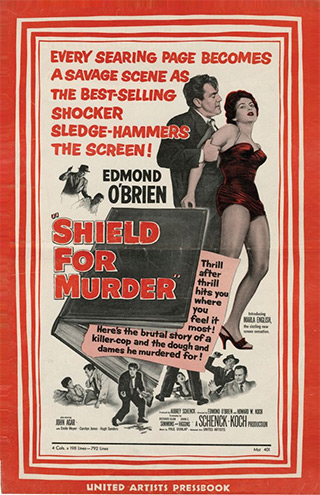 Eddie Muller presents Shield for Murder on NOIR ALLEY May 7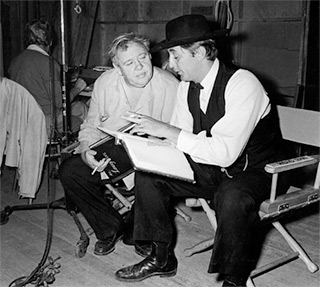 Charles Laughton directs Robert Mitchum in Night of the Hunter on May 7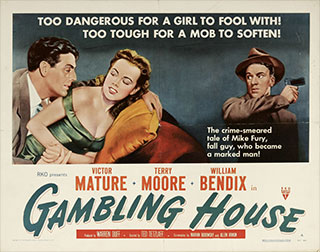 Terry Moore and Victor Mature in the rarely screened Gambling House on May 10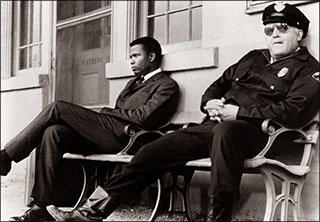 Oscar-winning In the Heat of the Night on May 12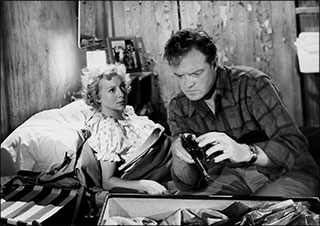 Eddie Muller presents The Prowler on the May 4 edition of NOIR ALLEY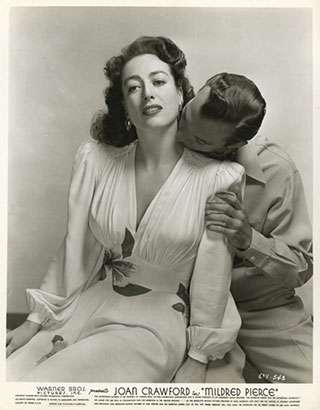 Oscar-winning Joan Crawford in Mildred Pierce on May 14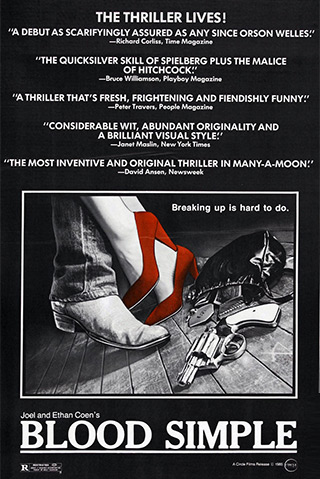 Early Coen Bros' Blood Simple screens May 15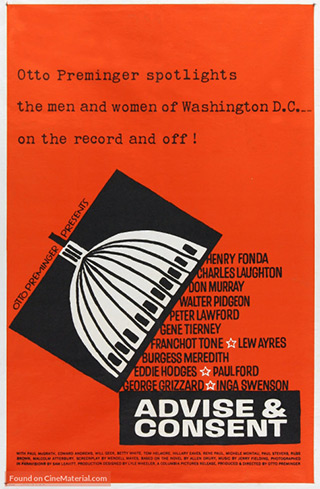 An all-star cast featured in Advise & Consent on May 15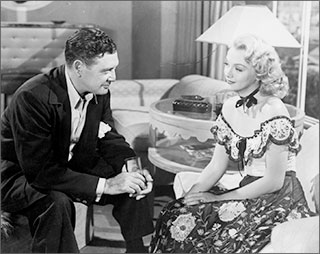 Richard Dix in The Whistler on May 19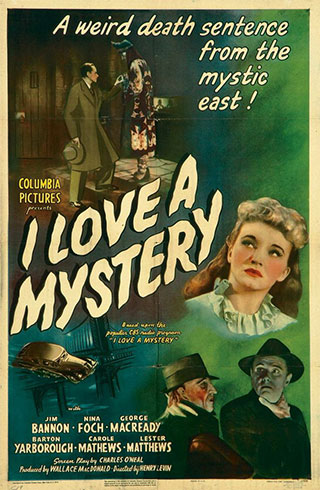 Foggy San Francisco locations featured in I Love a Mystery on May 19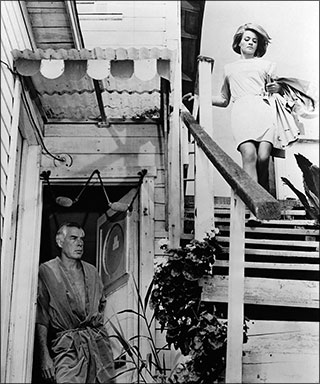 Lee Marvin and Angie Dickinson in Point Blank screening May 19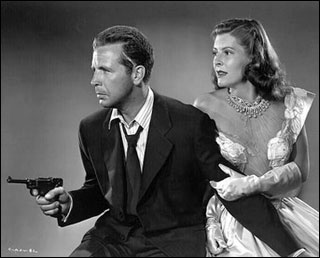 Dick Powell in Edward Dmytryk's Cornered on May 20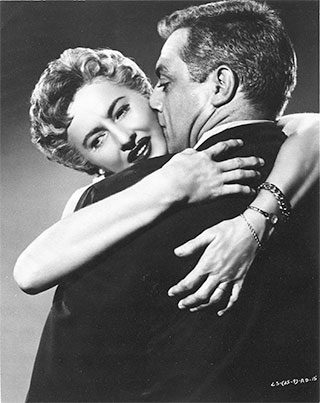 Eddie Muller presents Crime of Passion on the May 21 edition of NOIR ALLEY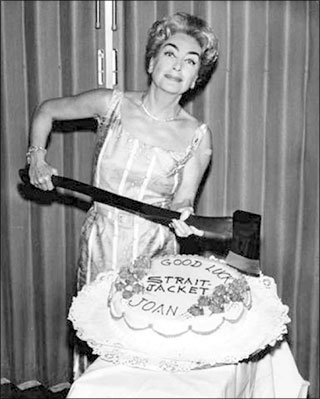 Rehabilitated Joan Crawford with axe to grind in Straight-Jacket on May 22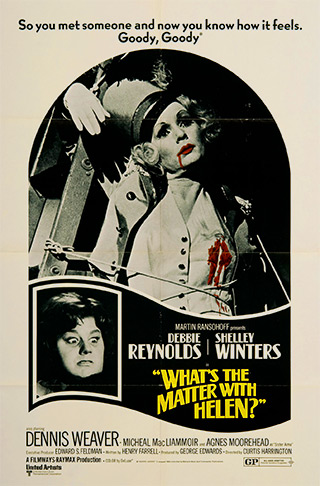 Shelley Winters and Debbie Winters in What's the matter with Helen on May 22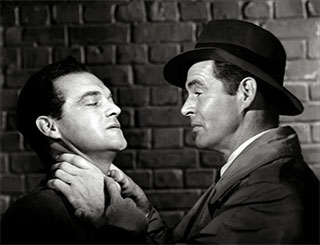 Van Heflin and Robert Ryan in Act of Violence on May 23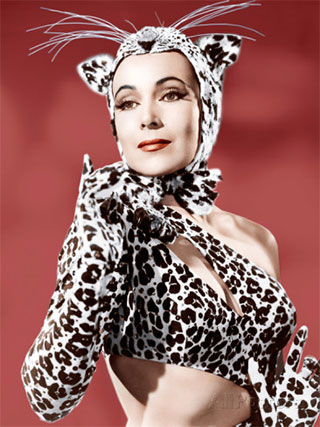 Eddie Muller presents Journey into Fear on the May 28 edition of NOIR ALLEY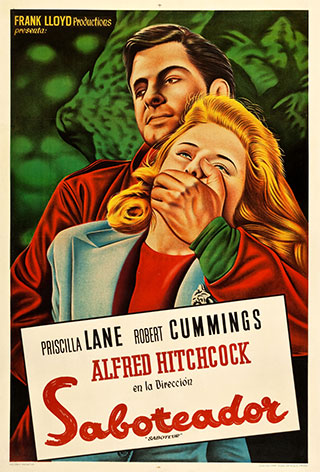 Hitchcock's Saboteur plays May 28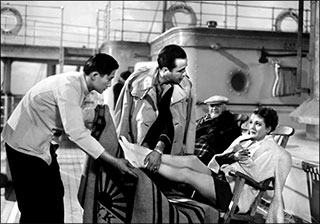 Bogart and Mary Astor reuinted in Across the Pacific screening May 28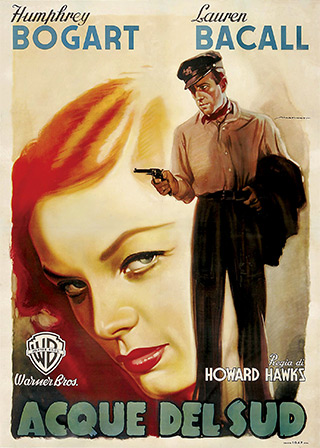 Bogie & Bacall in To Have and Have Not on May 30