The Film Noir Foundation is a non-profit public benefit corporation created as an educational resource regarding the cultural, historical, and artistic significance of film noir as an original American cinematic movement. It is our mission to find and preserve films in danger of being lost or irreparably damaged, and to ensure that high quality prints of these classic films remain in circulation for theatrical exhibition to future generations.
That's the high-toned legalese. Here are the facts: Even as the high-tech revolution lets us own vast film libraries on DVD, the risk grows greater all the time that 35mm prints of some films will fall into disuse and eventually disintegrate—especially lesser-known titles that have slipped through the cultural cracks, but are worthy of rediscovery.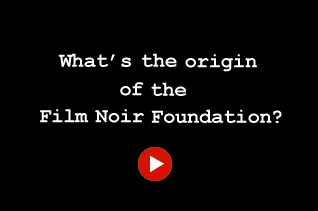 As a focal point of the classic film noir revival, the Foundation serves as a conduit between film companies and repertory cinemas still eager to screen these films in 35mm. Revenues generated by ticket sales encourage studios film archives to strike new prints of films that are at risk of disappearing from public view, either through neglect or scarcity. Once these films sare unearthed and returned to circulation, the chances exponentially increase that they will be reissued on DVD, available in pristine, affordable form for future generations of film-lovers.
More Great Reading
Benefiting a Good Cause!
It's easy to add the NOIR CITY Annual #5 to your library! Now available on Amazon.com, this year's publication features the best articles from the Foundation's 2012 quarterly e-magazine NOIR CITY. Remarkable essays, interviews, profiles, tributes, and reviews of classic and modern noir films are packed into 264 pages, all exquisitely designed. Support the Film Noir Foundation's film reclamation and restoration efforts with your purchase. NOIR CITY Annual #5 — your $25 investment toward a better library.
FROM A DONOR
Just wanted to start by telling you that I am extremely happy to have found your Foundation. I am 38 years of age, and for the last few years I have become a fan of 40s and 50s movies. My parents are Greek. They moved to Australia before I was born, and the fact that I am a Greek Australian who loves old movies is rare.... I have my parents to thank—especially my father, because he always had great enthusiasm whenever Bogart or Cagney was on the television. I have your NOIR CITY e-magazines, and they are nothing short of amazing...
Thank you for your time and thank you for saving the greatest years of film.
— Daniel Sarantidis
FNF MAIL
I just sent you $100 via Paypal. But I missed the "send message" link. I have contributed before, and I wish I could do so more often. The content of your site continually amazes me!
— Patrick Shields

For access to the best writing on noir available today, and to enjoy one of the most cutting-edge interactive multimedia cinema publications in the world, subscribe to NOIR CITY. Start by adding your name to our mailing list and then making a donation to the FNF of $20 or more to the FNF.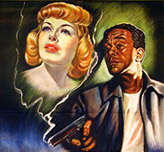 The Resurrection of Native Son: An in-depth interview with Edgardo Krebs, the man responsible for resurrection of this forgotten African-American noir. Available in the Winter 2012 NOIR CITY. READ.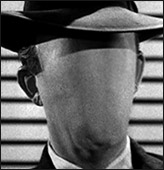 The Forgotten Man: Richard Fleisher's RKO Years: An engaging exploration of the future A-list director's glorious and gritty contributions to B-movie history. Available in the Spring 2013 NOIR CITY. READ.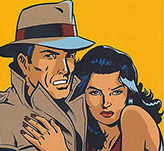 Abridged Too Far: A veteran French journalist exposes some shocking secrets about France's fascination with American noir literature. Excerpted from Goodis: A Life in Black in Black and White, appearing this year for the first time in English from Black Pool Productions, published and edited by Eddie Muller. Article available in the Spring 2013 NOIR CITY. READ.
FNF VIDEO ARCHIVE
For an expanding catalog of noir-related video, ranging from exclusive interviews, to NOIR CITY guest appearances, to short films inspired by film noir.
LATEST ADD Interview with Peggy Cummins.
TV NOIR/NEO-NOIR Check our monthly listings for noir and neo-noir films coming up on TCM.