Saturday, August 1, 3:00 AM –
Sunday, August 2, 3:00 AM
TCM Salutes Barbara Stanwyck
Here are the noirs...
8:00 AM
CRIME OF PASSION (1957): A journalist (Barbara Stanwyck) gives up her career to marry a cop (Sterling Hayden) and be a housewife in the burbs. Things go badly when she barters sex with her husband's sleazy boss (Raymond Burr) to further hubby's career. So worth watching if only for the scene where she lambasts the other oh so good 50's suburban wives at a hen party. Hard to feel sorry for the men in this film: Who would think Stanwyck would be happy as a suburban wife and who would think it is a good idea to double cross her? Dir. Gerd Oswald
11:00 AM
EAST SIDE WEST SIDE (1949): Wealthy and married Jessie Bourne (Barbara Stanwyck) finds herself attracted to ex-police officer turned author Mark Dwyer but wants to remain loyal to her husband (James Mason). Unfortunately, he's playing around with his ex-flame Isabel (Ava Gardner). Isabel tells Jessie that she has every attention of taking away her husband. Then Isabel winds up dead and Jessie falls under suspicion for the murder. Low rent noir goddess Beverly Michaels does a wonderful turn a trashy gun moll in a small but pivotal role. Dir. Mervyn LeRoy
1:00 PM
THE TWO MRS. CARROLLS (1947): A sociopathic artist (Humphrey Bogart) decides that he would like to murder his wife in order to marry a flirtatious younger woman (Alexis Smith). However, the current Mrs. Carroll is Barbara Stanwyck, so you know this isn't going to be so easy, despite the fact that Babs is both uncharacteristically slow on the uptake and rather wimpy in this one. Dir. Peter Godfrey
3:00 PM
CLASH BY NIGHT (1952): In this film noir social realism hybrid, an embittered and world weary woman (Barbara Stanwyck) seeks escape from her life of hard knocks in marriage, only to fall for her husband's amoral best friend (Robert Ryan). The film features a small, early role for Marilyn Monroe. Based on a play by the ever-ponderous Clifford Odets. Dir. Fritz Lang
7:00 PM
DOUBLE INDEMNITY (1944): Barbara Stanwyck—in a platinum blonde wig—plays Phyllis Dietrichson—the consummate femme fatale who lures insurance salesman and all-around chump Walter Neff (Fred McMurray) into a plot involving murder and insurance fraud. His friend, and insurance adjuster, Barton Keyes (Edward G. Robinson) smells a rat. Nominated for seven Oscars: Best Actress in a Leading Role; Best Cinematography, Black-and-White; Best Director; Best Music, Scoring of a Dramatic or Comedy Picture; Best Picture; Best Sound, Recording; and Best Writing, Screenplay. Dir. Billy Wilder
Monday, August 3, 5:00 PM – 9:00 PM
Rita Hayworth Noir Double Bill
5:00 PM
THE LADY FROM SHANGHAI (1948): An Irish sailor (Orson Welles) gets caught between a corrupt tycoon (Everett Sloane) and his voluptuous wife (Welles' real-life wife Rita Hayworth) and their plans to eliminate one another in this wonderfully convoluted noir. Trivia: Columbia chief Harry Cohn sent future horror icon William Castle along on location to keep Welles in line, on time and under budget, to no avail. Dir. Orson Welles
7:00 PM
GILDA (1946): A gambler (Glenn Ford) discovers an old flame (Rita Hayworth) in South America, but she's married to his new boss (George Macready), and… um… friend—homoerotic noir at its best. If that weren't enough, there's Hayworth's incredibly steamy rendition of "Put the Blame on Mame" Whoof! Dir. Charles Vidor
Thursday, August 6, 10:15 AM
BRUTE FORCE (1947): In this brutal film noir, a convict (Burt Lancaster) plans a daring and violent escape from a sadistic prison. Gritty noir photography provided by Oscar winner William Daniels. Dir. Jules Dassin
Friday, August 7, 8:15 PM
SABOTAGE (1936): This early Hitchcock thriller, based on Joseph Conrad's novel The Secret Agent, concerns an undercover detective pursuing a terrorist ring plotting to set off a bomb in London. When the detective's cover is blown, a pulse-pounding cat and mouse chase ensues. Dir. Alfred Hitchcock
Tuesday, August 11, 6:00 AM
JOHNNY COOL (1963): In this rather bizarre late period noir, Harry Silva stars as a Sicilian bandit given a new identity by an exiled mobster. The mobster offers to make him his heir in exchange for killing the men back in the states who betrayed him. Things get weird when the newly christened Johnny Cool meets a sexy divorcee, Elizabeth Montgomery. Dir. William Asher
Wednesday, August 12, 10:00 PM
THE POSTMAN ALWAYS RINGS TWICE (1946): In this noir classic, illicit lovers (John Garfield and Lana Turner) plot to kill the woman's older husband. She wants to own her own restaurant, the eternal ambition of heroines created by James M. Cain, author of the original novel. The producers managed to stay quite faithful to the book while excising the sado-masochistic nature of the character's sexual relationship. Audrey Totter contributes a brief but memorable performance. Dir. Tay Garnett
Friday, August 14, 11:00 AM – 3:15 PM
Steve McQueen Criminal and Cop
11:00 AM
THE GETAWAY (1972): In this first big screen adaptation of Jim Thompson's novel, a husband (Steve McQueen) and wife (Ali McGraw) meet a series of misadventures after a bank heist and the wife's shooting of the mastermind of the robbery who double crossed them. Stars McQueen and McGraw fell in love during the shooting of the film. Walter Hill penned the screenplay. Dir. Sam Peckinpah
3:15 PM
BULLITT (1968): When mobsters kill the witness Frank Bullitt (Steve McQueen) was assigned to protect, he uses unorthodox methods to investigate the case. Beautiful San Francisco location work and a breathtaking car chase sequence add additional pleasure to watching this fine neo-noir. Dir. Peter Yates
5:00 PM
THE THOMAS CROWN AFFAIR 1968): A bored business tycoon (Steve McQueen) turns to bank robbery and courts the insurance investigator (Faye Dunaway) assigned to bring him in. Hard to decide which of the leads is prettier. Dir. Norman Jewison
Saturday, August 15, 3:00 AM –
Sunday, August, 3:00 PM
TCM Salutes Nina Foch
Here are the noirs...
4:15 AM
ESCAPE IN THE FOG (1945): A nurse (Nina Foch) recovering from a breakdown keeps dreaming about murder. She meets the man of her dreams at that resort she's recouping at; unfortunately, he's the intended murder victim in her dreams. Dir. Oscar Boetticherm Jr., aka Budd Boetticher
9:00 AM
THE DARK PAST (1949): A psychologist (Lee J. Cobb) tries to analyze the criminal (William Holden) who has taken him hostage. Nina Foch co-stars as his kindhearted moll. Dir. Rudolph Mate
7:15 PM
MY NAME IS JULIA ROSS (1945): In this noir based on Anthony Gilbert's The Woman in Red, a young woman desperate for work, Nina Foch, takes a job in London as a companion to the seemingly respectably Mrs. Hughes, Dame May Whitty. However, she wakes up one morning in Cornwall where everyone insists that she is Marion Hughes, the wife of Mrs. Hughes son. Athur Penn later remade the film as Dead of Winter (1987). Dir. Joseph H. Lewis
8:30 PM
ILLEGAL (1955): D.A. Victor Scott (Edward G. Robinson) resigns in shame after he successfully prosecutes an innocent man for a capital crime. He successfully embarks in private practice but gets mixed up with a mob boss Frank Garland (Albert Dekker). Meanwhile, his assistant Ellen (Nina Foch) tries to make him jealous by announcing she's marrying another man. Trivia: In the scene where Frank Garland shows off his art to Victor, the production employed actor Robinson's personal collection. When Dir. Lewis Allen
10:15 PM
THE UNDERCOVER MAN (1949): A treasury agent (Glenn Ford) tries to convict a ruthless mobster of tax evasion. But the trail to the evidence keeps ending in the murder of his witnesses. When the mobster threatens the T-man's wife (Nina Foch) he must decide whether to keep pursing his target Dir. Joseph H. Lewis
12:00 AM
I LOVE A MYSTERY (1945): In this big screen adaption of Carlton E. Morse's immensely popular radio series, detectives and pals Jack (Jim Bannon) and Doc (Barton Yarborough) investigate the decapitation of Jefferson Monk (George Macready), a man who has predicted his murder three days earlier. Monks' wife Ellen (Nina Foch) and the foggy streets of San Francisco help obscure the mystery. Dir. Henry Levin
Monday, August 17, 3:00 AM – 9:00 AM
The Dark Side of Maureen O'Hara
3:00 AM
JAMAICA INN (1939): A young woman (Maureen O'Hara) moves to the Cornish coast to live with her aunt (Marie Ney). She stumbles onto a ring of bloodthirsty scavengers, led by her uncle (Leslie Banks). She also has to deal with the local squire (Charles Laughton) who is enchanted by her beauty. Dir. Alfred Hitchcock
5:00 AM
A WOMAN'S SECRET (1949): In this woman's picture mixed with humor and some noir elements Gloria Grahame plays the ditzy but sly singer Esterllita who is shot at the opening of the film, presumably by her agent and mentor Marian (Maureen O'Hara). The police arrest Marian. But did she do it? The film employs a series of flashbacks to portray the events leading up to the crime prior to the resolution of the mystery. Director Ray and Grahame would later marry and work together on the seminal film noir, In a Lonely Place (1950). Dir. Nicholas Ray
7:00 AM
THE FALLEN SPARROW (1943): A Spanish Civil War veteran (John Garfield) journeys to New York to investigate the death of his policeman friend. He suspects the suicide is in fact a murder. Nazis, as well as a beautiful woman (Maureen O'Hara), complicate his search for the truth. Based on the novel by pulp great Dorothy B. Hughes who also wrote the novels In a Lonely Place (1947) and Ride the Pink Horse (1946). Dir. Richard Wallace
Tuesday, August 18, 7:00 AM
MICKEY ONE (1965): A stand-up comedian (Warren Beatty) known only as "Mickey" goes on the lam after falling deeply in debt to whom? His pursuit by "Them" assumes existential proportions, with surreal tableaux increasingly squeezing out reality. Combining familiar faces from 1940s films (Franchot Tone, Hurd Hatfield, Jeff Corey) with elliptical and ambiguous storytelling, Penn creates a unique—and perplexing—film that combines European art-house cinema with a traditional American crime movie. Dir. Arthur Penn
Tuesday, August 18, 3:00 PM
BONNIE AND CLYDE (1967): In this critically acclaimed and deeply influential classic, the legendary bank robbers and lovers (Warren Beatty and Faye Dunaway) embark on a crime spree during the Depression era Dust Bowl of the 1930s and become folk heroes. The film won two Oscars, Estelle Parsons for Best Actress in a Supporting Role and Burnett Guffey for Best Cinematography, an additional eight nominations. Dir. Arthur Penn
Wednesday, August 19, 11:30 AM
JOURNEY INTO FEAR (1942): This playful film features Joseph Cotten, who adapted the novel for the screen, as a munitions expert who gets tangled up in an espionage plot in Turkey. Watch for Orson Welles as an amorous army officer. Karl Struss served as director of photography. Dir. Norman Foster & Orson Welles (uncredited)
Thursday, Aug 20, 9:00 AM – 1:00 PM
Thin Man Double Feature
9:00 AM
THE THIN MAN (1934): Dashiell Hammett's urbane but fun loving sleuths Nick and Nora Charles, along with their pup Asta, investigate the disappearance of an inventor in this classic blend of laughs and suspense. Shot in just two weeks by director Woody "One-Shot'' Van Dyke and cinematographer James Wong Howe, this gem set the gold standard for the sophisticated comedy—inspiring five sequels as well as countless inferior imitations. Van Dyke previously directed Myrna Loy and William Powell in Manhattan Melodrama and spotted the terrific chemistry of their off screen banter between takes. He insisted on casting the pair as Hammett's hard-drinking super-couple and the glamorous pair became one of the movies' great romantic teams. Shot by the legendary cinematographer James Wong Howe. The film garnered four Oscar nominations, Best Picture, Best Actor in a Leading Role for Powell, Best Director for W.S. Van Dyke Best Writing, Adaptation for Frances Goodrich and Albert Hackett. Dir. Woody Van Dyke
11:00 AM
ANOTHER THIN MAN (1939): Another fun outing with hard drinking husband and wife team Nick and Nora Charles (William Powell and Myrna Loy) and their faithful companion Asta. This time their son Nicky, Jr. is along for the ride. In this third installment of the series, Nick and Nora venture out to Long Island to aid Nora's former business manager Colonel MacFay (C. Aubrey Smith). An old enemy of the Colonel's, the mysterious Mr. Church (Sheldon Leonard), claims that he's seen MacFay die in a dream and has come to watch his premonition come true. It does and the police quickly suspect him of McFey's murder. However, the Charleses soon find McFey was surrounded by quite a few people who benefited from his death. Based loosely on one of Dashiell Hammett's Continental Op stories, "The Farewell Murder". Dir. W S Van Dyke II
Friday, August 21, 3:00 AM –
Saturday, August 22 3:00 AM
TCM Salutes Brit Siren Dian Dors
Here are the noirs...
3:00 AM
GOOD TIME GIRL (1948) In this Brit noir, the kindly chairman of the Juvenile court tries to deter a young woman (Diana Dors) from a life of crime by telling her the story of Gwen Rawlings who went from petty theft to a crime spree that sent her to prison. Dir. David MacDonald
8:30 AM
MAN BAIT (1952): A married bookshop owner (George Brent) makes a pass at an employee (Diana Dors) and his life goes to hell. Dir. Terence Fisher
1:15 PM
KING OF THE ROARING 20S: THE STORY OF ARNOLD ROTHSTEIN(1961): Despite a decent upbringing by devout Jewish parents, Arnold Rothstein (David Janssen) is destined for a life of crime. This film depicts his rise and fall in the gambling rackets of 20's New York. Star Jansen is ably supported by Mickey Rooney, Jack Carson, Keenan Wynn and William Demarest Dir. Joseph M. Newman
5:00 PM
THE LONG HAUL (1957) No sooner has Harry (Victor Mature) left the army and taken a job as a truck driver than his shifty boss tries to involve him in a smuggling operation, throwing his own mistress (Diana Dors) into the ex-GI's arms. Harry succumbs and his slide into corruption accelerates until he is brought up short when his young son Butch has an accident. Dir. Ken Hughes
9:00 PM
THE UNHOLY WIFE (1957): Wealthy vintner Paul Hochen (Rod Steiger) meets call girl Phyllis (Diana Dors) in a bar and seemingly impulsively marries her. Winds up Paul only wed her so he could adopt her son, a war wound left him incapable of having any of his own. Evidently this "wound" prevents him from loving her physically or mentally. She soon finds solace with rodeo rider San (Tom Tyron). Her thoughts soon turn to murder. A rare Hollywood outing for Britain's answer to Marilyn Monroe, Marie Windsor has a small role as her co-hooker and friend. Dir. John Farrow
Sunday, August 23, 10:45 AM
A STOLEN LIFE (1946): Wealthy amateur painter Kate (Bette Davis) meets lighthouse keeper Bill (Glenn Ford) and falls in love with him. Her twin sister Pat (Davis) steals him away an marries him. Kate dedicates herself to her art finds a mentor/teacher in Karnock (Dane Clark) who is, frankly, rude but honest and a good painter. When he makes a play for her, she realizes that she's still in love with Bill. Fate puts both sisters in a sailboat during a storm and Pat dies. Kate takes on Pat's identity, but things don't go as she planned. Dir. Curtis Bernhardt
Sunday, August 23, 9;30 PM
WHATEVER HAPPENED TO BABY JANE? (1962) A crazed, aging star (Bette Davis) torments her sister (Joan Crawford) in a decaying Hollywood mansion. This beautiful Hollywood gothic noir features a duet of superbly fearless performances by two legendary actresses. Nominated for five Oscars, but only one win, Best Costume Design, Black-and-White for Norma Koch Dir. Robert Aldrich
Monday, August 24, 1:45 AM
SATAN MET A LADY (1936): This, the second of the big screen adaptations of Dashiell Hammett's The Maltese Falcon, takes a determinedly light (and loose) approach to the material. The film rechristens the characters and the hunt is on for the Horn of Roland instead of The Flacon. Warren William plays Shane (Spade) and Bette Davis plays Valerie Purvis (Brigid O'Shaughnessy). Alison Skipworth steals the movie with her turn as Gutman, renamed and re-gendered as Madame Barabbas. Dir. William Dieterle
Monday, August 24, 3:00 AM –
Tuesday, August 25, 3:00 AM
TCM Salutes George Raft
Here are the noirs...
3:00 AM
MANPOWER (1941): Power linemen and best friends Hank (Edward G. Robinson) and Johnny (George Raft) feud over Hank's wife (Marlene Dietrich). Life imitated art during the production of this film; the two actors did tussle over Dietrich. Raft won. Dir. Raoul Walsh
5:00 AM
BACKGROUND TO DANGER (1943): An American (George Raft) gets caught up in wartime action in Turkey. Sydney Greenstreet and Peter Lorre add to the fun. A little piece of trivia, Raft had an earlier chance to act with that duo; he turned down first dibs on John Huston's The Maltese Falcon (1939) and Michael Curtiz's Casablanca (1942). He also turned down an earlier chance to work with director Raoul Walsh on High Sierra (1941). What might have happened? Dir. Raoul Walsh
6:30 AM
JOHNNY ANGEL (1946): A sailor (George Raft) finds his father's ship abandoned and his father murdered. He returns to port and sets out to investigate. He encounters a couple of beautiful women (Claire Trevor and Signe Hasso) as well as a complicated plot, along the way. Dir. Edwin L. Marin
8:00 AM
RACE STREET (1948): In this San Francisco based noir, an ex-bookie Dan Ganin (George Raft) tries to go straight by opening a nightclub with his singing sister (Gale Robbins) as the main attraction, but soon finds himself seeking vengeance against a protection racket syndicate after they kill his friend (Harry Morgan). Noir stalwart William Bendix plays the cop and childhood friend trying to keep Dan in one piece while he's on his rampage. Dir. Edwin L. Marin
11:30 AM
RED LIGHT (1949): This film features one of George Raft's best performances! A convicted embezzler (Raymond Burr) hires a soon to be, and rather psychotic, ex-con (Harry Morgan) to act as his instrument of vengeance against his former employer John Torno (Raft) by killing his brother Jess, an Army chaplain just home from the war. John goes berserk when he finds his brother dying and vows to find the culprit. Dir. Roy Del Ruth
5:00 PM
THEY DRIVE BY NIGHT (1940): Truck driver Joe Fabrini (George Raft) finds himself the victim of sexual harassment by his boss's amorous wife (Ida Lupino) in a movie stealing performance. When Joe refuses her advances, she murders her husband and then tries to frame him for it. Humphrey Bogart portrays Raft's brother and trucking partner. Ann Sheridan plays Raft's true love. Dir. Raoul Walsh
7:00 PM
EACH DAWN I DIE (1939): A crooked DA frames crusading reporter Frank Ross (James Cagney) for drunk driving and manslaughter. He goes to the big house and meets a charismatic racketeer and lifer "Hood" Stacey (George Raft). The pair develops an intense friendship causing "Hood" to become a better man. Can he help his unjustly convicted buddy? Dir. William Keighley
8:45 PM
NOCTURNE (1946): A police detective (George Raft) refuses to believe a womanizing composer's death was suicide. He interviews one of his ex-lovers after another, trying to find the truth. This cool little thriller features some touching scenes between George Raft and Mabel Paige as his mother. Screenplay by John Latimer. Dir. Edwin L. Marin
1:30 AM
INVISIBLE STRIPES (1940): Clifford Taylor (George Raft) is paroled from Sing Sing, but is unable to shed the "invisible stripes" that cling to him as he tries to go straight. His fiancé dumps him, he's wrongly accused of a crime at work, his dopey brother threatens to break bad, and his old prison chum (Humphrey Bogart) gets out and offers him a life of lucrative crime. Will Taylor be able to keep on the straight and narrow? Dir. Lloyd Bacon
Tuesday, August 25, 10:00 PM
MURDER, MY SWEET (1944): The film that graduated Dick Powell from romantic musical lead to noir tough guy. Raymond Chandler's detective and knight errant, Philip Marlowe's (Powell) search for a singer name Velma, leads him through a tangled web of blackmail and murder. Along the way, he finds himself embroiled with a wealthy man's unscrupulous gold-digging wife (Claire Trevor) and the step-daughter that despises her (Anne Shirley). Mike Mazurki gives a standout performance as the mentally challenged and extremely physically powerful ex-con that hires Marlowe to find Velma. "Cute as pants." Dir. Edward Dmytryk
Thursday, August 27, 7:30 AM
THE SECRET FURY (1950): A mysterious figure interrupts the wedding ceremony of a concert pianist (Claudette Colbert) and an architect (Robert Ryan) claiming that she's already married. When the betrothed pair investigates, they find evidence to back up his claim. Their search for the truth becomes clouded by her admission that she might have amnesia. Kelly Dir. Mel Ferrer
Friday, August 28, 5:00 AM
DECEPTION (1946): Pianist Christine Radcliffe (Bette Davis) tries to protect her refugee husband (Paul Henreid) from her rich and powerful ex-lover, composer Alexander Hollenius (Claude Rains). It gets messy, really, really messy. Dir. Irving Rapper
Saturday, August 29, 5:00 PM
NORTH BY NORTHWEST (1959): Foreign agents mistake suave and swinging advertising man Roger Thornhill (Cary Grant) for a spy. He takes it on the lam and encounters a beautiful blonde (Eva Marie Saint) who may or may not be trusted. This film earned 3 Oscar nominations: Best Art Direction-Set Decoration, Color; Best Writing, Story and Screenplay - Written Directly for the Screen; and Best Film Editing. Dir. Alfred Hitchcock
Sunday, August 30, 5:00 PM
TOUCH OF EVIL (1958): Orson Welles' masterpiece about a narcotics agent (Charlton Heston) who unintentionally put his wife (Janet Leigh) in grave danger when he investigates a crooked cop (Orson Welles). Utterly fantastic supporting performance by Marlene Dietrich as a Mexican Gypsy whore- no, really, I mean it. Dir. Orson Welles
Monday, August 31, 3:15 PM
PURPLE NOON (1960): This lush adaptation of Patricia Highsmith's renowned crime novel The Talented Mr. Ripley stars a young and extremely handsome Alain Delon as the titular character. Dir. René Clément
Monday, August 31, 8:15 PM
LE SAMOURAÏ (1967): A hitman (Alain Delon pretty much wearing Alan Ladd's costume from This Gun for Hire) tries to get away with murder, but a beautiful pianist spells his doom. Achingly beautiful and sublimely meditative. Five stars. Dir. Jean-Pierre Melville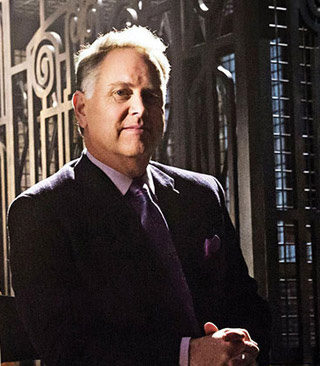 NOIR ALLEY presented by FNF Prez Eddie Muller will be on its annual hiatus this month due to TCM's SUMMER UNDER THE STARS. Eddie will be back on September 5.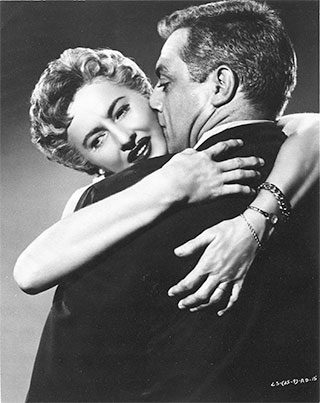 Raymond Burr and Barbara Stanwyck in Crime of Passionon August 1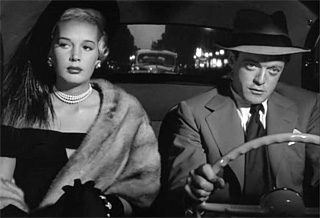 Beverly Michaels and Van Heflin in East Side West Side on August 1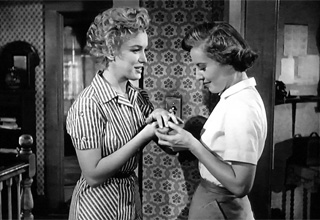 Marilyn Monroe and Barbara Stanwyck in Clash by Night on August 1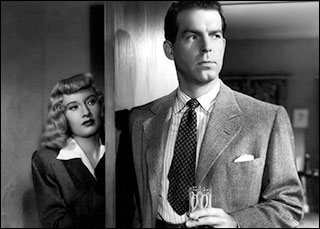 Stanwyck and McMurray in Double Indemnity on August 1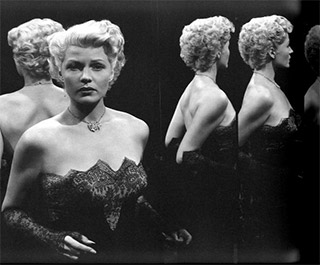 Rita Hayworth is The Lady from Shanghai on August 3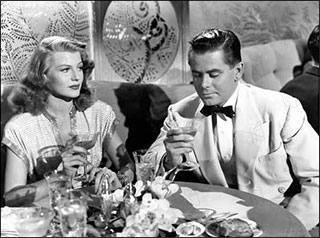 Hayworth and Ford in Gilda on August 3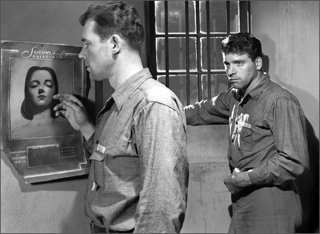 Howard Duff and Burt Lancaster in Brute Force on August 6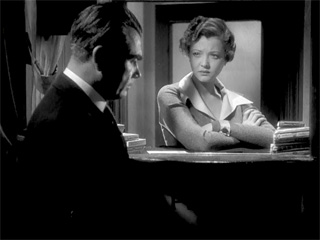 Sylvia Sydney in Hitchock's Sabotage on August 7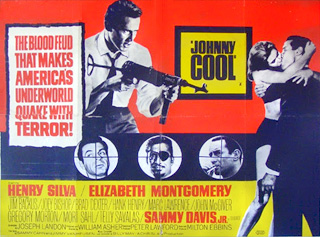 Elizabeth Montgomery and Harry Silva star in Johnny Cool on August 11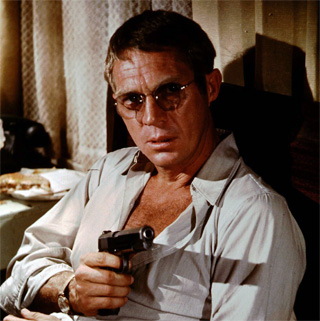 Steve McQueen in The Getaway on August 14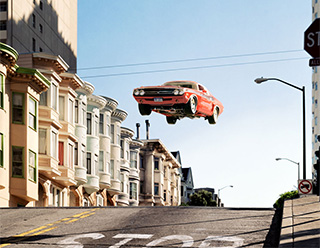 Steve McQueen in late 60's San Francisco—Bullitt on August 14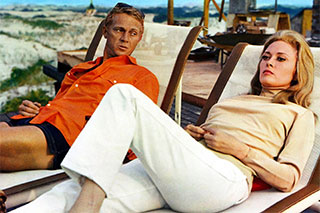 McQueen and Dunaway inThe Thomas Crown Affair on August 14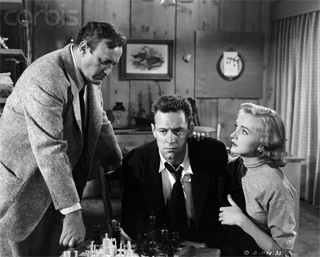 Lee J. Cobb, William Holden and Nina Foch in The Dark Past on August 15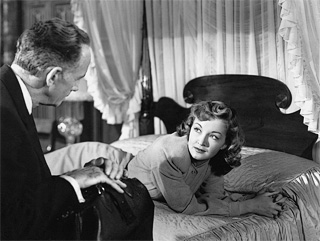 Nina Foch stars in My Name Is Julia Ross on August 15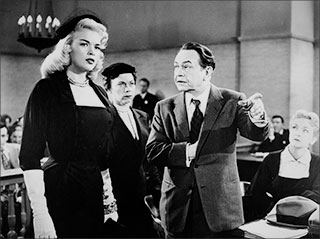 Jayne Mansfield and Edward G. Robinson in Illegal on August 15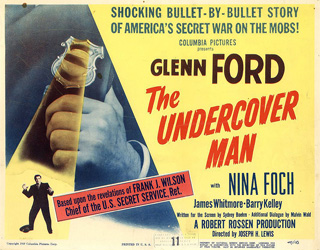 Glenn Ford stars in The Undercover Man on August 15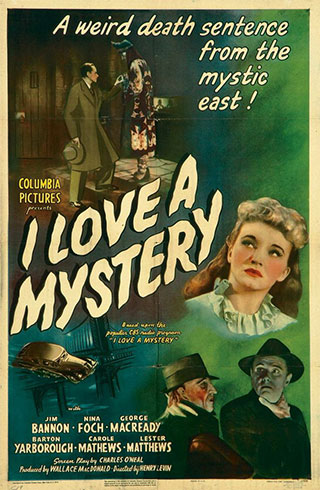 I Love a Mystery (especially in San Francisco) August 15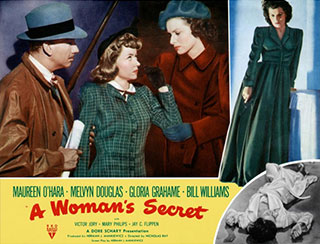 Nicholas Ray's A Woman's Secret screens August 17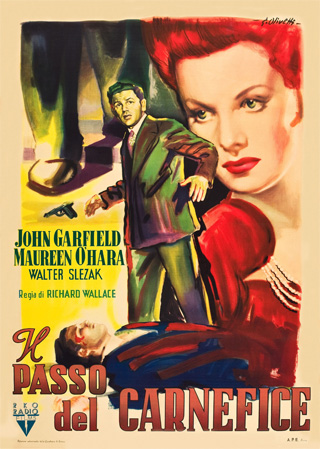 Maureen O'Hara and John Garfield in The Fallen Sparrow on August 17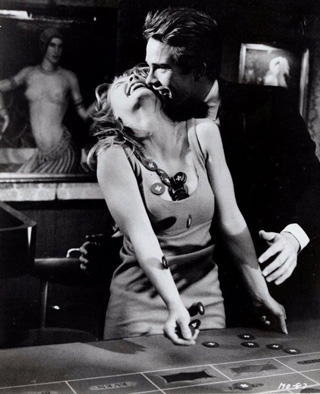 Warren Beatty in Mickey One screens August 18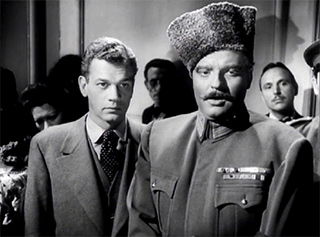 Joseph Cotten and Orson Welles on a Journey into Fear screening August 19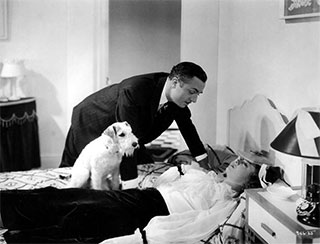 Nick & Nora & Asta in The Thin Man on August 20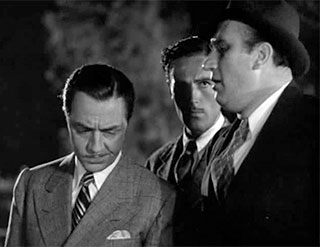 William Powell in Another Thin Man on August 20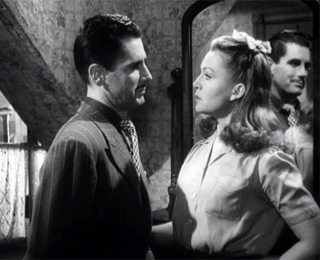 Brit noir, The Good Time Girl, on August 21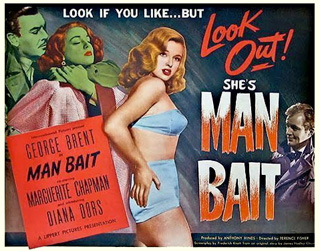 Diana Dors in Man Bait on August 21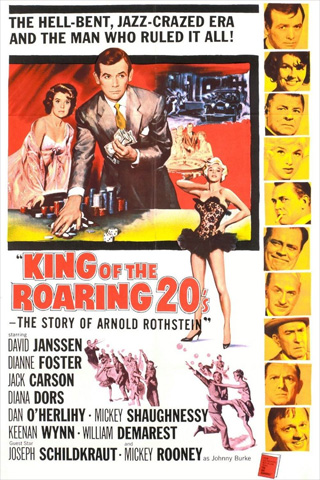 Davidi Janssen and Diana Dors in King of the Roaring 20s: the Story of Arnold Rothstein on August 21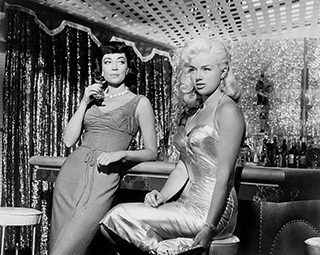 Marie Windsor and Diana Dors in The Unholy Wife on August 21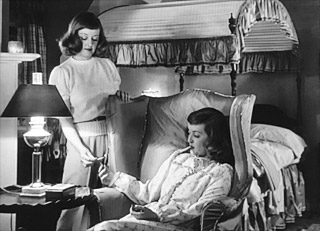 Davis v. Davis - A Stolen Life on August 23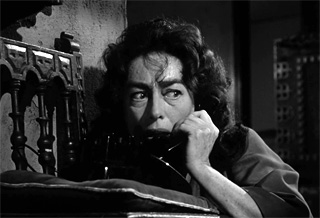 Joan Crawford gets desperate in Whatever Happened to Baby Jane on August 23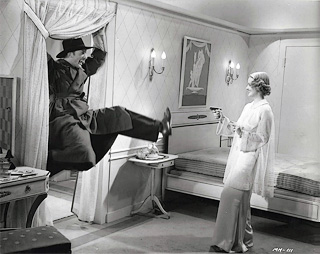 Bette Davis stars in Satan Met a Lady on August 24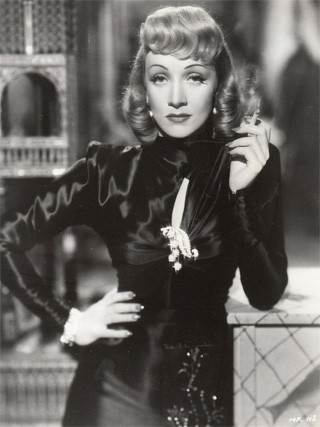 Marlene Dietrich stars in Manpower on August 24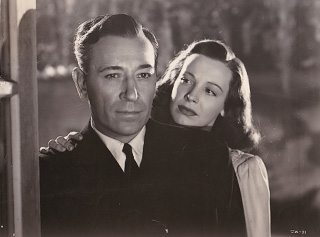 George Raft and Signe Hasso in Johnny Angel on August 24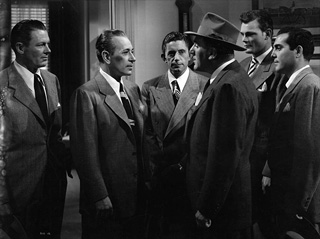 William Bendix and George Raft in Race Street on August 24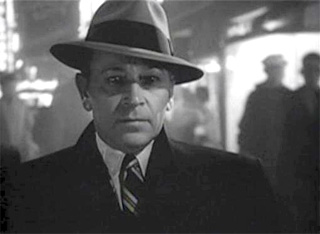 George Raft at his best in Red Light on August 24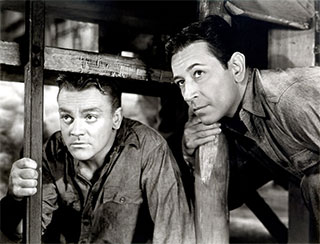 Cagney and Raft in Each Dawn I Die on August 24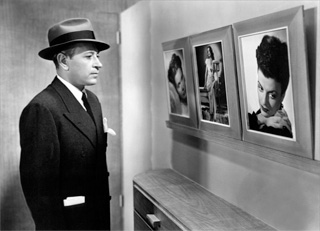 George Raft stars in Nocturne on August 24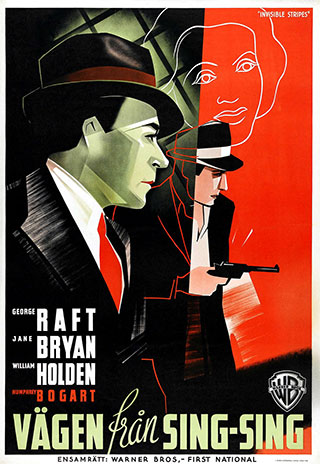 Raft and Bogart in Invisible Stripes on August 25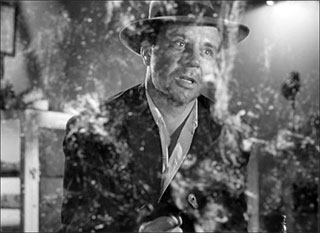 Dick Powell hallucinating — Murder, My Sweet on August 25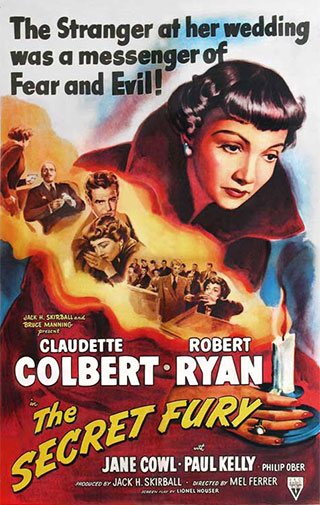 The Secret Fury plays August 27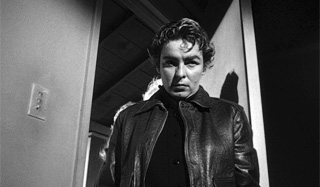 Mercedes McCambridge menaces in Orson Welles' Touch of Evil on August 30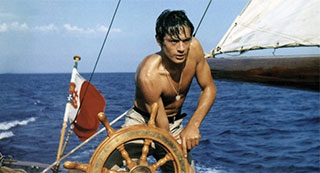 Alan Delon's got a plan — Purple Noon on August 31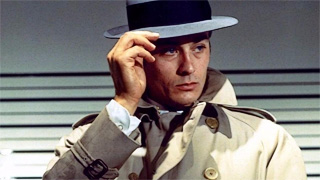 Delon in Jean-Pierre Melville's Le Samourai on August 31