Thursday March 2, 3:30 AM – 19:15 AM
TCM Salutes the Gangster Genre
Here are the noirs...
3:30 AM
DILLINGER (1945): Noir tough guy Lawrence Tierney stars as Depression era bank robber John Dillinger. The film traces his life from petty thief to Public Enemy Number One and a bad end. Dir. Max Nosseck
5:00 AM
THE RISE AND FALL OF LEGS DIAMOND (1960): In this late era gangster noir, a small-time thief (Ray Danton) kills his way to the top of the New York rackets. Dir. Budd Boetticher
10:15 AM
WHITE HEAT (1949): "Top of the world, Ma!" A G-man (Edmond O'Brien) infiltrates a gang run by a mother-fixated psychotic, James Cagney in a standout performance. This film marks the cinematic movement away from the traditional Warner Brothers' portrayal of the gangster to the more cynical and psychological film noir interpretation. Virginia Kellogg garnered an Oscar nomination for Best Writing, Motion Picture Story for the film. Pointless trivia: Naked Gun 33 1/3 borrowed the plot. Dir. Raoul Walsh
Thursday, March 2, 12:15 PM – 5:00 PM
True Crime Noir Double Bill
12:15 PM
I WANT TO LIVE (1958): Susan Hayward deservedly won the Best Actress Oscar for her bravura performance as Barbara Grahame, a former prostitute and drug addict, executed for murder. Hayward perfectly captures a possibly innocent woman convicted more for her lifestyle than evidence. Dir. Robert Wise
2:30 PM
IN COLD BLOOD (1967) Bleak adaptation of Truman Capote's groundbreaking true crime book. Two men (Robert Blake and Scott Wilson) brutally murder a small-town Kansas family, thinking that ten thousand dollars is hidden in the house. They flee with the forty-three dollars that they actually found, and the FBI hunts them. Dir. Richard Brooks
Friday, March 3, 5:00 PM –
Saturday, March 4, 3:00 AM
Classic Noir Movie Marathon
5:00 PM
DOUBLE INDEMNITY (1944): Barbara Stanwyck—in a platinum blonde wig—plays Phyllis Dietrichson—the consummate femme fatale who lures insurance salesman and all-around chump Walter Neff (Fred McMurray) into a plot involving murder and insurance fraud. His friend, and insurance adjuster, Barton Keyes (Edward G. Robinson) smells a rat. Nominated for seven Oscars: Best Actress in a Leading Role; Best Cinematography, Black-and-White; Best Director; Best Music, Scoring of a Dramatic or Comedy Picture; Best Picture; Best Sound, Recording; and Best Writing, Screenplay. Dir. Billy Wilder
7:00 PM
MILDRED PIERCE (1945): Joan Crawford won an Oscar for her performance as a woman who builds herself up from grass widow to successful restaurateur in a desperate effort to win the love of the most ungrateful brat in the history of cinema, her daughter Veda, brilliantly played by Ann Blyth. A marriage of convenience, adultery and murder ensue. At least Mildred has the greatest best friend ever, a wisecracking Eve Arden. Based on the James M. Cain story. Cast: Joan Crawford, Jack Carson, Zachary Scott. Dir. Michael Curtiz
9:00 PM
THE LETTER (1940): Bette Davis gives a masterful performance as a married woman claiming self-defense in the murder of a fellow Britisher on her husband's rubber plantation in Malay. This succeeds both as a film noir and an incisive look into colonialism. Herbert Marshall gives a deeply empathetic performance as the loving husband. Watch for Victor Sen Yung as a solicitous lawyer's clerk. Based on a play by Somerset Maugham, dramatized from his own short story. Nominated for seven Oscars: Best Picture; Best Actress in a Leading Role, Bette Davis; Best Actor in a Supporting Role, James Stephenson; Best Director, William Wyler; Best Cinematography, Black-and-White, Tony Gaudio; Best Film Editing, Warren Low; Best Music, Original Score, Max Steiner. Dir. William Wyler
11:00 PM
THE KILLERS (1946): Expanded from the Hemmingway short story, two professional killers come to a small town looking for The Swede (Burt Lancaster). An insurance investigator (Edmond O'Brien) unravels the tangled skein of events that led up to the hit. Ava Gardner plays Kitty, the woman who led the Swede to his doom. Dir. Robert Siodmak
1:00 AM
CROSSFIRE (1947): In this seminal noir, an upright district attorney (Robert Young) investigates a seemingly motiveless murder. As he digs further the prime suspect (George Cooper) seems less and less likely to have done it and an ugly motivation begins to appear. Robert Mitchum and Robert Ryan play a couple of GIs caught up in the case, one trying to clear the suspect and the other trying to frame him. Gloria Grahame earned a best supporting actress nomination for her role as an embittered taxi dancer. Dir. Edward Dmytryk
Wednesday, March 8, 5:00 PM – 9:00 PM
Oscar Winning Neo-noir Double Feature
5:00 PM
THE FRENCH CONNECTION (1972): New York Detectives, Jimmy "Popeye" Doyle (Gene Hackman) and Buddy Russo (Roy Scheider) attempt to intercept a massive heroin shipment coming into the city and hunt down the criminal mastermind behind it, Alain Charnier (Fernando Rey). This gritty procedural also features one of the best car chases in cinematic history. In addition to earning Best Picture and Best Actor for Hackman at the Oscars, the film won Best Director for Friedkin, Best Adapted Screenplay and Best Editing. Dir. William Friedkin
7:00 PM
BONNIE AND CLYDE (1967): In this critically acclaimed and deeply influential classic, the legendary bank robbers and lovers (Warren Beatty and Faye Dunaway) embark on a crime spree during the Depression era Dust Bowl of the 1930s and become folk heroes. The film won two Oscars, Estelle Parsons for Best Actress in a Supporting Role and Burnett Guffey for Best Cinematography, an additional eight nominations. Dir. Arthur Penn
Thursday, March 9, 6:00 AM - 5:00 PM
Espionage Marathon
Here are the noirs...
6:00 AM
THE FALLEN SPARROW (1943): A Spanish Civil War veteran (John Garfield) journeys to New York to investigate the death of his policeman friend. He suspects the suicide is in fact a murder. Nazis, as well as a beautiful woman (Maureen O'Hara), complicate his search for the truth. Based on the novel by pulp great Dorothy B. Hughes who also wrote the novels In a Lonely Place (1947) and Ride the Pink Horse (1946). Dir. Richard Wallace
7:45 AM
FOREIGN CORRESPONDEN (1940): An American reporter (Joel McCrea) covering the war in Europe gets mixed up in the assassination of a Dutch diplomat which leads to his uncovering a political conspiracy with the aid of the daughter (Laraine Day) of a prominent politician (Herbert Marshall) and a chap named ffolliott "with two small 'f's" (George Sanders), his rival for the girl's affection. This tremendously entertaining film features several vintage Hitchcock set pieces. The film was nominated for six Oscars. Dir. Alfred Hitchcock
2:30 PM
NORTH BY NORTHWEST (1959): Foreign agents mistake suave and swinging advertising man Roger Thornhill (Cary Grant) for a spy. He takes it on the lam and encounters a beautiful blonde (Eva Marie Saint) who may or may not be trusted. This film earned 3 Oscar nominations: Best Art Direction-Set Decoration, Color; Best Writing, Story and Screenplay - Written Directly for the Screen; and Best Film Editing. Dir. Alfred Hitchcock
Monday, March 13, 7:15 PM – 11:30 PM
Heist Noir Double Feature
7:15 PM
THE ASPHALT JUNGLE (1950): A hoodlum and ex-con (Sterling Hayden) hopes for one last big score that will enable him to go home to his farm in Kentucky. He falls in with a gang of small-time crooks plotting an elaborate jewel heist. Of course, you can never go home again. A young Marilyn Monroe plays a small but juicy part. The film was nominated for four Oscars including a Best Supporting Actor nod for Sam Jaffe as the mastermind undone by his passion for beautiful girls. Based on the novel by W. R. Burnett. Dir. John Huston
9:15 PM
DOG DAY AFTERNOON (1975): In New York city, a bank robbery turns into a media circus when Sonny (Al Pacino) tries to steal enough money for his lover's (Chris Sarandon) sex change operation and takes the bank's employees hostage. The film earned five Oscar nominations, only Frank Pierson won the Oscar for Best Writing, Original Screenplay for the film, based on true events. Surprisingly co-star John Cazale was not nominated for his excellent performance as Sal, Sonny's partner in crime. Dir. Sidney Lumet
Saturday, March 18, 10:00 PM
THE NAKED SPUR L(1953): A captive outlaw (Robert Ryan) uses psychological tactics to prey on a bounty hunter (James Stewart). Dir. Anthony Mann
Sunday, March 19, 1:30 AM –
Monday, March 20, AM
Oscar Nominated and Winning Mysteries
Here are the noirs...
4:00 AM
THE WINDOW (1949): A young boy (Bobby Driscoll) with a penchant for telling tall tales overhears a murder while sleeping alone on a fire escape. Of course, no one believes him except the murderers (Paul Stewart and Ruth Roman) who ruthlessly hunt him down. This excellent adaptation of a Cornell Woolrich story will keep you on the edge of your seat. Won the Oscar for Best Editing. Dir. Ted Tetzlaff
5:30 AM
THE MALTESE FALCON (1941): How do I love this movie, let me count the ways… In arguably the first, and greatest, film noir, hard-boiled detective Sam Spade (Humphrey Bogart) gets caught up in the deadly search for a priceless statue. Along the way he tangles with a murderous liar (Mary Astor), a foppish thug (Peter Lorre) and an obese mastermind (Sydney Greenstreet). Director John Huston brilliantly adapted it from the Dashiell Hammett novel and earned an Oscar nomination for Best Writing, Screenplay. The film also garnered nominations for Best Picture and for Sydney Greenstreet, in his film debut, Best Actor in a Supporting Role. Dir. John Huston
7:15 AM
THE THIN MAN (1934): Dashiell Hammett's urbane but fun-loving sleuths Nick and Nora Charles, along with their pup Asta, investigate the disappearance of an inventor in this classic blend of laughs and suspense. Shot in just two weeks by director Woody "One-Shot'' Van Dyke and cinematographer James Wong Howe, this gem set the gold standard for the sophisticated comedy—inspiring five sequels as well as countless inferior imitations. Van Dyke previously directed Myrna Loy and William Powell in Manhattan Melodrama and spotted the terrific chemistry of their off-screen banter between takes. He insisted on casting the pair as Hammett's hard-drinking super-couple and the glamorous pair became one of the movies' great romantic teams. Shot by the legendary cinematographer James Wong Howe. The film garnered four Oscar nominations, Best Picture, Best actor for Powell, Best Director, and Best Writing, Adaptation for Frances Goodrich and Albert Hackett. Dir. Woody Van Dyke
9:00 AM
THE THIRD MAN (1949): This fantastic film about a naive American, Joseph Cotten, investigating the death of his friend, Orson Welles, in post-World War II Vienna never loses its impact no matter how many times you watch it. "Like the fella says, in Italy for 30 years under the Borgias they had warfare, terror, murder, and bloodshed, but they produced Michelangelo, Leonardo da Vinci, and the Renaissance. In Switzerland they had brotherly love - they had 500 years of democracy and peace, and what did that produce? The cuckoo clock". Director of Photography Robert Krasker won the Oscar for Best Cinematography, Black-and-White for the film. The film also garnered Oscar nominations, Carol Reed for Best Director and Oswald Hafenrichter for Best Film Editing. Dir. Carol Reed
1:00 PM
LAURA (1944): In this film noir based on the Vera Caspary novel, dedicated detective Mark McPherson (Dana Andrews) investigates the death of the beautiful Laura (Gene Tierney), brutally gunned down at the door of her flat. As he interviews her friends and lovers, a complicated portrait of her emerges and he finds himself falling for the deceased girl. Clifton Webb and Vincent Price give outstanding performances as two bickering rivals for Laura's affections. Joseph LaShelle won the Oscar for Best Cinematography, Black-and-White for his work on the film. Dir. Otto Preminger
2:45 PM
VERTIGO (1958): An old friend hires ex-cop Scotty (Jimmy Stewart) to follow his beautiful but emotionally disturbed wife (Kim Novak) through the gorgeously shot streets of San Francisco. Stewart gives an intensely dark performance as Scotty spirals further and further into romantic obsession. Dir. Alfred Hitchcock
5:00 PM
REAR WINDOW (1954): A wheelchair-bound photographer passes the time of his disability by spying on his neighbors. One day he witnesses a murder. Or does he? This iconic mystery was adapted from a story by Cornell Woolrich and earned a Best Writing, Screenplay Oscar nomination for screenwriter John Michael Hayes. The film earned three more Oscar nods for Best Director, Best Cinematography, Color and Best Sound, Recording. Dir. Alfred Hitchcock. James Stewart, Grace Kelly, Wendell Corey.
9:15 PM
IN THE HEAT OF THE NIGHT (1967): In a small Mississippi town, racist Police Chief Bill Gillespie (Rod Steiger) mistakenly accuses African American Virgil Tibbs (Sidney Poitier) of the recent murder of a prominent Northern industrialist. When Gillespie discovers that Tibbs is a Homicide detective from Philadelphia, he enlists his help to solve the murder. This groundbreaking neo-noir won five Oscars, including Best Picture. Dir. Norman Jewison
11:15 PM
KLUTE (1971) Small town detective John Klute (Donald Sutherland) journeys to the Big Apple to search for a missing friend. He has only one lead: an obscene letter from the man to New York City prostitute Bree Daniels (Jane Fonda). He unravels both the mystery of the missing man and of the call girl. Fonda won a well-deserved Best Actress Oscar for her portrayal of the disturbed and disturbing Bree. Dir. Alan J. Pakula
1:15 AM
BLOW-UP (1966): A womanizing photographer (David Hemmings) discovers a murder in the background of a candid photo. His investigation tests his deductive skills and his sanity. Vanessa Redgrave has a memorable supporting role as a mysterious woman who may be trying to stymie his efforts. Nominated for two Oscars: Michelangelo Antonioni for Best Director and Best Writing, Story and Screenplay - Written Directly for the Screen for Michelangelo Antonioni (screenplay/story), Tonino Guerra (screenplay) and Edward Bond (screenplay) Dir: Michelangelo Antonioni
Tuesday, March 21, 7:15 PM
WITNESS FOR THE PROSECUTION (1958): A British lawyer (Charles Laughton) gets caught up in a couple's tangled marital affairs when he defends the husband for murder. Laughton's wife Elsa Lanchester plays the nurse trying to keep him on his diet and off the cigars and brandy. This first-rate film features both one of Tyrone Power's and one of Marlene Dietrich's best performances Based on the play written by Agatha Christie, adapted from her own short story. The film was nominated for six Oscars: Best Picture, Arthur Hornblow Jr.; Best Actor in a Leading Role, Charles Laughton; Best Actress in a Supporting Role, Elsa Lanchester; Best Director, Billy Wilder; Best Sound, Recording, Gordon Sawyer (Samuel Goldwyn SSD); and Best Film Editing, Daniel Mandell. Dir. Billy Wilder
Tuesday, March 21, 11:15 PM
ANATOMY OF A MURDER (1959): In this dryly witty courtroom drama, based on real events, a small-town lawyer (James Stewart) more interested in fishing and playing the piano then practicing law gets the case of a lifetime when he defends a soldier (Ben Gazzara) accused of murdering the man who beat and raped his flirtatious wife (Lee Remick). Eve Arden once again does a lot with a small part as his long-suffering secretary. Duke Ellington composed the jazz score. Dir. Otto Preminger
Friday, March 24, 3:15 AM
THE SEA WOLF (1941): In this gripping yarn based on a Jack London story, shipwrecked fugitives (John Garfield and Ida Lupino) try to escape a brutal sea captain who's losing his mind, Edward G. Robinson in a powerhouse performance. The film earned an Oscar nomination for Best Effects, Special Effects. Dir. Michael Curtiz
Saturday, March 25, 11:00 PM
LOVE ME OR LEAVE ME (1955): Engrossing musical bio (from an Oscar-winning story by Daniel Fuchs) of Jazz Age singer Ruth Etting (Doris Day), whose life and career were dominated by gangster Marty 'The Gimp' Snyder, (James Cagney). Ruth's musical advisor Johnny Alderman (Cameron Mitchell) attempts repeatedly to persuade Ruth to leave her abusive relationship. Dir. Charles Vidor
Sunday, March 26, 1:00 PM
THE LOST WEEKEND (1945): Ray Milland won the Oscar for his performance as Don Birnam, an alcoholic writer with writer's block who reaches the lower depths while on a bender. The story cuts between the present and the past, trying to explain what's led him down the path of self-destruction despite the love of his brother (Phillip Terry) and his girlfriend (Jane Wyman). The film also won the Oscars for Picture, Director and Screenplay. Based on the groundbreaking novel by Charles R. Jackson Dir. Billy Wilder
Monday, March 27, 3:00 AM – 5:00 PM
Oscar Nominated and Winning Film Noir
3:00 AM
NIGHT MUST FALL (1937): Young and charming Danny (Robert Montgomery) worms his way into elderly and wealthy Mrs. Bramson's (Dame May Whitty) household. Her sexually repressed niece (Rosalind Russell) suspects him of larceny and possibly a local murder while being strongly attracted to him. What's in that hatbox? Both Whitty and Montgomery were nominated for Oscars for their performances. Dir. Richard Thorpe
5:00 AM
THE STRANGER (1946): A small-town schoolteacher (Loretta Young) encounters a determined investigator (Edward G. Robinson) who suspects her new husband (Orson Welles) may be an escaped Nazi war criminal. Can he convince her before it's too late? Dir. Orson Welles
7:00 AM
GASLIGHT (1944): A newlywed (Ingrid Bergman) fears she's going mad when strange things start happening at the family mansion where her aunt was murdered ten years earlier. Joseph Cotten stars as the handsome stranger who aids her. Charles Boyer stars as the handsome husband who terrorizes her. Angela Lansbury plays the pretty maid who may be in league with Boyer. Based on Patrick Hamilton's Angel Street. The film won two Oscars, Best Actress in a Leading Role for Ingrid Bergman and Best Art Direction-Interior Decoration, Black-and-White for Cedric Gibbons, William Ferrari, Edwin B. Willis, Paul Huldschinsky, and earned five more nominations. Dir. George Cukor
9:00 AM
WAIT UNTIL DARK (1967): A commercial artist unknowingly brings a stash of heroin into his home. A trio of bad guys (Richard Crenna, Jack Weston and Alan Arkin) trace the dope to him. They trick him into leaving the house, but, unfortunately, his blind wife (Audrey Hepburn) is there alone. They proceed to first try to trick and then to terrorize her while she tries to figure out how to turn the tables on her unknown assailants. Hepburn earned an Oscar nomination for Best Actress for her remarkable performance. Adapted from the Broadway hit written by Fredrick Knott and directed by Arthur Penn. Dir. Terence Young
11:00 AM
SUSPICION (1941): A handsome gambler Johnny Aysgarth (Cary Grant) pursues the shy and wealthy Lina McLaidlaw (Joan Fontaine). He courts and marries her. After the honeymoon she discovers unsettling things about his character. She becomes increasingly suspicious of him when Johnny's friend and business partner, Beaky (Nigel Bruce) dies mysteriously. Based on Anthony Berkeley Cox's outstanding novel After the Fact. Seriously, read the book. Fontaine won the Oscar for Best Actress in a Leading Role for her work in the film. Composer Franz Waxman was nominated for Best Music, Scoring of a Dramatic Picture. The film also earned a nomination for Best Picture. Dir. Alfred Hitchcock
1:00 PM
STRANGERS ON A TRAIN (1951): Childlike but charming psychopath Bruno (Robert Walker) suggests that he and Guy (Farley Granger), a tennis player with political ambitions, crisscross murders. Unfortunately, Guy realizes too late that Bruno wasn't joking. Guy's unwanted wife shows up murdered and he has no alibi. Screenplay by Raymond Chandler and Czenzi Ormonde, based on the novel by Patricia Highsmith. D.P. Robert Burks' outstanding work earned an Oscar nomination for Best Cinematography, Black-and-White. Dir. Alfred Hitchcock
2:45 PM
THE BAD SEED (1956): "What will you give me for a basket of kisses?" Based on the stage play adapted from the brilliant novel by William March, Army wife Christine (Nancy Kelly) suspects that her seemingly perfect little girl Rhoda (Patty McCormack) is a ruthless killer. Eileen Heckart shines in her Oscar nominated supporting role as the alcoholic mother of one of Rhoda's victims. This truly terrifying film will make you look twice at all cute little blonde girls. Kelly and McCormack as well as cinematographer Harold Rosson were nominated for Oscars as well as Heckart. Dir. Mervyn LeRoy
Tuesday, March 28, 2:15 AM
CAGED (1950): This film noir in women-in-prison clothing details the transformation of a young, naïve and pregnant widow (Eleanor Parker) into a hardened convict. She learns the hard way how to survive in the big house from a sadistic prison guard (Hope Emerson) and the failure of a good-hearted warden (Agnes Moorehead) to reform the prison. This is more than an exploitation flick, it's an intelligent social drama and raises a still prescient issue facing the American penal system, is it reforming first time offenders or just turning prisoners into career criminals? Nominated for three Oscars including Best Actress for Parker and Supporting Actress for Emerson. Dir. John Cromwell
Friday, March 31, 2:45 – 5:00 PM
Film Noir Double Feature
2:45 PM
THE MAN WITH THE GOLDEN ARM (1955): A recovering heroin addict (Frank Sinatra) struggles to stay clean when returning to Chicago's South side, to old friends and old temptations, after a prison stint. His drug dealer Nifty Louie (Darren McGavin) wants to get his hooks back into Frankie, but his love for Molly (Kim Novak) and his dreams of becoming a jazz drummer keep him on the straight and narrow. When Louie is killed, the cops figure him for the murder and come after him. Dir. Otto Preminger
5:00 PM
PSYCHO (1960): Miriam Crane (Janet Leigh) impulsively embezzles $10,000 dollars from her employer and takes it on the lam. She checks into the Bates Motel, meets the queer but attractive Norman Bates (Anthony Perkins), takes a shower and makes cinematic history. A detective (Martin Balsam), Miriam's sister (Vera Miles) and her boyfriend (John Gavin) all arrive to look for the missing Miriam. Long time Hitchcock collaborator Bernard Herrmann created the rightfully legendary score. The immensely talented old time radio actress Virginia Gregg provides the voice of Norman's mother Norma Bates. Dir. Alfred Hitchcock
Friday, March 31, 11:00 PM
WHATEVER HAPPENED TO BABY JANE? (1962) A crazed, aging star (Bette Davis) torments her sister (Joan Crawford) in a decaying Hollywood mansion. This beautiful Hollywood gothic noir features a duet of superbly fearless performances by two legendary actresses. Nominated for five Oscars, but only one win, Best Costume Design, Black-and-White for Norma Koch Dir. Robert Aldrich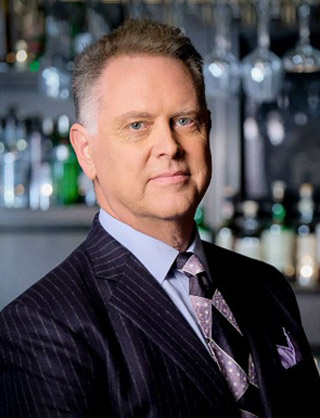 NOIR ALLEY with FNF prez Eddie Muller will be on hiatus during the month of March due to TCM's 31 Days of Oscar 2023. There are no NOIR ALLEY episodes scheduled for April due to the WB100—a celebration 100 years of Warner Brothers Studios. The show will return on May 5 with Eddie's presentation of The File on Thelma Jordan.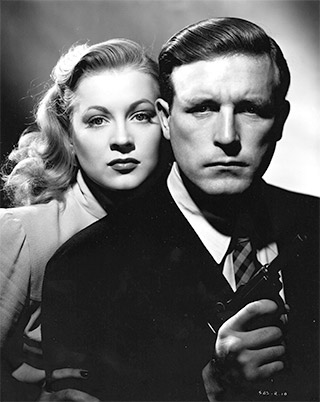 Anne Jeffreys and Lawrence Tierney in Dillilnger on March 2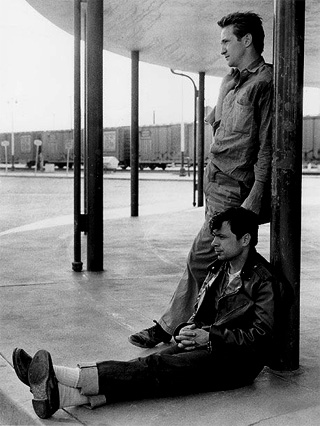 Robert Blake and Scott Wilson in In Cold Blood on March 2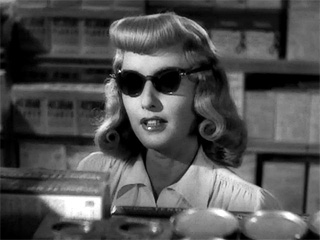 Barbara Stanwyck in Double Indemnity on March 3
Gail Sondergaard and Bette Davis in The Letter on March 3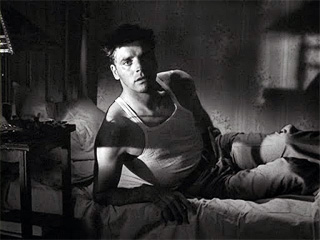 Burt Lancaster stars in The Killers on March 3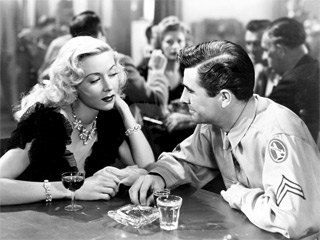 Gloria Grahame in Crossfire on March 4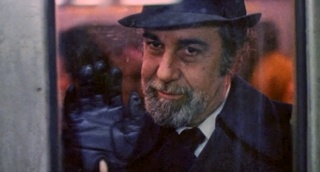 Fernando Rey in The French Connection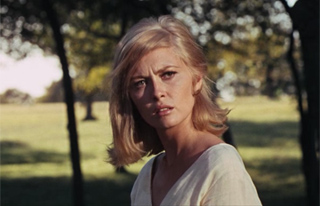 Faye Dunaway in Bonnie and Clyde on March 8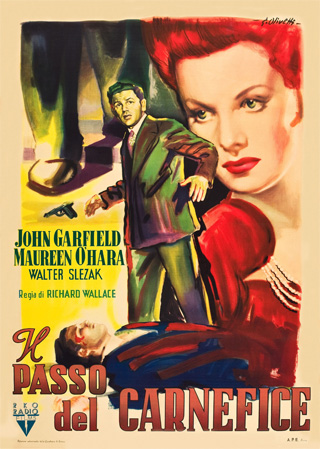 John Garfield stars in The Fallen Sparrow on March 9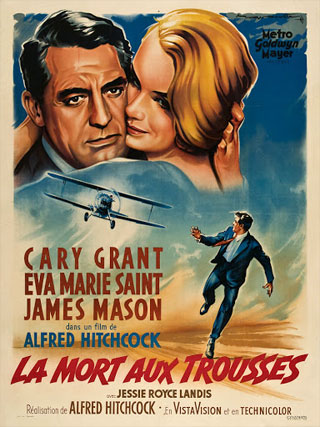 Alfred Hitchcock's North by Northwest on March 9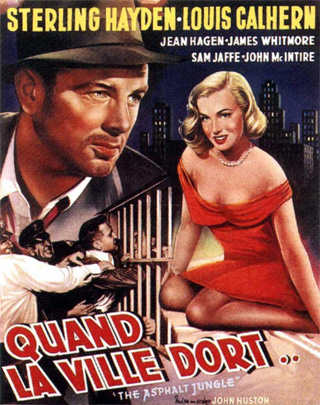 John Huston's The Asphalt Jungle screens March 13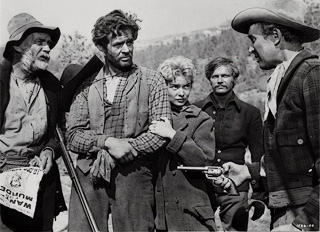 Robert Ryan and James Stewart in The Naked Spur screening March 18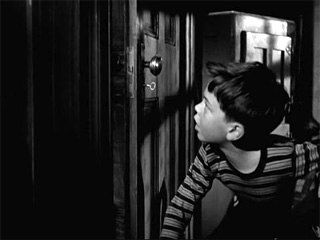 Bobby Driscoll in The Window on March 19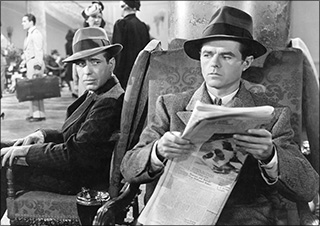 Humphrey Bogart and Elisha Cook in The Maltese Falcon on March 19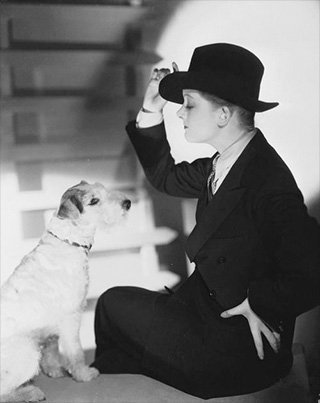 The Thin Man screens March 19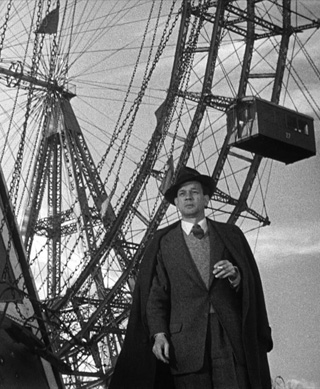 Joseph Cotten in The Third Man on March 19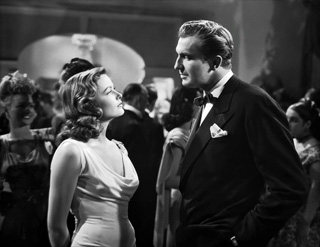 Gene Tierney and Vincent Price in Laura on March 19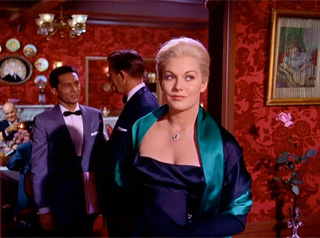 Kim Novak in Vertigo on March 19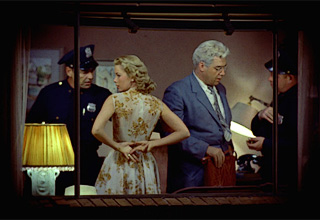 Grace Kelly and Raymond Burr in Rear Window on March 19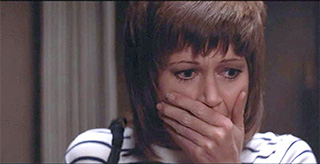 Jane Fonda stars in Klute on March 19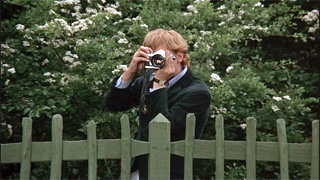 David Hemmings in Blow-Up on the March 20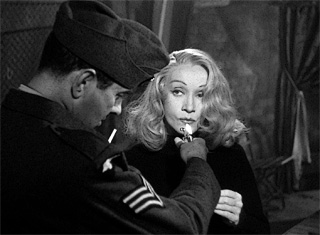 Marlene Dietrich in Witness for the Prosecution on the March 21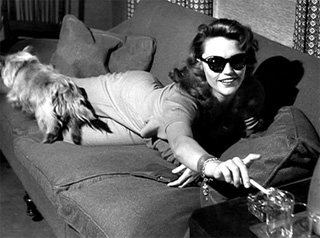 Lee Remick in Anatomy of a Murder on March 21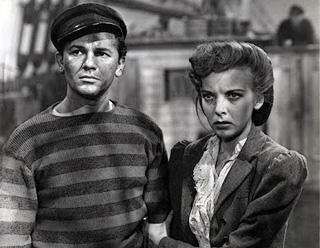 John Garfield and Ida Lupino in The Sea Wolf on March 24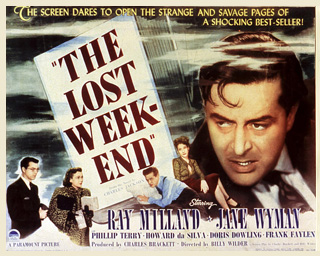 Ray Milland stars in The Lost Weekend on March 26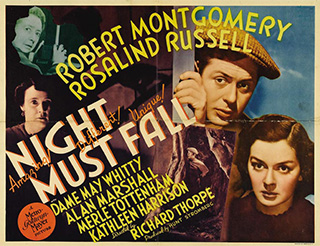 Night Must Fall screens March 27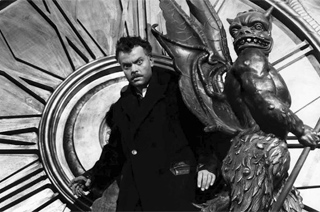 Orson Welles stars in The Stranger on March 27
Alan Arkin menaces in Wait until Dark on March 27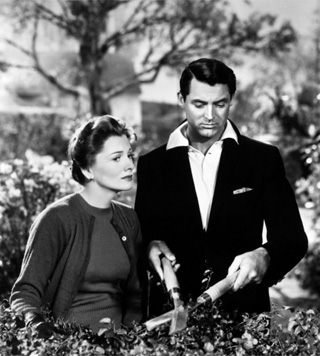 Joan Fontaine and Cary Grant in Hitchcock's Suspicion on March 27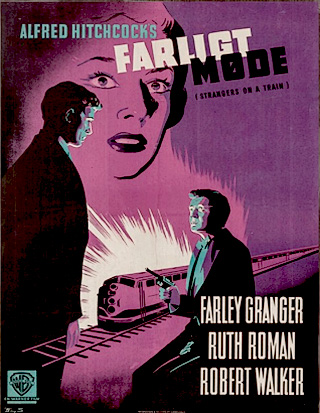 Hitchcock's Strangers on a Train screens March 27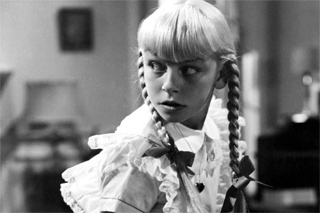 Patty McCormick stars in The Bad Seed on March 27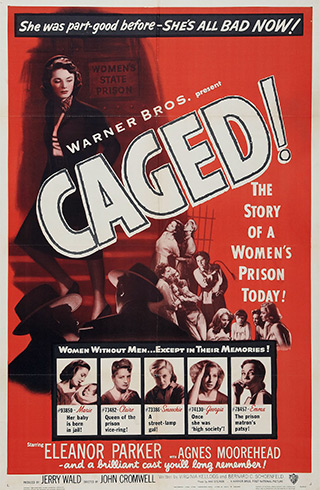 Caged — "The Story of a Woman's Prison Today" on March 28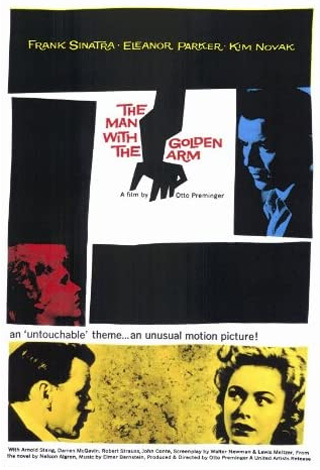 Otto Preminger's The Man with the Golden Arm plays March 31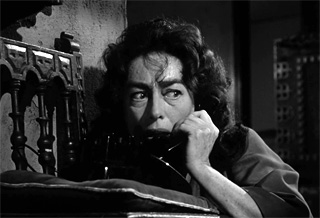 Joan Crawford in Whatever Happened to Baby Jane on March 31