BABYLON BERLIN
Streaming FROM NETFLIX
The most expensive German TV series ever produced, Babylon Berlin, is Weimar noir, a detective drama turned conspiracy thriller set against the backdrop of decadence, poverty, and corruption in 1929 Berlin just before the Nazi party rode the swell of nationalism to power. Think Cabaret meets L.A. Confidential as produced by UFA, recreating a cultural moment that is about to implode.
Gereon Rath (Volker Bruch), a Cologne cop working with the Berlin vice squad, is a World War I vet who conceals his shellshock tremors with black market morphine. He's a tarnished hero on a covert mission to track down a pornography ring blackmailing a politician back home, but then pretty much everyone has shadows over them. Part-time secretary Charlotte (Liv Lisa Fries) supplements her day work with night shifts in the basement bordello of the Art Deco nightclub Moka Efti, while Gereon's senior partner Bruno (Peter Kurth), a veteran of the force, isn't above a little extortion himself. + READ MORE
COUNTERPART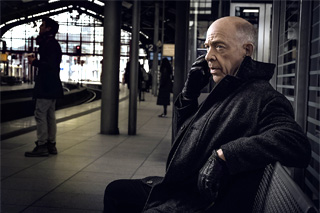 STARZ NETWORK
Arriving without the noise of prestige series, Counterpart stealthily sidestepped any hype to emerge as one of this season's best new dramas. Part espionage procedural, part speculative fiction, it's neo-noir with overtones of Cold War dread, infused with our own paranoia. + READ MORE
MUTE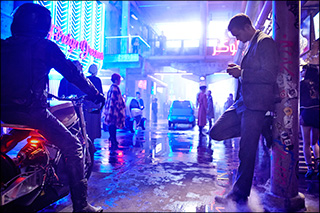 STREAMING FROM NETFLIX
It sounds like a natural: Duncan Jones, director of the ingenious science fiction mystery Moon, goes back to the future with a throwback plot that could have been pilfered from a 1940s B-movie noir.
Alexander Skarsgård (True Blood) is the gentle, mute bartender Leo, an innocent in crisp, buttoned-up shirts who works in an upscale bar catering to the rich, corrupt, and criminal. His blue-haired waitress girlfriend Naadirah (Seyneb Saleh) is a born hustler with a shadowy past brewing up some kind of scheme. When she disappears, he hits the mean streets of 2058 Berlin in search of his tarnished angel, who may or may not have played him for a patsy. + READ MORE
THE ALIENIST: Season 1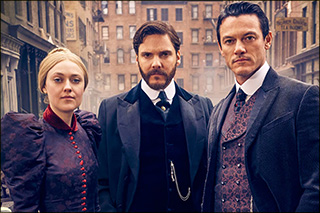 streaming from TNT
My primary recollection of Caleb Carr's novel The Alienist, which I read fifteen years ago, is thinking a screen adaptation was inevitable. Set in 1896 New York City, with a team of investigators using pioneering methods to identify and capture a serial killer preying on juvenile male prostitutes, it played with the "birth of criminal profiling" conceit and played upon readers' familiarity with modern forensics as these mavericks work outside a corrupt and hidebound system. The characters were sketched in broad strokes, but the historical backdrop, period detail, and mix of real-life and fictional figures gave the proto-procedural premise a compelling hook. It seemed destined to be a movie. Instead, it was developed by writer/producer Hossein Amini (Drive) as a ten-part cable series for TNT. + READ MORE
THOROUGHBREDS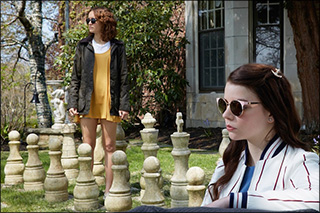 In Theaters
Heathers meets American Psycho" reads the drop quote on the poster of Thoroughbreds, the debut feature from writer/director Cory Finley. It's a tasty little tag and accurate enough, in its way. There's a wicked satire under the cultivated surfaces and carefully groomed front, but a chilly alienation sets this teen-killer thriller apart from the flamboyant films of the quote. + READ MORE
YOU WERE NEVER REALLY HERE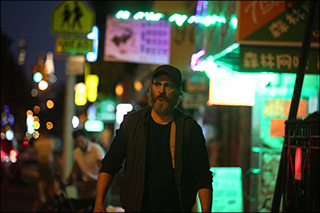 In Theaters
In the cinematic netherworld imagined by Lynne Ramsay, writer-director of You Were Never Really Here, any crime involving children—now or in the dimly remembered past—reverberates through the air to poison all that it touches, infecting everything, including the visual language of the film itself.
The 48-year-old Scotland native's Morvern Callar (2002) related the inner turmoil of a young woman who believes she deserves better than she's getting, with a disturbingly brilliant performance by actor Samantha Morton. 2011's We Need to Talk About Kevin featured tightly wound mother Tilda Swinton being slowly driven mad by her "bad seed" son in the purest of melodramas. For Ramsay's protagonists, psychological unrest is a permanent condition resulting from a damaged youth. So, when we meet Joaquin Phoenix's Joe, the main character of Ramsay's You Were Never Really Here, we instinctively brace for the worst. + READ MORE
GEMINI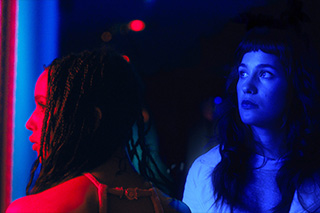 In Theaters
Return with us now to the problem of convincingly writing and/or portraying one-dimensional, dumbed-down characters without being mistaken for dumb oneself. It's a difficult trick to pull off. Case in point: writer-director Aaron Katz's doomed whodunnit Gemini.
Jill (Lola Kirke) is the personal assistant to Heather (Zoë Kravitz), a movie and pop-music star. As such, it's part of Jill's job to drive Heather around Los Angeles, listening to her prate on about her social media presence and which karaoke bar to go to next. Their conversations are a veritable festival of glottal fry and girlish giggles, not helped along in the least by Katz's dialogue. Anxious Heather is in the midst of a career hiccup in addition to boyfriend problems, and so when the pair returns to Heather's mansion late one evening, the talk naturally turns to firearms. "You have a gun, right?" Jill's woozy boss asks her. "Can I borrow it? So many crazy people are mad at me." We can visualize the corpse, shot five times with a .22 and lying in a pool of blood, several long minutes before it actually appears on screen. + READ MORE
UNSANE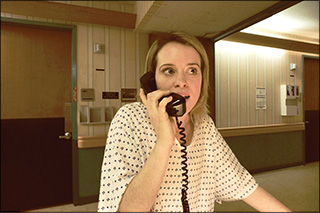 In Theaters
Sawyer Valentini seems to be behaving a bit oddly. She makes sour faces at her colleagues in the cubicles at work. She rebuffs her boss' unwanted sexual innuendo with a trace of panic in her manner. And after flirting with a blind date and bringing him back to her apartment, the evening blows up when she recoils from him screaming. Is Sawyer (played by English actor Claire Foy) just another highly strung urbanite? Are people truly picking on her? Or, is she, in fact, Unsane? + READ MORE